It's been a month since your last Upper Haight in crime-and-mayhem report; read on for a highlight of incidents from March and early April.
But first: As previously reported, the next major event in the area requiring planned police presence is 4/20, this coming Saturday. The neighborhood will receive tens of thousands of visitors for the day, and we'll be keeping you posted before the day with city-mandated street closures, traffic diversions, SFPD hotlines, and more. 
Static Vintage smash-and-grab
An anonymous tipster let us know that around 5 a.m. Monday, April 15, an unknown culprit pulled off a smash-and-grab at Static Vintage (1764 Haight St.), making off with vintage handbags and goods from inside display cases.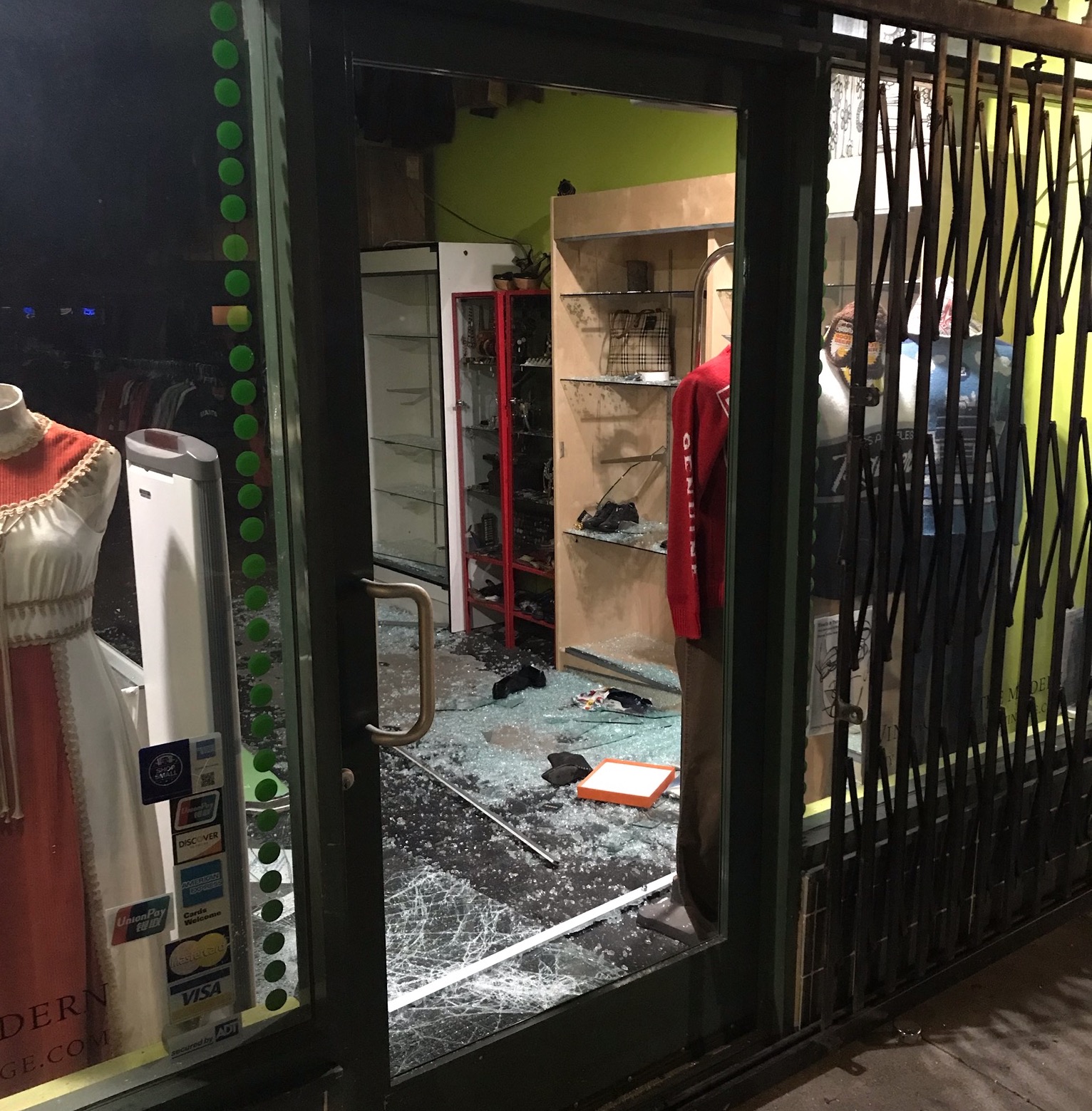 Swastikas appear in Buena Vista Park
On April 15, one area resident reported the appearance of swastikas painted on the ground around Buena Vista Park. It was reported to the city's 3-1-1 team, which escalated the case to Park Patrol to ensure faster removal. The marks were quickly painted over, and SFPD is investigating.
Extremely disturbing that someone painted swastikas all around the pedestrian walkway on Buena Vista Park @SF311 pic.twitter.com/02XJjJLjfD

— Maxwell Szabo (@maxxszabo) April 15, 2019
Robbery from a car, with a handgun
At 1:20 a.m. on April 5, a 34-year-old man was walking at 15th Street and Landers, near Duboce Triangle, when two men pulled over in a car, got out and approached him with a handgun. The victim handed over his cell phone; no injuries were sustained and no arrest made.
Arrest of an unregistered sex offender
Shortly after 8 p.m. on April 3, officers responded to a complaint of people loitering outside Hobson's Choice (1601 Haight St.). Upon their arrival, one person resisted contact with the responding officers, attempted to leave, and was caught and questioned. He was apprehended and booked, and later found to be an unregistered felony sex offender from Hawaii.
Pedestrian with children injured by driver
On March 21, a woman with two children was struck crossing Ashbury Street at Haight by a car turning left onto Ashbury. She was sent to the hospital with non-life threatening injuries, and neither of the children sustained injuries. The driver stayed on-scene and cooperated with the investigation, officers said.
Aggravated assault by five men
Five individuals assaulted a man leaving his home near the corner of Haight and Ashbury on March 18, tackling him to the ground, punching and kicking him. Police responded and arrested two suspects on site. They were later able to identify the other three suspects with local security camera footage, and apprehended them on March 27.
---
Anyone who has information about any of these incidents is encouraged to contact SFPD via the department's anonymous tip line at (415) 575-4444, or text TIP411 with "SFPD" at the start of the message.
Here's why we usually don't include suspect descriptions in crime reports.