By
Hoodline
- Published on May 16, 2019.
Driving may feel like a boring everyday chore, but it's probably the most dangerous activity you'll do today. According to the CDC, more than 32,000 people are killed and 2 million are injured each year from motor vehicle crashes.
Want to stay safe? When it comes to driving around Santa Monica, drivers may want to be extra vigilant when traversing the area's more collision-prone areas. 
Last month's most hazardous traffic spot in Santa Monica was on the 1500 block of 2nd Street, which saw four reported crashes in April, according to data on police service requests from the Santa Monica Police Department. The same spot has seen 10 reported collisions in the past year, up from eight the year before.
There were also three collisions last month on the 1500 block of the Pacific Coast Highway, a stretch that has historically seen a higher level of traffic incidents. The last three incidents bring the current 12-month total to 28 collisions, down from 34 the year before.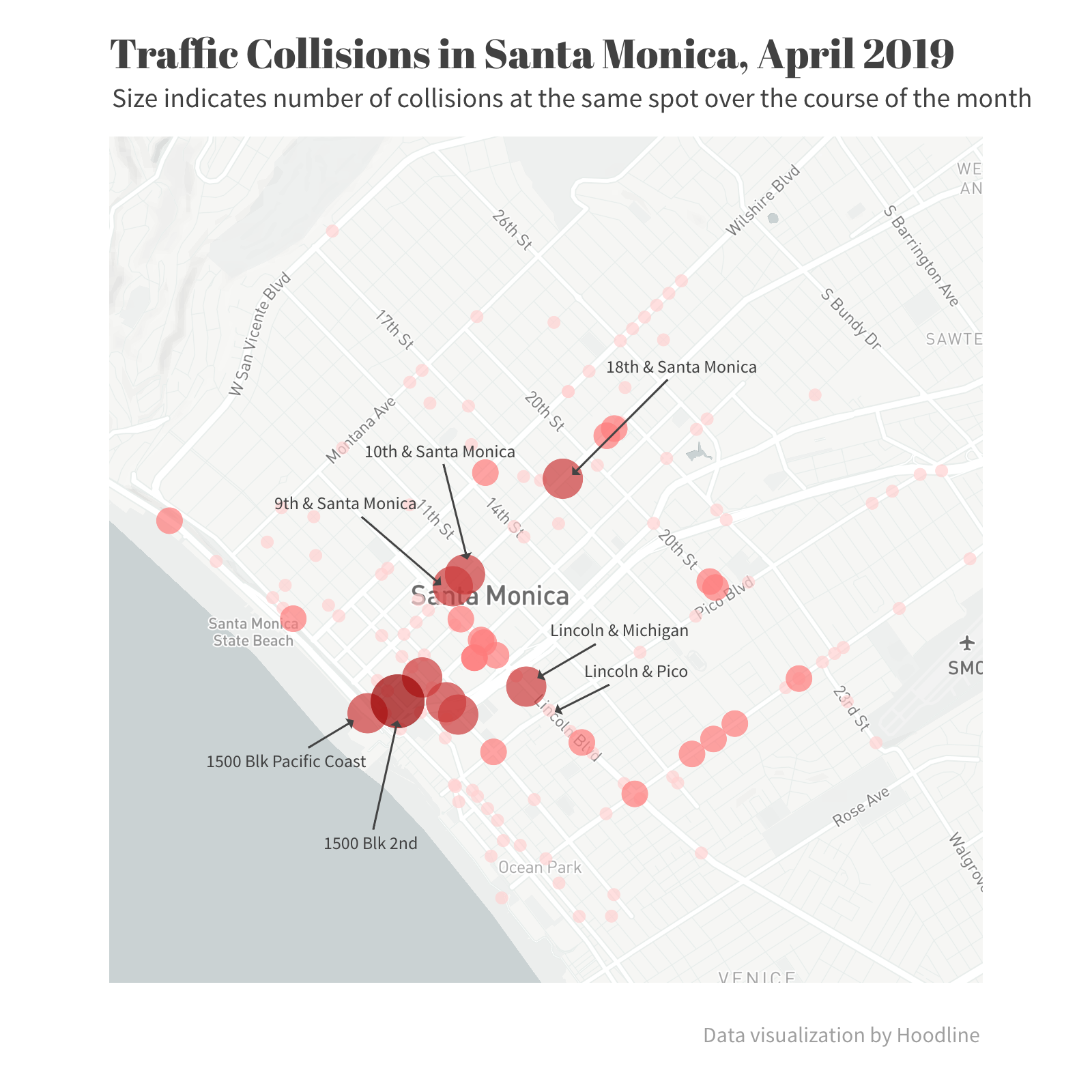 The intersection of Lincoln Boulevard and Michigan Avenue also had three reported collisions in April, as did the 1500 block of 4th Street. Both have had 12 collisions over the past year, up from five and seven, respectively, the year before. Several spots along Santa Monica Boulevard also had three reported crashes in April, at the intersections of 9th, 10th, and 18th streets.
The intersection of Lincoln Boulevard and Pico Boulevard has seen the greatest rise in collisions over the past year, with 23 reported incidents in the past 12 months, compared to 13 the year before. There was one collision at that intersection in April, and two in March.
On a more positive note, the intersection that has seen the largest drop in traffic collisions is at Cloverfield Boulevard and Pico Boulevard, which hasn't experienced an incident in the last three months. There have been four reported collisions at that spot in the past year, down from 18 the year before. Overall, Santa Monica saw a decline in collisions last month, from 191 in March to 170 in April, which also represents a slight drop from 174 incidents in April of last year.
As always, safety-minded drivers should use defensive driving techniques like always wearing a seatbelt, using turn signals, and avoiding distractions — especially when it comes to the most accident-prone sections of Santa Monica's roadways.