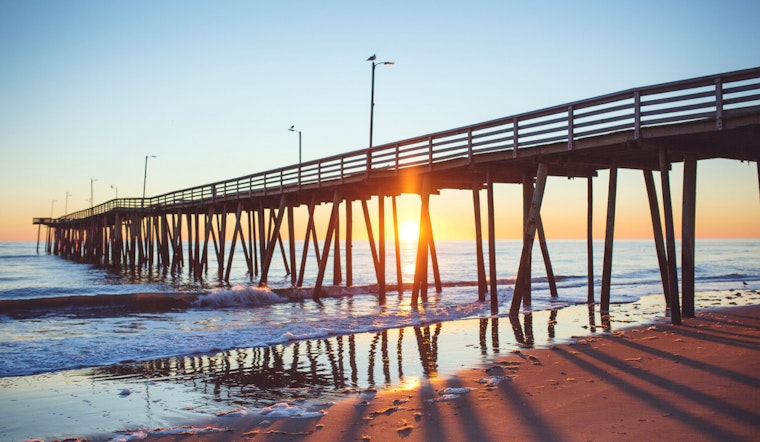 Published on May 17, 2019
Going to the beach doesn't have to break the bank. If you're looking for a coastal getaway, consider Virginia Beach. The beachside city in southeastern Virginia is located where the Chesapeake Bay meets the Atlantic Ocean. A three-mile boardwalk stretches along its beach-lined oceanfront.
The bayside First Landing State Park marks the 1607 arrival of the Jamestown colonists from England, and the Virginia Aquarium & Marine Science Center exhibits ocean life including sharks, rays and sea turtles in globally themed habitats. In addition to the sites, there are plenty of top-notch eateries and bars that'll be sure to pique your interest.
It's more doable than you think. According to travel site Skyscanner, there are plenty of flights from Detroit to Virginia Beach in the next few months, and the prices aren't too shabby.
So if you're looking for a change of scenery, here are some deals to put on your to-do list.
(Hoodline offers data-driven analysis of local happenings and trends across cities. Links included in the articles may earn Hoodline a commission on clicks and transactions. Prices and availability are subject to change.)
Cheapest Virginia Beach flights
The cheapest flights between Detroit and Virginia Beach are if you leave on July 26 and return from Virginia on July 30. Delta currently has tickets for $229, roundtrip.
There are also deals to be had earlier in July. If you fly out of Detroit on July 5 and return from Virginia Beach on July 9, Delta can get you there and back for $233 roundtrip.
Top Virginia Beach hotel
To plan your stay, here is Virginia Beach's top-rated hotel, that we selected from Skyscanner's listings based on price and customer satisfaction.
The Hilton Virginia Beach Oceanfront (3001 Atlantic Ave.)
For an all-around top recommendation, consider The Hilton Virginia Beach Oceanfront. The hotel has a 4.2-star rating on Skyscanner, and rooms are currently available for $126.
This hotel is near the Neptune Statue and Virginia Aquarium & Marine Science Center.
Local restaurant picks
If you're looking for a popular spot to grab a bite, Virginia Beach has plenty of excellent eateries to choose from. Here are a few from Skyscanner's listings to help you get started.
TASTE at the Oceanfront (3603 Pacific Ave.)
If you're looking for a local favorite, head to TASTE at the Oceanfront, which has an average of 4.9 stars out of 26 reviews on Skyscanner.
"My absolute favorite place in this world to grab a sandwich," wrote reviewer Jennifer. "Fantastic gourmet deli and little grocery. Grab lunch and head to the beach!"
Tautogs Restaurant (205 23rd St.)
A solid option for seafood is Tautogs Restaurant.
"We reserved a table for nine people and the service was excellent. It is a seafood restaurant and I love that they don't fry them! Portions are also large," wrote Tilly. 
Ynot Italian (2102 Great Neck Square)
Finally, there's Ynot Italian, a popular spot for pizza.
"Delicious pizza for a night out," wrote Gretchen.
Featured Virginia Beach attractions
Virginia Beach is also full of sites to visit and explore. Here are some popular attractions to round out your trip, again from Skyscanner's listings.
The Virginia Aquarium & Marine Science Center (717 General Booth Blvd.)
First up is The Virginia Aquarium & Marine Science Center.
This aquarium houses an impressive collection of sea life in 800,000 gallons of water. Land life is represented via the Marsh Pavilion and the Aviary, giving a good overall sense of Virginia's wildlife to any new visitor.  
Virginia Museum of Contemporary Art (2200 Parks Ave.)
Then, there's the Virginia Museum of Contemporary Art.
Exhibitions feature painting, sculpture, photography, glass, video and more from local and international artists. 
Virginia Beach 
Finally, your trip wouldn't be complete without a stop at Virginia Beach.
"Beaches are fantastic, boardwalk is great — no stores to distract children," wrote visitor Madelyn. "If you want to shop you have to go one block to Atlantic Avenue."
---
This story was created automatically using flight, hotel, and local attractions data, then reviewed by an editor. Click here for more about what we're doing. Got thoughts? Go here to share your feedback.