The Castro may soon get its second retail cannabis store — this time, right in the heart of the neighborhood.
Last year, married owners Ray Connolly and Desmond Morgan purchased the former Wild Card space (3989 17th St.) for an estimated $2.85 million, with the goal of opening a new cannabis retailer.
The original name proposed for the project was Sugar Castro, but Connolly and Morgan have since decided to switch to the moniker Eureka Sky. 
Now, Eureka Sky has been approved by the city's Office of Cannabis, and is set to go before the Planning Commission for a final review next month. Connolly and Morgan will seek a conditional use permit to change the space's use from a vacant storefront to cannabis retail sales.
Should the Planning Commission give its seal of approval, the project will then be sent back to the Office of Cannabis and to the state for final permits. If everything goes well, Connolly tells Hoodline, he hopes to be open by this fall.
A fall opening date would be right in line with a recent city Budget & Legislative Analyst report, which found it takes Castro/Upper Market businesses 18 months, on average, to open when seeking a conditional use permit.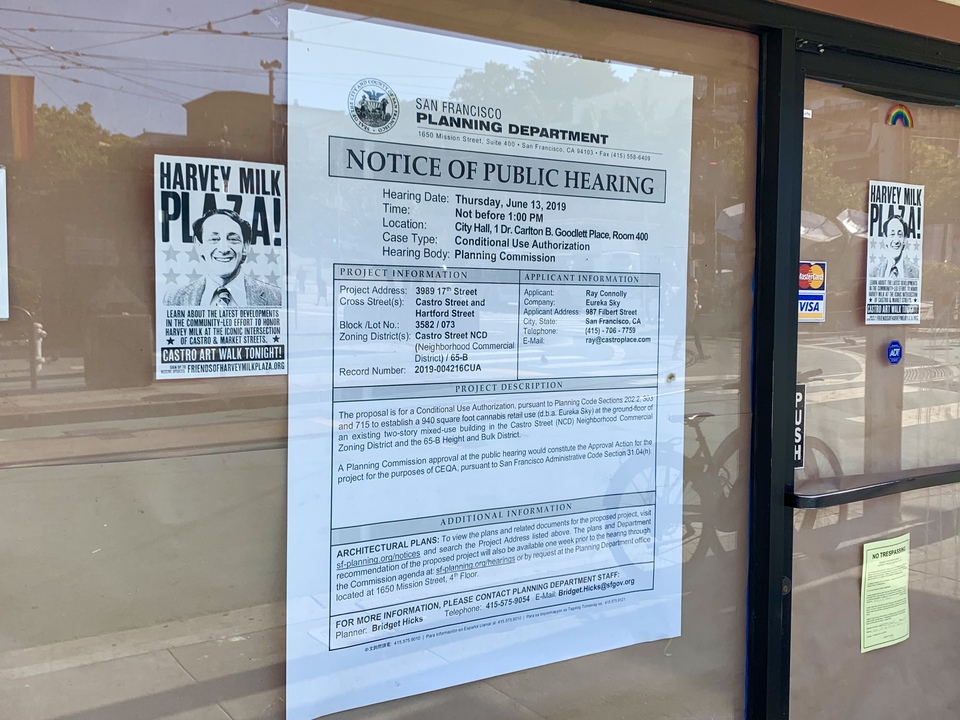 Owners Connolly and Morgan have been together for 32 years, 27 of them in San Francisco. They currently reside in Russian Hill, but plan to move into the apartment above the store, which they purchased alongside the retail space.
After 23 years in the software industry, Connolly decided to move into the cannabis world. But his first attempt to open a cannabis store, in Fisherman's Wharf, was rejected by the Planning Commission in 2015. The project faced opposition from locals who were concerned it would affect "neighborhood character."
That defeat didn't deter Connolly from continuing to work on opening a cannabis business. He first proposed a shop at 2352 Market St., formerly the home of Worn Out West, but ultimately withdrew the application. Now, he's ready to introduce the neighborhood to Eureka Sky. 
"We're not only trying to open up a new retail cannabis store, but we also really want to be involved in the community," said Connolly, who's a board member of Castro Merchants and Fundraising Chair for Friends of Harvey Milk Plaza. Morgan is a board member of the Eureka Valley Neighborhood Association (EVNA).
"I care about what the Castro Merchants do, and support making the Castro a beautiful place not only for the residents, but also for visitors," Connolly said.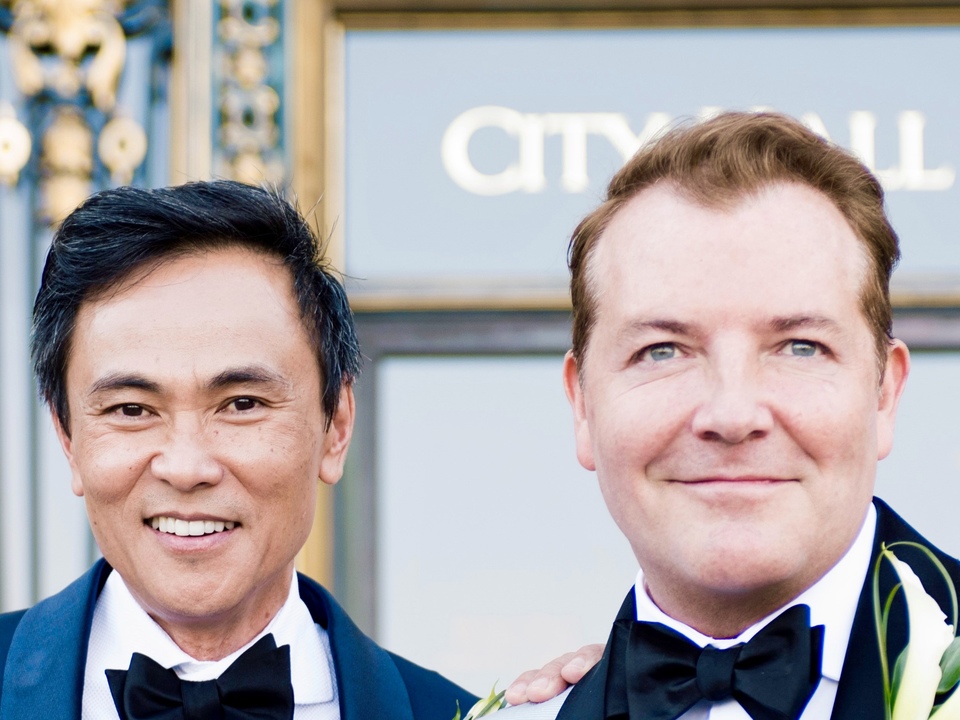 To open Eureka Sky, Connolly and Morgan are bringing on a third business partner, Chris Callaway. A medical cannabis cultivator for more than two decades, Callaway is joining the business as part of the Office of Cannabis Equity Program, which is "designed to lower barriers to cannabis licensing for those hardest-hit by the War on Drugs."
While Connolly will oversee the retail space and training employees, Callaway's focus will be on sourcing products and collaborating with Morgan on medicinal products and education, including hosting cannabis seminars. 
Staff will be highly trained in different types of cannabis products and their uses, and "we'll also carry existing and new medicinal products for individuals that are looking to use the benefits of medicinal cannabis," Connolly said.
The company plans to donate products to neighbors in need that can't afford them, including patients at local compassionate care facilities like Maitri Compassionate Care and Coming Home Hospice. Connolly also plans to work with the LGBT Center to hire employees.
And because Callaway is the founder of the Laguna 500 Arts Projects, which transforms vacant storefronts into artist studios and pop-up galleries, Eureka Sky will have a strong arts component, with plans to participate in the monthly Castro Art Walk.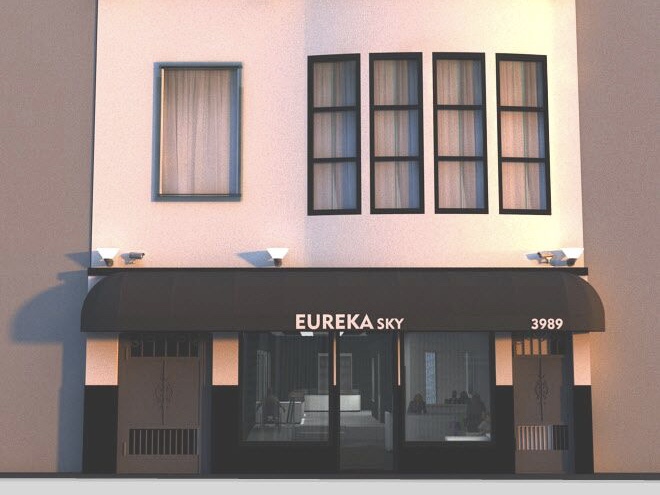 Connolly told Hoodline that he and Morgan decided to change the business' name from "Sugar," out of concern it might confuse children and families.
The new name, Eureka Sky, was chosen as a nod to the state motto of California, as well as the view from the store. "When the clouds roll in on top of Twin Peaks, it's beautiful," Connolly said. 
Connolly says the space will only require a light remodel, with the addition of new cabinetry and flooring. The retail storefront is planned for the front part of the store, while the back area — previously used by Wild Card for adult films and toys — will be used for offices and an employee break room. 
Connolly also plans to give the building a fresh coat of paint. Down the line, he says, he'd like to upgrade the awning, but Historical Preservation rules mean that will take some time.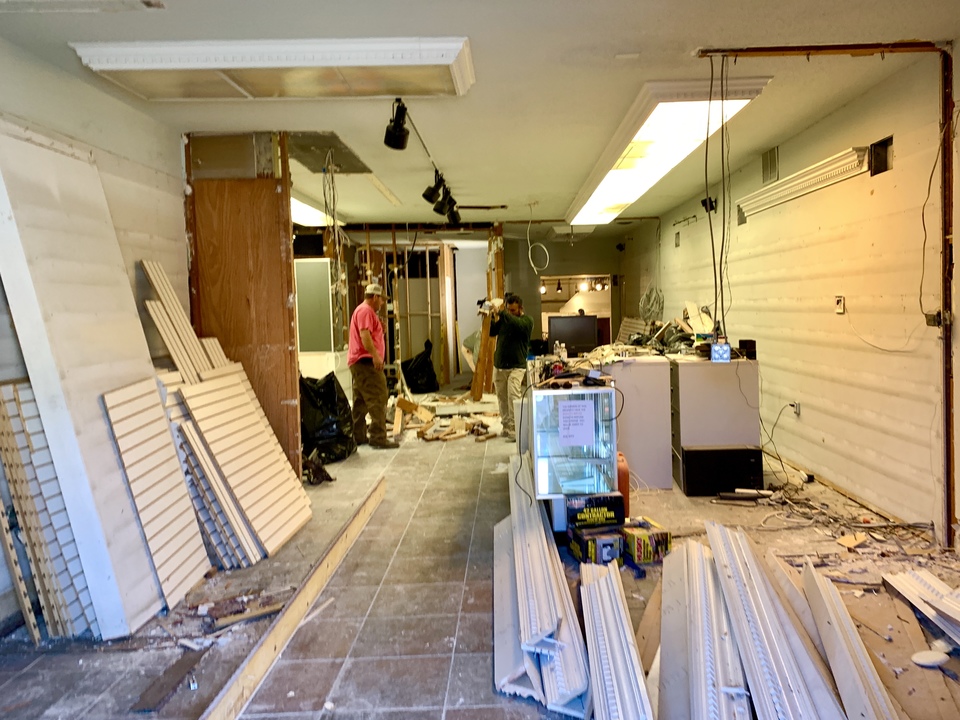 Even with The Apothecarium serving customers further down Market Street and a proposed dispensary for Cafe Flore, Connolly believes there's enough demand for retail cannabis in the Castro to support multiple businesses. 
"I think we're going to have different customers, because of the location," he said.
While Castro residents are all too familiar with the issues surrounding Jane Warner Plaza, Connolly hopes that Eureka Sky's plans to install high-resolution security cameras will deter unwanted street behavior.
He said the cameras' archived footage will be stored for up to 180 days, and made accessible to SFPD.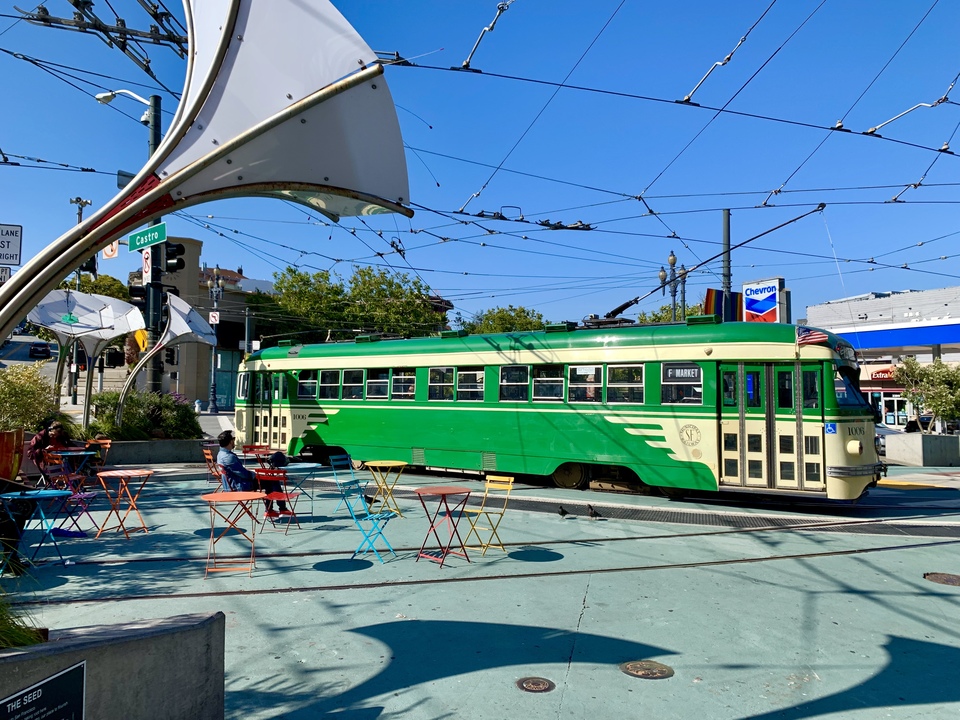 After hosting two community meetings, Connolly says the response has been overwhelmingly positive.
"People keep asking how soon can we open," he said. Eureka Sky has earned letters of support from the Castro Merchants, EVNA and the Duboce Triangle Neighborhood Association, as well as neighboring businesses Orphan Andy's, Local Take, Castro Tattoo and Nice Cuts.
Once it opens, Eureka Sky plans to operate seven days a week, from 10 a.m. to 9 p.m. 
"We want Eureka Sky to have [that] really great service and fun vibe when you walk in," Connolly said. "We want to provide high-quality products with superior service."