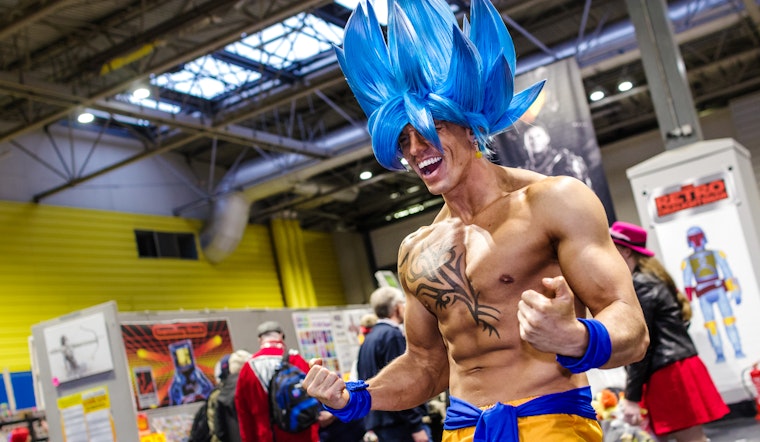 Published on June 28, 2019
Calling all fans of comics and pop culture! Need a reason to visit San Diego in the summer, which the Weather Channel says has one of the best year-round climates in the nation? Then Comic-Con International is the excuse you've been waiting for.
The mammoth celebration of everything from traditional comic books to the latest in anime, sci-fi and Western animation fills the San Diego Convention Center each year to its capacity of 125,000. Spanning July 18-21 this year, the conference will, as always, feature panels, awards, autograph sessions and special guests, including artist Neal Adams (Batman, X-Men), cartoonist Sergio Aragonés (Groo the Wanderer) and writer/artist Ebony Flowers (Hot Comb).
Feel free to come in costume, and as it has for over 33 years, Comic-Con offers child care. And when you're not at the convention, venture out to explore San Diego, with its beaches, historical sites and world-famous zoo.
Fortunately, there are plenty of relatively inexpensive flights between Pittsburgh and San Diego, at least according to travel site Skyscanner.
Here's a list of flights, hotels, restaurants and local attractions in San Diego to round out your trip. (Prices and availability are current as of publication and subject to change.)
Hoodline offers data-driven analysis of local happenings and trends across cities. Links included in the articles may earn Hoodline a commission on clicks and transactions.
Cheapest San Diego flights
Currently, the cheapest flights between Pittsburgh and San Diego are if you leave on July 18 and return from California on July 22. Delta currently has tickets for $319, roundtrip.
There are also deals to be had earlier in July. If you fly out of Pittsburgh on July 17 and return from San Diego on July 22, Spirit Airlines can get you there and back for $330 roundtrip.
Top San Diego accommodations
Regarding where to stay, here are some of San Diego's top-rated hotels, which we selected from Skyscanner's listings based on price and customer satisfaction.
The Hotel del Coronado (1500 Orange Ave.)
If you're looking to treat yourself, consider The Hotel del Coronado. The hotel has a 4.6-star rating on Skyscanner, and rooms are currently available for $290.
Family and pet-friendly, the sprawling "Del," as it's known, is a beachfront village unto itself. According to its website, it has several ocean-view restaurants and bars; shops and boutiques; beach equipment and boat rentals; a heated pool and a 24-hour fitness center. 
The Lafayette Hotel, Swim Club & Bungalows (2223 El Cajon Blvd.)
Another 4.6-star option is The Lafayette Hotel, Swim Club & Bungalows. Rooms are currently set at $79 a night.
Located near the famous Balboa Park, home of attractions like the San Diego Zoo, the Lafayette is a classic California hotel, with bungalows for those seeking more private accommodations, and, as its central attraction, the Weissmuller Olympic Pool. 
The U.S. Grant (326 Broadway)
A third option is The U.S. Grant. The 4.7-star hotel has rooms for $159 a night. Set in the heart of San Diego, this hotel is close to Westfield Horton Plaza, Petco Park and the San Diego Convention Center. Other attractions include the San Diego Zoo.
Featured San Diego restaurants
Don't miss San Diego's food scene, with plenty of popular spots to get your fill of local cuisine. Here are a few of the top-rated eateries from Skyscanner's listings.
Extraordinary Desserts (2929 Fifth Ave.)
Let's start with the essentials: where to satisfy your sweet tooth. For a popular option, check out Extraordinary Desserts, which has an average of 4.7 stars out of 160 reviews on Skyscanner. Extraordinary Desserts is located in the Balboa Park neighborhood, with a second restaurant in Little Italy near downtown.
"It's a very nice place to hang out with friends and share some beautifully decorated treats," wrote visitor Roque. "I loved the fresh fruit tartlets. They're so delicious and beautiful to see that you will never want to eat them!"
The Prado at Balboa Park (1549 El Prado)
One of San Diego's most popular restaurants is The Prado at Balboa Park, with 4.6 stars from 133 reviews.
Set in manicured gardens, the Prado is located at the historic House of Hospitality in the center of San Diego.
Mister A's (2550 Fifth Ave., 12th floor)
Also worth considering is Mister A's. Its California-style New American fine dining menu comes with spectacular views of the San Diego skyline, San Diego Bay, Balboa Park, Coronado and Point Loma.
"Came here to surprise my brother with a fancy lunch," wrote Makiah. "The staff were friendly and excited to help me surprise him after not seeing him for about two years. The place is beautiful, the view is gorgeous and the food is amazing!"
In-N-Out Burger (2005 Camino Del Este)
Finally, there's In-N-Out Burger, the iconic California fast-food chain.
"Favorite place to grab a burger, and it is so cheap," wrote Kim. "Freshly made fries and milkshakes made with real ice cream round out a great meal."
What to see and do in San Diego
San Diego is also full of sites to visit and explore. Here are some popular attractions to round out your trip, again from Skyscanner's listings.
San Diego Zoo (2920 Zoo Drive)
First up is the San Diego Zoo.
The San Diego Zoo houses over 4,000 animals from more than 800 species. At over 100 acres, the zoo offers exhibits that run the gamut of the world's ecosystems.
Balboa Park (1549 El Prado)
Balboa Park is another popular destination.
A massive urban park, it's home to multiple museums, shops, restaurants and, most famously, the San Diego Zoo. Many of the buildings within the park were built for California expos in the early 20th century and are now protected as prime examples of architecture from that period.
"Beautiful," wrote visitor Ryan. "Lots to see. Amazing museums. Great family environment."
Gaslamp Quarter (614 Fifth Ave.)
Finally, spend some time at the Gaslamp Quarter.
Bordered by the water and downtown San Diego, the Gaslamp Quarter is alive with activity almost every day and night of the week, with restaurants, bars, movies, playhouses, hotels and other attractions.
---
This story was created automatically using flight, hotel, and local attractions data, then reviewed by an editor. Click here for more about what we're doing. Got thoughts? Go here to share your feedback.