As debate continues to swirl over the proposed removal of street trees in Hayes Valley, one has already been felled.
Last week, a palm tree was cut down on Patricia's Green (Octavia and Hayes streets), leaving only a stump behind. 
SF Rec & Park spokesperson Madison Sink said the tree was removed because it had died.
"This particular species of palm has not done well in San Francisco, so we are currently researching alternatives in order to determine a replacement plan," she said. "We are looking for trees to provide much-needed shade for the picnic area at Patricia's Green."
The discussion around tree removals in Hayes Valley got heated in January, when about 30 ficus trees along Octavia Street in Hayes Valley were marked for removal by SF Public Works. The agency has managed all of San Francisco's street trees since a 2016 ballot amendment transferred that responsibility away from individual property owners. 
According to Public Works, the ficus trees' height, structure, canopy size, pruning history and roots can make them more susceptible to limb failure and/or collapse.
Lost limbs and collapsed trees can put people, as well as property, at risk. Last December, a fallen tree on Hayes Street seriously damaged a vehicle and shut down the street for hours. In 2017, a woman was paralyzed when a 100-pound pine tree limb fell on her in North Beach's Washington Square Park.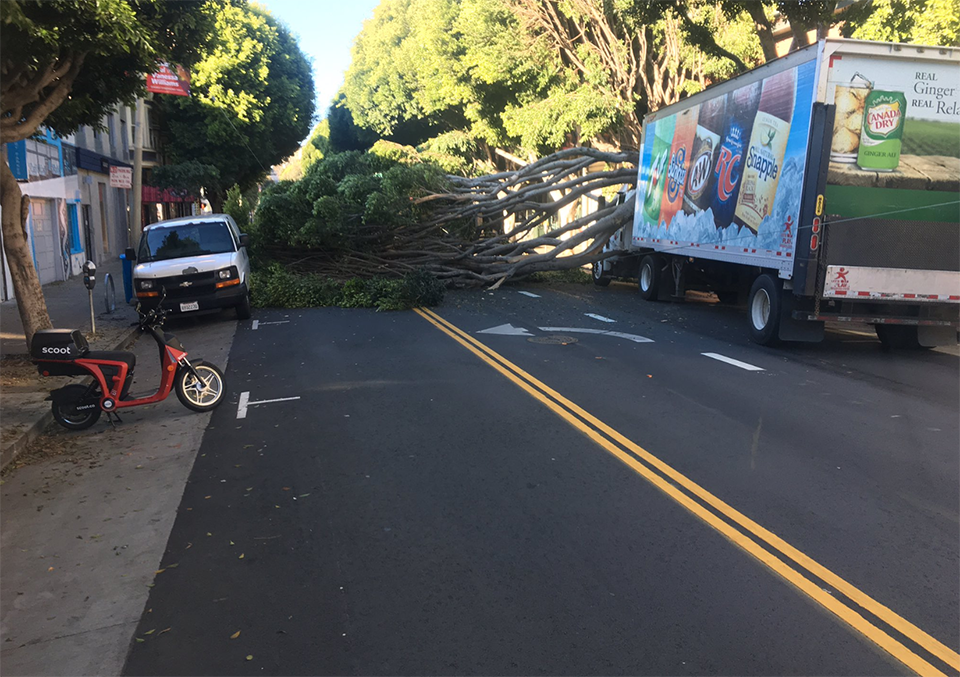 The planned tree removal caused an uproar from neighbors, who were concerned that the city would not have money budgeted to replace the trees once they'd been cut down.
Ultimately, city staffers joined neighbors for a neighborhood walkthrough to discuss the trees. "We had about 20 people come out and ask lots of questions," Hoodline tipster Natalie D. said of a walkthrough event in March.
On April 29, a special tree hearing was convened at City Hall. However, no official outcome of the meeting has yet been announced.
Gordon confirmed on Tuesday that so far, "the hearing officer's recommendation has not yet been made ... We expect it shortly, but I do not have a definitive date."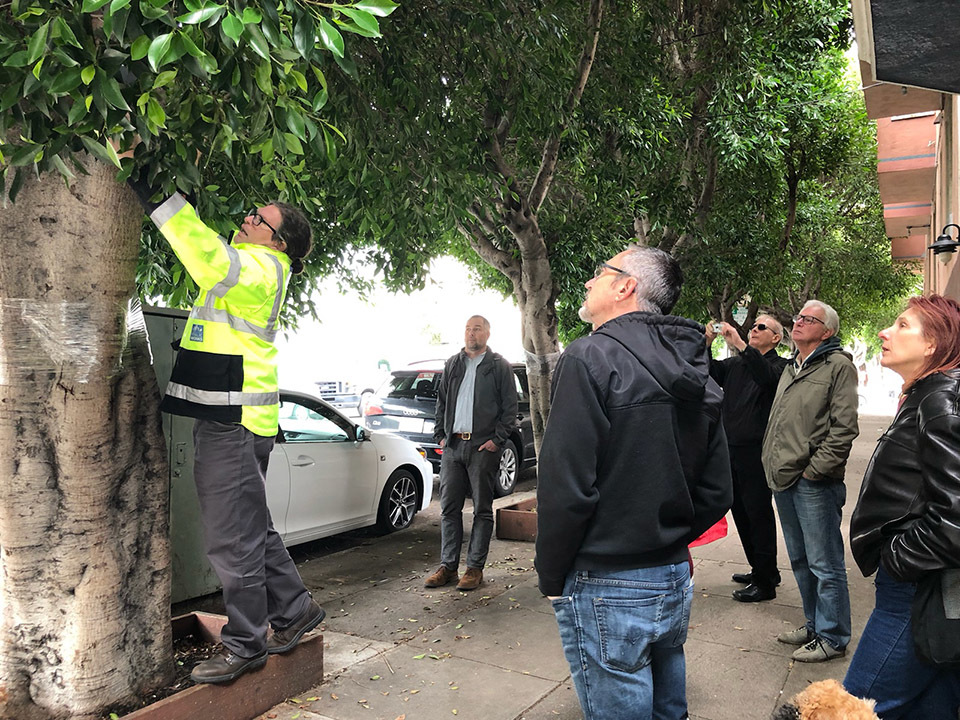 Tipster Natalie also expressed concern about birds nesting in the palm tree that had been cut down. However, Rec & Park's Sink said there were no nests in the tree. 
Local wildlife rescue WildCare notes on its website that animals of all species may use trees as a nursery in spring or summer. Some birds nest in hidden tree cavities, which is why it's best to check both limbs and trunks before working on a tree. Ideally, even trimming should be postponed if an active nest is present. [Editor's note: The author of this story volunteers at WildCare.]
"While not required, Rec & Park often has biologists perform assessments before tree removal if nests are found," Sink said. "Generally, we will not remove trees that house nests unless the trees pose a hazard to human health and safety."
---
Those who've found an injured or orphaned animal can call WildCare's 24-hour hotline at (415) 456-7283.
Volunteer waterers can help preserve street trees and help new ones grow. Commercial or residential property owners interested in taking on the watering responsibilities for a newly planted tree are encouraged to contact the Bureau of Urban Forestry at (415) 554-6700 or [email protected]