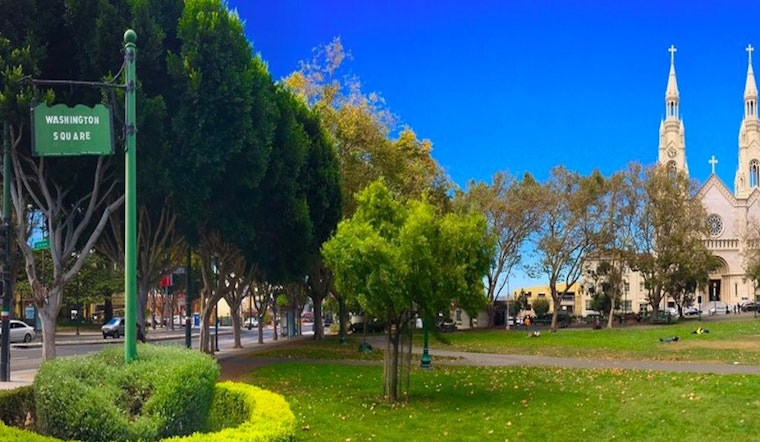 Published on June 24, 2019
Much of Washington Square Park will be off-limits this summer to allow for renovations aimed at reducing the site's water usage by two-thirds.
The children's playground and recently renovated restrooms will remain open through the summer. But fences have been erected around the rest of the park's perimeter that are expected to remain in place through the end of 2019 to allow for completion of the $3.1 million improvement project.
The six-month closure will give workers time to replace the park's irrigation and drainage systems, improve landscaping with drought-tolerant plants, and repave paths to make them ADA compliant.
Construction began on June 20, 2019, and the park is expected to reopen sometime in late December, according to SF Rec and Park deputy director of communications and public affairs Tamara Aparton.
The irrigation system replacement itself is expected to reduce the 1.5 acre park's annual water usage by two-thirds — from more than 3.3 million gallons to 1.1 million gallons. It will include weather-sensing components that prevent the system from turning on when the park is already receiving enough water during rainy periods. 
In 2012, the Recreation and Park Department and the SF Public Utilities Commission collaborated to develop a Parks Water Conservation Plan based off a 2009 audit conducted by SFPUC. Washington Square was found to use the most water per acre of all of the city's parks each year.
The drainage system improvements will address the park's ongoing problem of over-saturation, making the lawn more accessible (and pleasurable) for sitting and playing.
According to FoundSF and Friends of Washington Square, the park is one of San Francisco's initial three public squares, dedicated as a public space by the city's first mayor, John Geary, in 1850. It was initially rectangular, spanning the full block between Powell, Stockton, Filbert, and Union streets, but construction of Columbus Avenue in 1873-1875 cut off a small corner.
The small park at Powell and Columbus, Marini Plaza, will remain open during the Washington Square construction, although one of its trees may be replaced, according to project renderings. 
Union Square and Portsmouth Square, the other two initial public spaces in San Francisco, have both been transformed into rooftop parks atop city parking garages. 
The Parks Water Conservation Plan identified 11 other parks across the city that have the greatest potential for water savings: Balboa Park, Buena Vista Park, Stern Grove, GGP Panhandle, Larsen Ball Fields, Junipero Serra Playground, Parkside Square, Marina Green, GGP Big Rec, St. Mary's Park, and James Rolph Park. 
Alamo Square underwent a similar irrigation and drainage system upgrade in 2016-2017 at a cost of $5.3 million.
Over $1 million of the funding for the Washington Square Park improvements is coming from the 2012 Rec & Park Bond, but the largest part of the bill is being covered by a $1.4 million one-time line item in the city's general fund secured by District 3 Supervisor Aaron Peskin. The $625,700 in landscape improvements are being paid for through the SFPUC's Large Landscape Grant Program. 
During the park's closure, neighbors are encouraged to visit one of the many nearby Rec and Park locations, such as the Michelangelo Playground at Greenwich and Jones, Pioneer Park at Filbert and Kearny, or Joe DiMaggio Playground at Powell and Lombard streets.