After more than a year of free-floating e-scooters on Oakland's streets, city regulators are finally bringing the scooter companies to heel.
Oakland is the latest Bay Area city to establish its own e-scooter permit system, complete with caps on the size of the city's overall fleet.
On Tuesday, the Oakland Department of Transportation (OakDOT) awarded permits to four scooter companies: Bird, Clevr, Lime and Lyft. Collectively, they'll be allowed to operate 3,500 scooters on the city's streets: 500 for Clevr, and 1,000 for the other three companies.
The companies' eligibility was based on an ordinance passed by the City Council last September. Officials said that the four operators have met all the necessary requirements, and can launch their e-scooter fleets as soon as this week.
As we reported last fall, the ordinance, co-authored by Councilmembers Rebecca Kaplan, Noel Gallo, and Lynette Gibson McElhaney, requires designated locations and geographic limits for dockless bikes and scooters, local maintenance teams and a discounted membership plan for low-income users.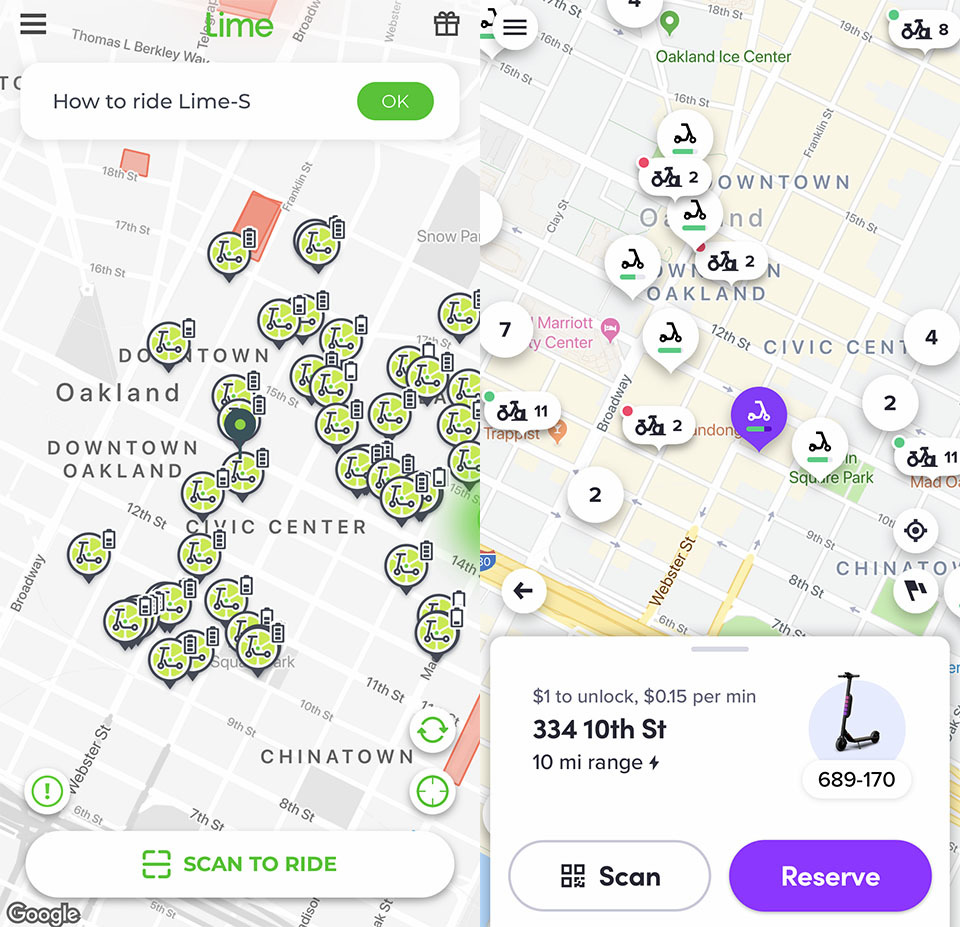 OakDOT representatives said that in community discussions, residents expressed concerns about the potential for scooters to clutter sidewalks. A need for more e-scooters in West and East Oakland, as well as near parks, libraries, and plazas, was also expressed.
The ordinance requires operators to "prioritize and incorporate the needs and concerns of the Oakland community," and to educate users on how to safely use e-scooters in the city. Additionally, e-scooters must be distributed equitably throughout Oakland.
The ordinance also calls for adaptive scooters that allow people with disabilities to ride, which are expected to be made available in the next year.
While e-scooters have benefitted Bay Area residents looking for affordable transportation, they can pose a tripping hazard for pedestrians or block the way for people with disabilities. Last year, some e-scooters were also dumped into Lake Merritt.
Oakland residents are encouraged to report misplaced e-scooters online or through the OAK311 app. All four scooter companies will be added to that service, with complaints directly forwarded to the relevant company.
According to the city of Oakland's website, e-scooter users should ride in the street, staying to the right or using the bike lane if there is one. The scooters are prohibited on sidewalks, but can be used on multi-use pathways, like the Lake Merritt Trail.
As for parking, e-scooters may be left on sidewalks, as long as they do not block driveways, building entrances, curb ramps, color curbs or fire hydrants. At least six feet of sidewalk space must be left when e-scooters are parked.
The scooter selection in Oakland is at odds with that of San Francisco, where two entirely different companies — Scoot and Skip — are the only ones legally allowed to operate e-scooters. However, Scoot is set to be acquired by Bird, which is one of the approved scooter operators in Oakland. 
Despite having more than double the population of Oakland, San Francisco also only allows 2,500 scooters, compared to Oakland's 3,500.