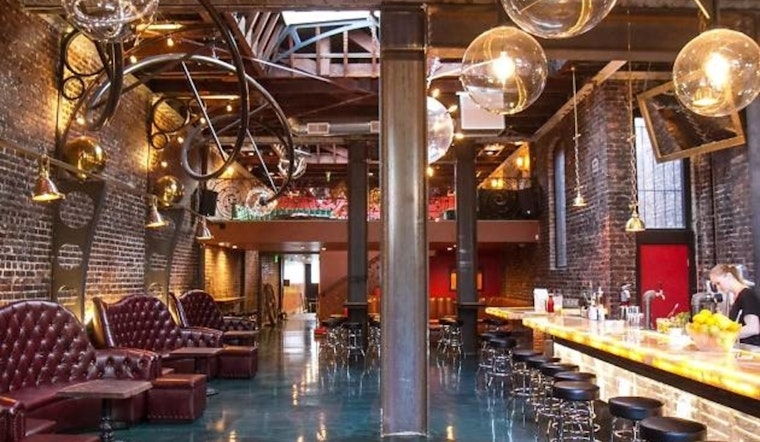 Published on August 27, 2019
Here's the latest in SF restaurant and bar news. In this edition: a massive cocktail bar closes in Polk Gulch, a longtime Mission restaurateur is sentenced in an immigration-related legal battle, and a local mini-chain launches a frozen yogurt truck.
Closing
Polk Gulch
Rusted Mule (1217 Sutter St.)
Tipster Justin alerted us that Polk Gulch cocktail bar Rusted Mule has shut down after a little over two years in business. Its space at 1217 Sutter St. is now boarded up, with a notice posted to its windows that it's available for lease. The bar's phone is disconnected, and its website is no longer active.
Rusted Mule opened in February 2017, offering cocktails and pub grub in a large, decorative space with seating for 140. The venue boasted three lounges and a mezzanine for private parties.
We've reached out to owner Richard Vila for comment on the closure, but have not heard back. 
Updates
Mission
Little Baobab (3388 19th St)
After a yearlong immigration battle with the the federal government, Marco Senghor, owner of Oakland's Bissap Baobab and the Mission's Little Baobab, was sentenced last week to a year of probation and a $1,000 fine.
Back in March, the Senegalese-born restaurateur plead guilty to one count of "false claim or statement involving an immigration document." Prosecutors said he married a U.S. citizen he did not know in April 2000, and despite having no contact with her after the wedding, falsely claimed in immigration filings that he lived with her between 1999 and 2003.
The long legal battle had consequences for Senghor's finances. In April, he closed the Mission location of Bissap Baobab, selling the space to Peruvian restaurant El Porteño. 
However, he was able to retain neighboring restaurant Little Baobab. He also relaunched Bissap Baobab's Oakland location, which had closed last August.
Last year, Senghor's friend Michael Nolan created a GoFundMe to help raise funds for what he said has been "an expensive journey" for Senghor. The fund is currently at $63,388, and Senghor is still hoping to reach the $100,000 fundraising goal. 
Nolan told Hoodline that Senghor, his family and friends are very grateful and relieved by his sentence, as he could have faced up to a decade in prison. "Marco looks forward to returning in full force to his restaurant and entertainment business," he said.
Citywide
Souvla Truck (Citywide)
Last week, Greek eatery Souvla (which has four locations around the city) debuted a new food truck, specializing in its popular Greek frozen yogurt.
The truck, a 1971 Chevy P10 step van, has been retrofitted with all the equipment needed to serve frozen yogurt on the go. It offers the same topping combos found in Souvla's brick-and-mortar locations: sour cherry syrup, Cretan honey, baklava crumbles or olive oil and sea salt. 
"We wanted to create something really memorable, with a Greek spin on the old-school Mister Softee trucks," owner Charles Bililies said in a statement. "This was a super fun project for me and my team; I've loved the process of bringing this truck to life."
The truck made its debut on Saturday at the Eat Drink SF food festival, and can be rented for corporate events and private parties throughout San Francisco. Rates are $1,500 for the first hour and $1,000 for each subsequent h, which includes transportation and unlimited fro-yo.
To keep abreast of the truck's next stops, visit Souvla's website or follow them on Instagram.
---
If you've seen something new (or closing) in the neighborhood, text your tips and photos to (415) 200-3233, or email [email protected]. If we use your info in a story, we'll give you credit.