Nine months after construction began — and three months after it was officially set to reopen — the new train platform outside the forthcoming Chase Center is now serving Muni riders. Local officials, including Mayor London Breed, celebrated the new platform at an event on Tuesday morning.
Inbound and outbound T-Third trains will now board on the same platform, which has been built to accommodate up to 700 customers at a time. Four two-car trains will be able to load simultaneously during and after events at the Chase Center, which has a seating capacity of just over 18,000 people.
"This new platform will make it easier for people get to and from the Chase Center, UCSF and other businesses in Mission Bay without having to rely on cars," Breed said in a statement.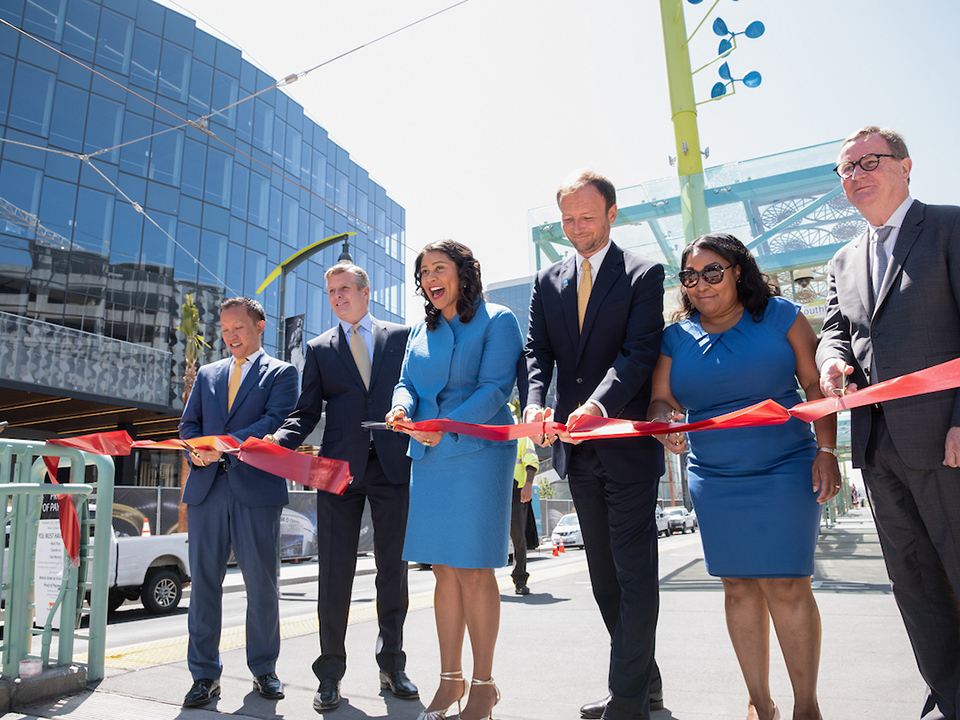 The Chase Center will officially open on September 6, with a concert by Metallica and the San Francisco Symphony. The NBA's Golden State Warriors will begin playing there in late October, drawing an average of 9,000 or so fans to each game. 
Many locals are concerned about the effect that Warriors games and other Chase Center events will have on the stadium's neighbor: the UCSF Medical Center at Mission Bay. UCSF has created a new website to keep visitors apprised of heavy traffic, with the option to sign up for traffic alerts. 
"UCSF's number-one priority is to preserve access to our Medical Center at Mission Bay," said UCSF Chancellor Sam Hawgood in a statement.
To help mitigate traffic, Mayor Breed announced a partnership between the Warriors and the SFMTA last month. All Chase Center event tickets — both electronic and physical — will serve as proof of payment for same-day Muni rides. The Warriors are funding the initiative. 
 "This new platform will help fans get to the game quickly and efficiently, while benefiting the surrounding neighborhood," said Assemblymember David Chiu.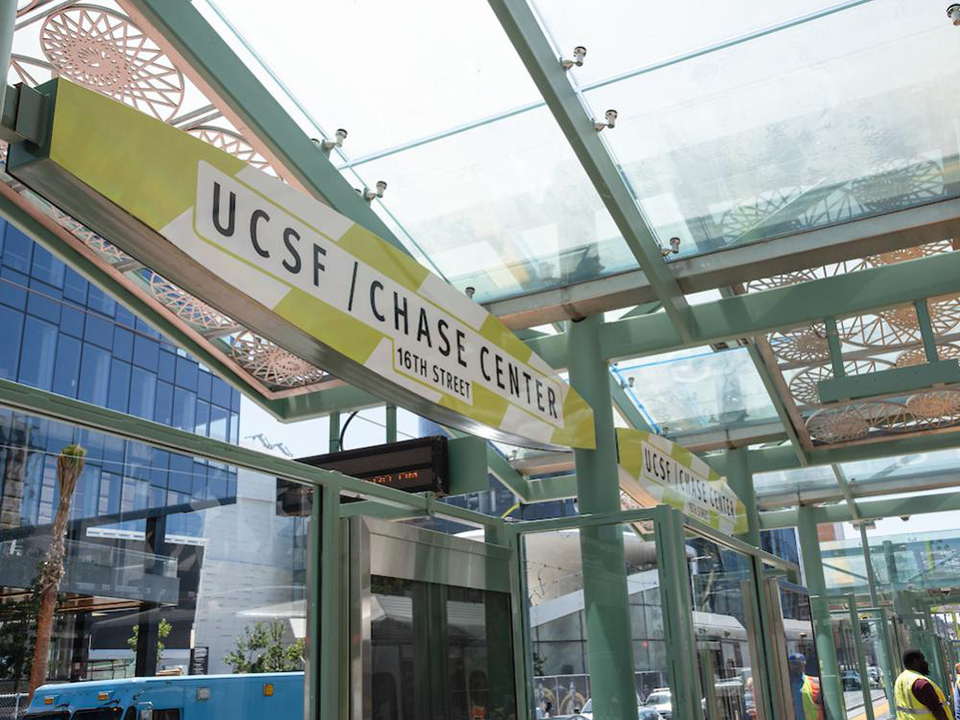 To accommodate the new platform, the T-Third has gone dark multiple times this year, with buses substituting for trains along the route. The longest shutdown was from January 22 - April 1; another 10-day shutdown started on July 27 and concluded yesterday.
To overhaul the platform, the SFMTA had to widen train tracks, install new overhead wires to power the trains, and update utility lights, traffic signals and streetlights in the area. 
The project was originally set to be completed by late April. Last month, SFMTA spokesperson Erica Kato told Hoodline that the three-month delay was "due to all the rain during construction earlier this year."