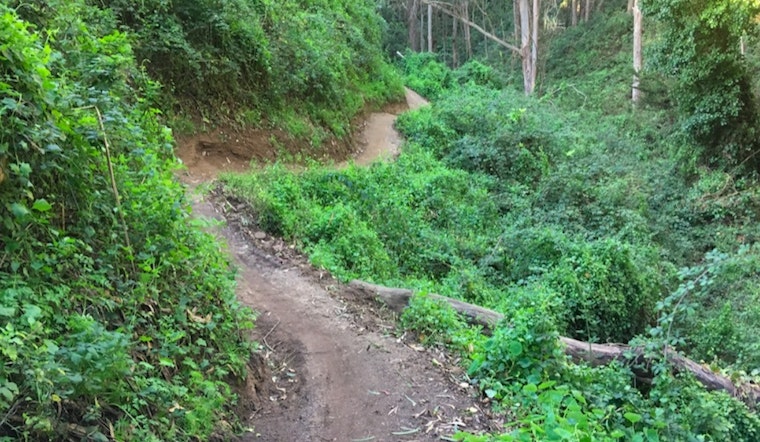 Published on September 26, 2019
A grand opening celebration this weekend marks a milestone in the partnership between San Francisco Urban Riders (SFUR) and Laguna Honda Hospital to reconstruct a community trail system.
The hospital's 62-acre campus includes several medical facilities, but also features woody areas and a perennially-flowing creek that keeps parts of the property lush year round. 
As we previously reported, interest in the trails was renewed when Nick Birth, a water resources engineer with Public Works, became intrigued by the canyon, which had evidence of a defunct trail system.
Birth and his friends, including fellow SFUR member Matthew Blain, attempted to hack through the overgrowth and invasive blackberry vines to unearth the old paths.
"We kept finding stairs and benches in spots where you'd expect to see them… it was clearly at some point a trail system," Matthew Blain of SFUR told us. SFUR even found old trail signs posted on trees throughout the property, and a historic map showing the trails as they once existed.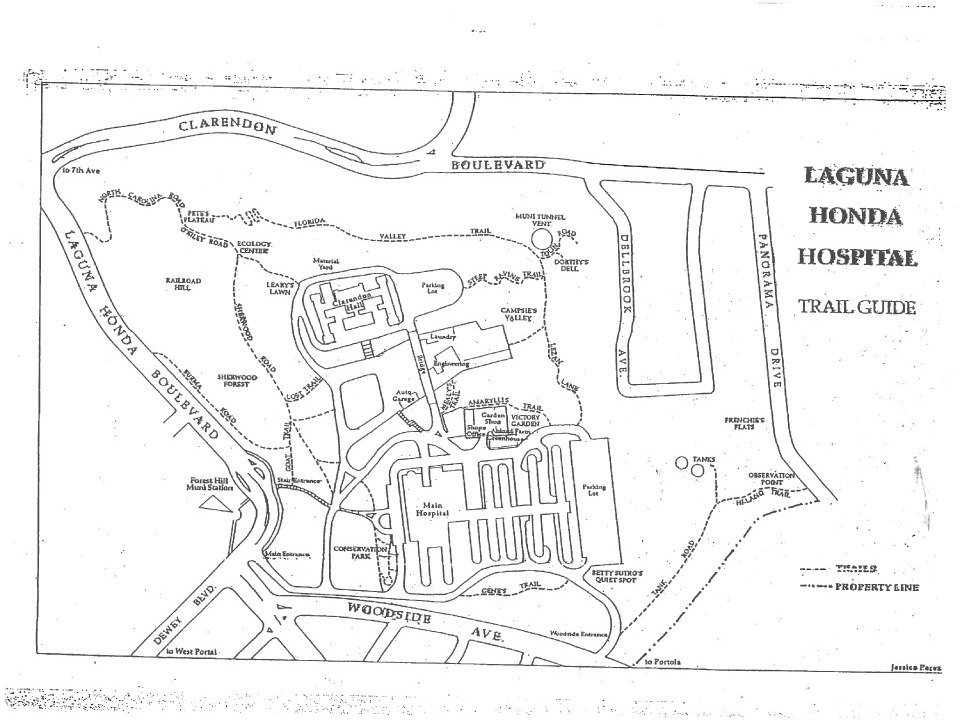 The non-profit group, which was founded by Dan Schneider in 2008, advocates for a citywide network of bike-friendly trails but also encourages other uses of the trail system such as hiking and trail running. 
There were people who knew of the trails on the hospital's property back in the 1990s, including Ben Pease, who mapped the refurbished trails, Schneider told us. But he said Birth really took the initiative and rallied SFUR to launch an effort to bring them back to life. 
Since 2016, SFUR has worked with a steady stream of volunteers and community members to seek and receive several grants, including a Community Challenge Grant and a portion of the District 7 participatory budget funds in 2018. The San Francisco Parks Alliance is the fiscal sponsor for the project and SFUR more broadly. 
The group tapped Jim Jacobson, a well-known bike trail builder from Forest Hills, CA, to help with trail design and the more heavy-duty construction needs. Jacobson has built many of the trails in China Camp State Park, Big Rock Ridge, and the trails at Camp Tamarancho.
But Blain said volunteers are responsible for much of the trail work. SFUR hosts monthly 'digging days' every second Saturday and posts calls for mid-week evening trail workdays on its Facebook page. 
Construction seasons and funding timing led to some minor lags in productivity, but volunteers working with hand tools were able to keep the momentum going even during bird nesting season, Blain said. He added that corporate groups like Google, Strava and Salesforce, community groups like Boy Scout Troop 88, and student groups from the University of San Francisco and UCSF have also put in hours of volunteer time, he added. 
The trails are already in use by bikers and walkers. The upper trails are frequented by commuters trekking to and from the Forest Hill Muni Station, while neighbors, hospital staff and visitors view the area as their local park, Blain said. The trail system also connects with longer routes, such as the SF Crosstown Trail. 
The grand opening event on Saturday, September 28, is all about volunteers, according to Schneider. It aims to celebrate with the people who have helped with the effort so far, and increase visibility of the work ahead to attract more community members to pitch in. 
There will be a ribbon cutting at 10:45 a.m., followed by guided tours of the refurbished trails led by the people who worked on them. Throughout the event there will be information booths for people to learn more about the trails' history, and SFUR's plans for next steps on the property. 
So far, volunteers have removed enough trash from the property to fill two 20-cubic yard dumpsters and reconstructed about 2.5 miles of trail.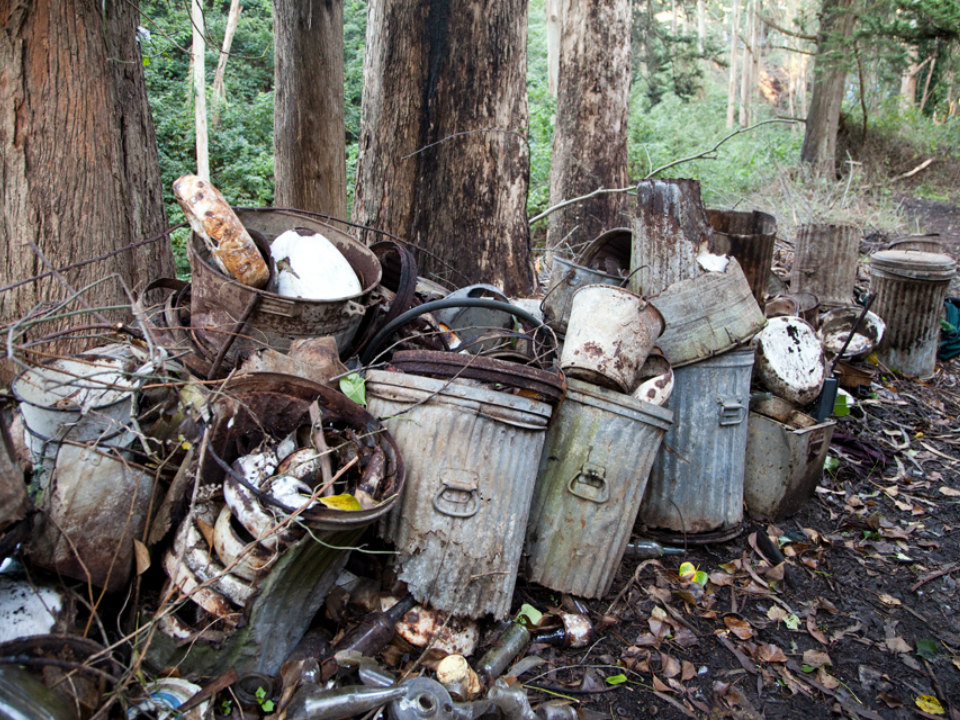 Looking forward, the 'Lost Trail' as depicted on the historic map has not yet been touched, and SFUR and the hospital see ongoing need for help battling the constantly-growing blackberry vines, Blain said. Trash collection will also be a continuous need, and the property could use some native plant restoration, he added.
The grand opening celebration is free, and will be family-friendly with face painting, lawn games, and of course, hiking and biking on the trails.