It doesn't take an expert to see that San Francisco's small businesses are struggling these days, with dozens of longtime businesses closing this year alone.
With commercial rents rising, wages increasing and potential employees leaving SF in search of more affordable housing markets, businesses are more reliant than ever on the people proven to be their most loyal customers: those who live nearby. 
That's the idea behind Nearlist, an app recently launched by Lower Haight resident Ben Dempster. It aims to connect small business owners with customers in their neighborhoods, both new and existing.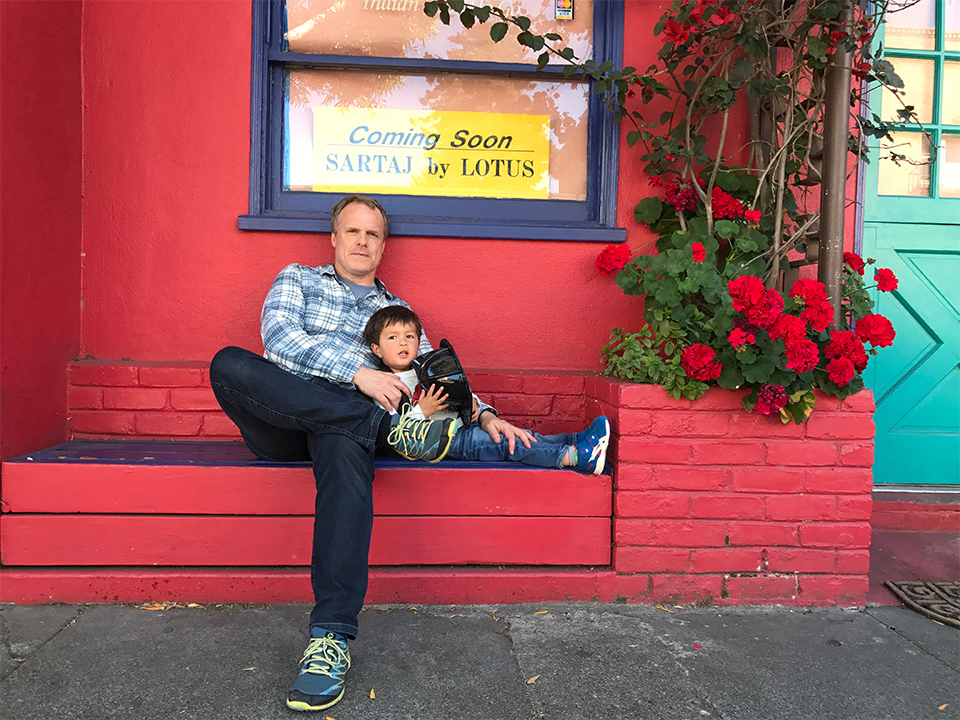 Dempster says he sees cities as an accumulation of Main Streets, and he wants his app to connect neighbors to theirs. He first tested it on the Divisadero corridor, and currently has about 35 listed businesses across seven SF neighborhoods.
Merchant groups in each neighborhood helped him connect with business owners, who were eager for some help, he said. 
"Local businesses are suffering quite a bit," Dempster noted, "especially because of competition from online retailers."
Dempster, who moved to SF from Cambridge, Massachusetts about 15 years ago, started his career as an architect. A veteran of numerous urban planning projects, he felt frustrated that many tech companies have built products "with no respect to locality," he explained. 
The idea for Nearlist was four years in the making. Dempster thought about creating separate apps for every small business, but felt customers would get tired of downloading them to their phones. So he decided to launch just two apps: one for business owners, and the other for the general public. 
The company is currently self-funded, with support from friends and family, Dempster said. He also gets some assistance from freelance developers in the Philippines.
After running a private beta for a year, Dempster launched Nearlist to the public in September. The customer app allows users to curate their own feeds of favorite businesses, where they can stay informed about coupons and other updates such as new arrivals, "hot items" or events.
A recent app update also improved coupon sharing and coupon discovery features, Dempster said. "We've been testing and refining these new features for several weeks."
While Nearlist is currently free to use for both customers and business owners, there is an option for businesses to upgrade to a "Plus" plan for $29 per month, which allows more extensive use of some features.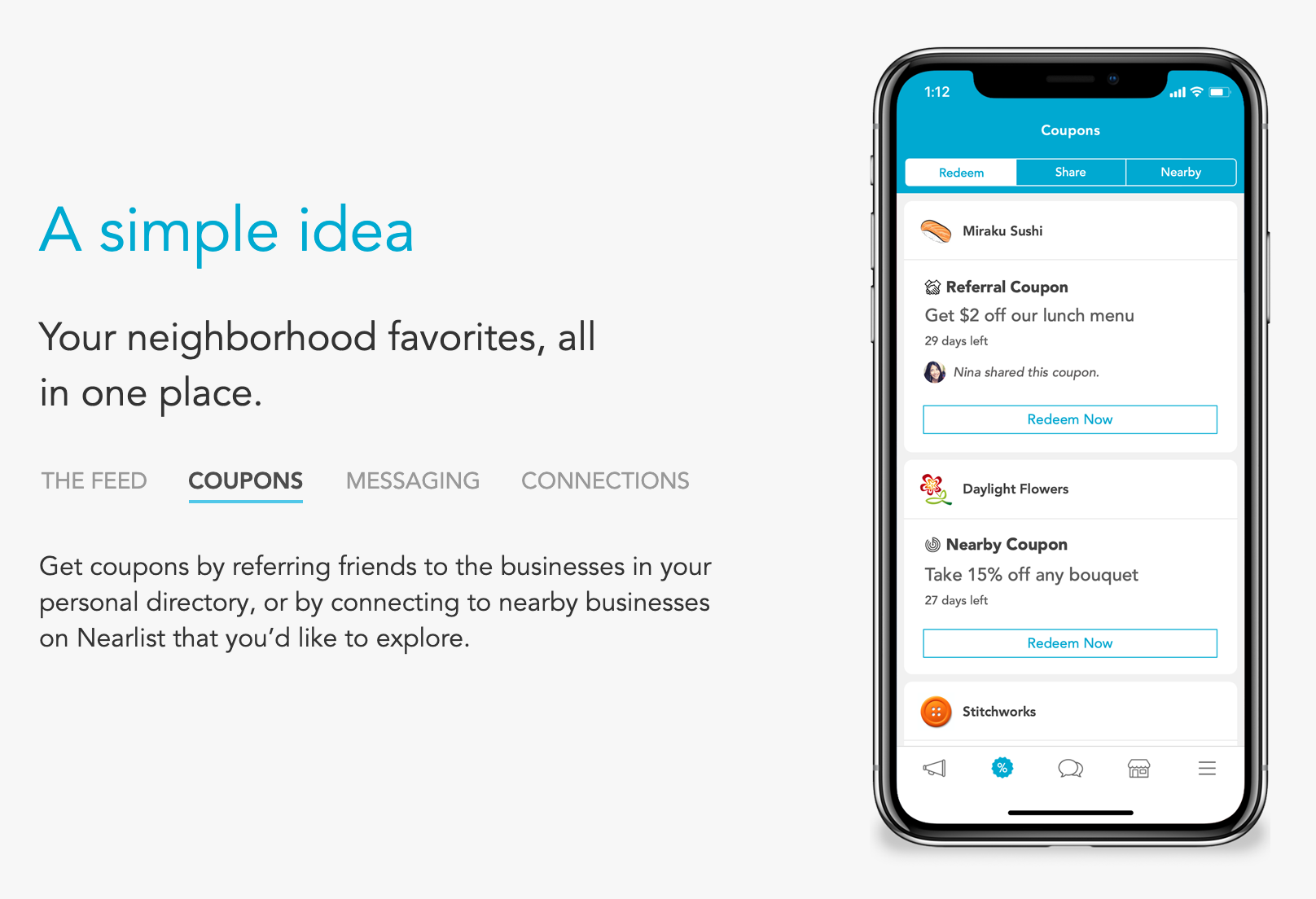 For brick-and-mortar retailers, the most important thing is driving foot traffic to the store, said Tom Hamilton, owner of game store Gamescape (333 Divisadero St.), and a Nearlist user.
"Any exposure is good exposure," he said, but his best exposure comes from reaching immediate neighbors in the Western Addition — "not someone living in Daly City," who might not show up at the store quite as often.
On Nearlist, customers can chat with business owners, asking, for example, if a store can order something for them. But there's one thing users won't find: reviews, which are a fixture on many other local discovery apps.
"Businesses love that we don't offer reviews," Dempster said, adding that many feel "beat up" by Yelp.
"It is so hard to trust what you get on Yelp," said Aura DeMare, assistant general manager at fitness studio A Body of Work (569 Ruger St.), which also uses Nearlist.
DeMare said that Dempster first approached her about joining a year ago. She decided to sign up because she believes other social media platforms operate on a global level, and often miss the local factor.
Starting small has worked in Dempster's favor with his business members. DeMare praised him as "personable," taking feedback from businesses to improve the app and encouraging new uses. That differentiates Nearlist from other social media platforms, where it's hard to get in contact with staff, she said. 
Many of the participating businesses are Dempster's personal favorites. He often swings by Divisadero's Wholesome Bakery "for a yummy/healthy after-school snack," then proceeds to either Comix Experience or Gamescape to pick up a graphic novel or a new game.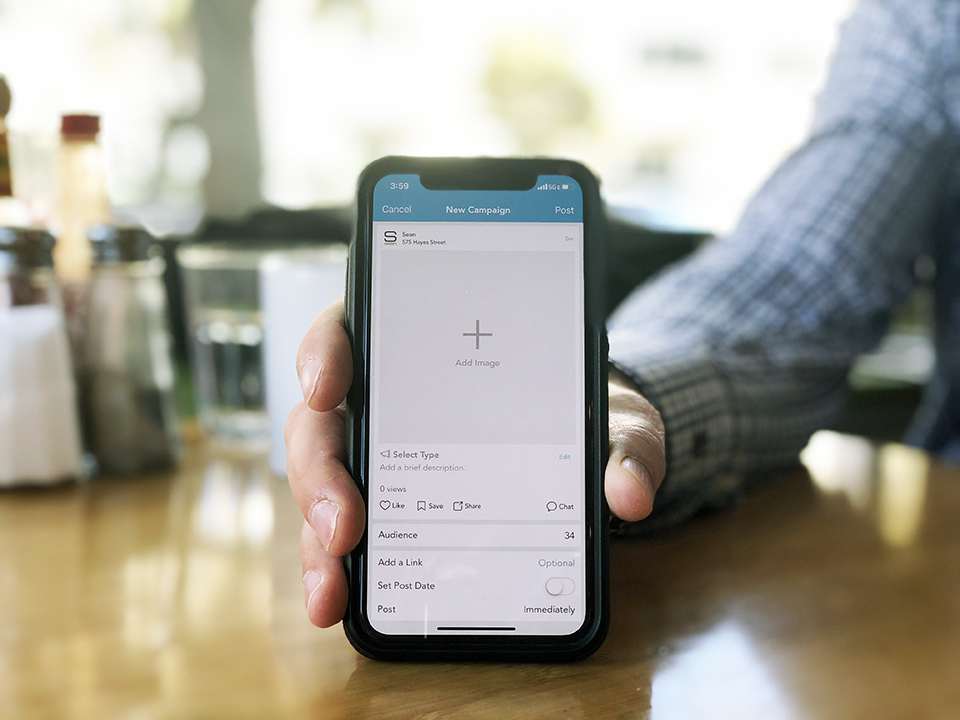 Since Nearlist divides the business and customer experiences, DeMare said that she hasn't yet seen how her customers see Nearlist. She expressed hopes that it would be easier to switch between views in the future.
Dempster says he's working on implementing other feedback he's gotten from businesses, including requests to allow businesses to message each other.
Both Nearlist's customer and business apps are currently available for iPhone users in a free basic version. Dempster said he's considering launching an Android version of both apps, and he is also launching next week in his former hometown of Cambridge.