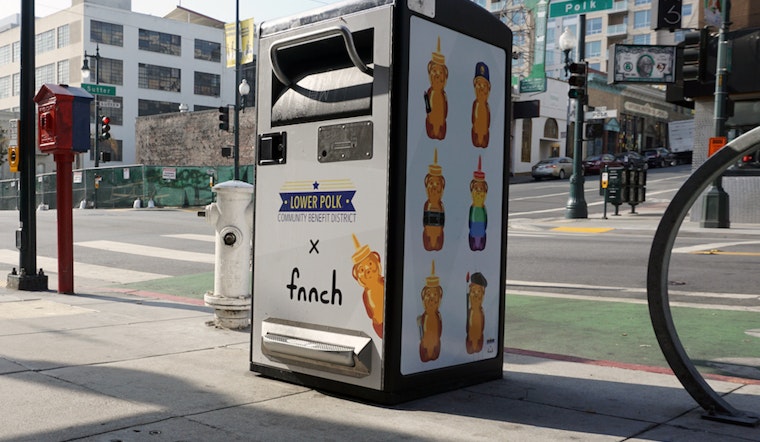 Published on December 13, 2019
A year and a half ago, in May 2018, then-Mayor Mark Farrell set aside funding to install 20 Bigbelly trash receptacles in the Castro, Tenderloin, Civic Center, and Central Market neighborhoods.
The cans, which are impervious to being rummaged through or toppled over, were intended to help eliminate garbage can scavenging, and the unsightly litter and clogged drains it causes. 
Bigbellies are pricey, with a cost of $3,000/year to lease each one. But one by one, the city's community benefit districts (CBDs) have lined up behind the trash cans, which suggests they may be worth the expense.
The latest to get them are the Lower Polk and East Cut community benefit districts (CBDs), which each installed five new Bigbellies this month. 
25 cans have been installed this year, through a second round of funding allocated through the city's Fix-It Team in late 2018. Four more are expected to be installed in the Excelsior before the end of the year, according to Fix-It Team deputy director Ian Schneider.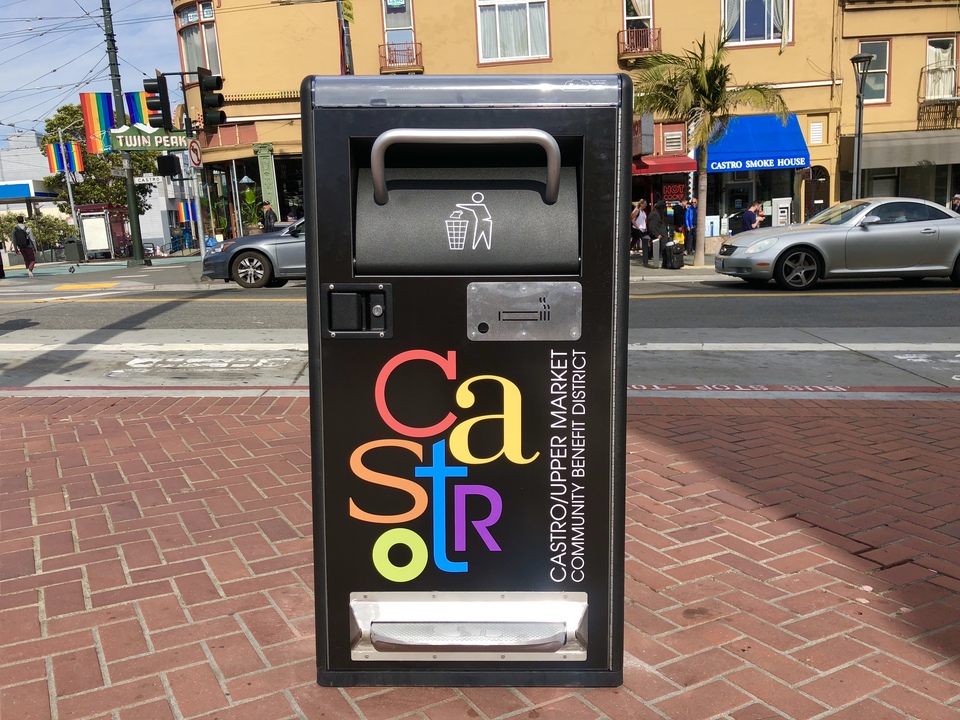 For the unacquainted, San Francisco has 18 community benefit districts, or CBDs, each of which levies an assessment on property owners in their neighborhood to fund quality-of-life improvements like cleanliness, greenery, and business development. The funds are administered by a nonprofit organization established by the neighborhood.
While the Fix-It Team performs data analysis to identify the optimal locations for Bigbelly can deployment, the CBDs and other neighborhood organizations are financially responsible for all the cans' on-the-ground maintenance needs. Recology still conducts the trash collection services, as it does for all of the city's public cans.
The cans have some other virtues besides preventing rummaging. Their solar-powered trash compactors allow them to hold five times more waste than the typical sidewalk trash cans deployed by SF Public Works. And their built-in sensors can alert Recology when the cans need to be emptied, as well as inform the CBDs when they need maintenance. 
Yet SF Public Works (SFPW) director Mohammed Nuru has resisted taking the cans citywide, citing their high cost and the fact that they're leased, rather than purchased. Last October, he said that SFPW was at work on their own design for new cans to replace the city's standard green trash bins. 
But according to a recent story in the Chronicle, the agency is still in the planning phase, more than a year later. (A representative for SFPW wasn't available for comment.)
In the meantime, neighborhood organizations are embracing the cans, which they say are working well. 
The Fix-It Team's Schneider said the cans have proven effective in reducing sidewalk littering and containing a larger volume of garbage. For example, in the year after five Bigbelly cans were installed near Civic Center, there were more than 100 fewer 311 service calls for overflowing garbage cans.
Each station is also cloud-connected and logs the volume of waste collected each day, to help ensure that Recology's collection schedule matches the cans' level of use.
The biggest challenge, Schneider said, is that the Bigbellies still are sometimes vandalized and damaged, like all city garbage cans. But because the CBDs and neighborhood groups are engaged in monitoring and maintaining the cans, repairs and vandalism fixes are typically addressed rapidly.
The Tenderloin CBD deployed five Bigbellies in October 2018, Fernando Pujols, the group's director of communications, told us. It's responsible for all the costs of maintenance, graffiti removal, and engaging with vendors for replacement or repairs.
But even in one of the city's more challenging neighborhoods, the CBD's maintenance and repair costs have been "relatively low," Pujals said. "They've held up pretty well, in our opinion."
The cans are also proving to be an unexpected venue for public art. The six purchased by the Hayes Valley Neighborhood Association were adorned with the work of local artists, and the Lower Polk CBD has decided to follow suit.
Five San Francisco-based artists were given free rein to design the bins, the Lower Polk CBD's arts and placemaking manager, Erica Waltemade, told us. The five can locations and participating artists are as follows:
Fnnch's work can also be seen in the downtown neighborhood recently designated by its CBD as "The East Cut," which has wrapped all five of its cans with his designs. 
"When people think of public art they think of sculptures and murals, but there are many ways to get art to the public," said Fnnch in a statement. "Trash cans are regularly sized and placed directly on street corners — what a fantastic canvas."
Heading into 2020, the Bigbelly cans have gotten another boost. A new $410,000 round of funding from Mayor London Breed and District 6 Supervisor Matt Haney will be handed out this fall, with the goal of deploying another 90 Bigbelly cans. 
Half of those cans will be allotted to District 6 (SoMa and the Tenderloin), with $160,000 of the total budget dedicated specifically to that neighborhood. Haney has been vocal about the need to address the trash problem in his district. 
Other neighborhoods across the city have been invited to apply to the Mayor's Office of Economic and Workforce Development for their slice of the remaining 45 cans, Schneider said. Grantees are expected to be selected and notified soon.
"While we've increased funding for power-washing and street cleaning, we know that it's easier to prevent our streets from becoming dirty in the first place," Mayor Breed said in a statement to Hoodline.
"All of us have a responsibility to keep San Francisco clean, and these investments in secure Bigbelly trash cans are yet another way we're making it easy for people to do their part."