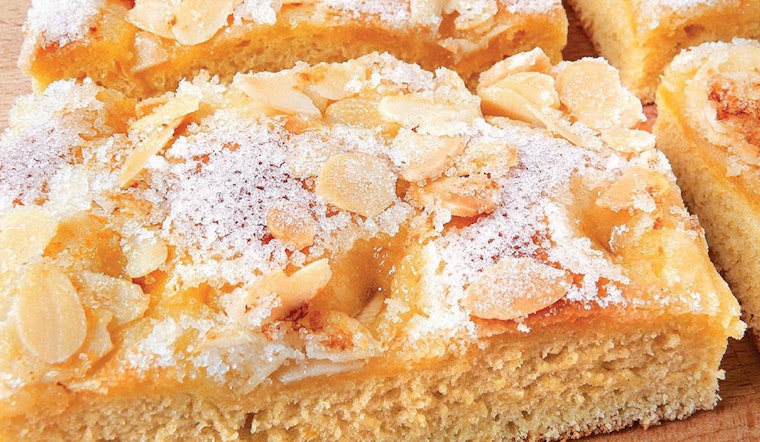 Published on December 13, 2019
In this edition of SF Eats: A local purveyor of German baked goods plans a location in Hayes Valley, a holiday-themed pop-up bar opens for December in collaboration with Toys for Tots to bring gifts to victims of the Kincade fire, and a tapas bar expands its hours to serve lunch.
Openings
Hayes Valley
Hahdough (509 Laguna St.)
Bakery Hahdough will soon open in Hayes Valley. According to Eater SF, owner Ha Do of Hahdough will take over the Cakemaker's spot at 509 Laguna St., using the 400 square-foot space mainly as a production facility, as well as a walk-up bakery window with limited hours.
Back in 2017, we profiled Ha Do, who is originally from Vietnam but grew up in Germany before moving to San Francisco over a decade ago. Do is locally known for selling authentic German tortes, pastries and cupcakes at farmers' markets in the Bay Area.
You can also find Hahdough's Berliner donuts at Village Market in the Ferry Building.
Do now plans to open two bakeries in San Francisco, serving tortes, traditional cakes, jam-filled donuts and more. 
Do's upcoming Hayes Valley location is her newest plan for expansion. A bakery at 1221 Fell St. is also currently in the works. The NoPa bakery will be larger and offer a more extensive menu, and and have an area for seating, while the Hayes Valley location will offer a more limited menu and earlier hours.
Do told Eater that the Hayes Valley bakery will offer half a dozen cakes, pretzels, a couple of cakes by the slice, and the popular jam-filled Berliner donuts on Laguna St.
Do aims to open both locations in February 2020, starting with the Hayes Valley location, followed by the NoPa spot.
Events
SoMa
25 Lusk (25 Lusk St.)
Now through January 2020, 25 Lusk is hosting its seasonal pop-up Naughty or Nice.
The pop-up features cocktails from Elmer Mejicanos (Sweet & Bitter Inc, Tony's Napoletana, Capo's) and an all-day holiday brunch menu by 25 Lusk Executive Chef Matthew Dolan, with designs by Nicholas Roberto (Auspice Design, True Laurel, Trick Dog).
Naughty or Nice is partnering with Toys for Tots for a toy drive that benefits kids impacted by the Kincade Fire. A portion of proceeds from the pop-up will be donated to the organization, but guests can also bring an unwrapped gift to contribute to the toy drive.
The holiday-themed drink specials include "All I Want for Christmas," made with rum, lime, oleo saccharum, Coke, and cherry, served in a custom made "Coke" bottle, and a frozen "Mr. Grinch," made with serrano pepper-infused tequila, cucumber, lime, and agave.
For food, guests can opt for popovers made with maple and chestnut butter, a "Krampus Burger" made with Midnight Moon cheese and sauce diablo, and more.
Naughty or Nice is located at 25 Lusk Street (located off Townsend Street between 3rd and 4th Street) and is open Sunday through Wednesday 11:30 a.m. to 9 p.m., and Thursday through Saturday 11:30 a.m. to 10 p.m.
Updates
Lower Nob Hill
Bota Tapas & Paella Bar (490 Geary St.)
Bota Tapas & Paella Bar in San Francisco is now serving lunch.
Fans of the Spanish-focused menu can enjoy tapas and shared plates (including paella, fish, steak, rabbit and vegetarian) for lunch Monday to Saturday from 11:30 a.m. to 2:30 p.m. Customers can also opt for charcuterie, cheeses and house marinated olives as well as a Spanish-influenced breakfast service.
The restaurant's new hours are Monday through Saturday from 5:00 to 10:00 p.m., lunch Monday to Saturday from 11:30 a.m. to 2:30 p.m. and breakfast Monday to Friday, 7:00 to 10:30 a.m., Saturday 7:00 to 10:30 a.m. and on Sunday from 7:00 a.m. to noon. For more information or reservations to dine, visit http://botasf.com
If you've seen something new (or closing) in the neighborhood, text your tips and photos to (415) 200-3233, or email [email protected]. If we use your info in a story, we'll give you credit.