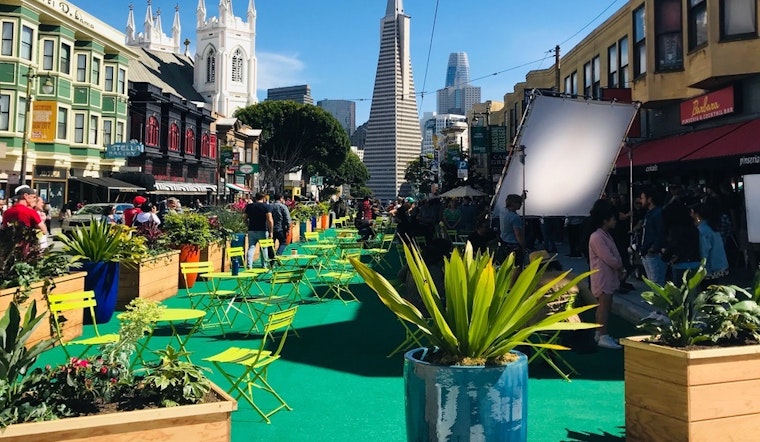 Published on January 07, 2020
A new TV series, debuting tonight, is set in and around San Francisco's North Beach neighborhood, with some scenes filmed on-site. 
"Zoey's Extraordinary Playlist" is a musical dramedy created by Austin Winsberg, which premieres tonight at 10 p.m. on NBC. It follows Zoey (Jane Levy), a computer coder who undergoes a botched MRI that allows her to hear others' thoughts through music. 
This means that the series' actors will frequently break out into popular hits from every era and genre. For example, one scene in the pilot features Zoey running down a San Francisco street while being chased by a crowd of people singing and dancing to the Beatles' "Help!"
Other songs are more intimate: Zoey's co-worker (Skylar Astin), who has a crush on her, expresses his feelings through the Partridge Family's "I Think I Love You."
The series also features Mary Steenburgen and Peter Gallagher as Zoey's parents, and Lauren Graham ("Gilmore Girls") as her tech-industry boss. 
While the whole series wasn't filmed in San Francisco, portions of it were shot in and around the North Beach area last spring. 
For one scene on Columbus Avenue, the production team concocted a café with seating, where a trolley rolls up. The shoot required an all-day street closure on Columbus between Vallejo and Union Streets, only allowing Muni buses through. 
Susannah Robbins, executive director of the San Francisco Film Commission, said that the scenes on Columbus required a lot of outreach from the show's location team to merchants and neighbors. But everything went so smoothly during the shoots, she said, that there was only a single complaint.
"It was very exciting to see the whole scene come together after all of the work that was put into planning it," said Robbins. "It will be exciting to see it in the actual show!" 
Crews also filmed overlooking the Bay at Montgomery and Union streets, in Rincon Park and near the Ferry Building.
Between scenes, viewers can expect to see major landmarks such as the Transamerica Pyramid and the Bay Bridge.
The series premieres tonight, January 7, at 8 p.m. on NBC. After a brief break for football season, it will return on Sundays at 7 p.m. starting February 16.