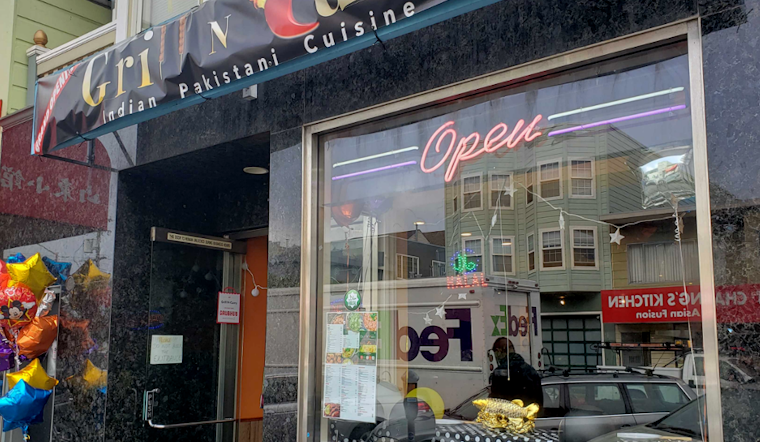 Published on January 31, 2020
In this all-Sunset edition of our regular food column, Hoodline spotted several openings and closures along Irving Street. A popular Chinese restaurant has closed one of its locations, while a Hong Kong-style dessert place and a new spot for Chinese noodles and broth have opened their doors.
Openings
San Tung 2 / Grill N Curry (1033 Irving St.)
Popular Chinese restaurant San Tung (1031 Irving St.) has shut down its neighboring sister restaurant, San Tung 2.
While San Tung's family of owners did not respond to a request for comment on the reasons for San Tung 2's closure, another Sunset business owner who's friends with the family told Hoodline that it was due to the pressures of running both locations.
"The restaurant business is hard," said a local Inner Sunset business owner, explaining that the people at San Tung decided to rent out the space to mitigate the challenges of running the two spots. (Prior to San Tung 2, they ran it as an ice cream and dessert spot called Next Door Sweets.)
A new eatery, Grill N Curry, took over in late December, according to an employee. Offering traditional Indian and Pakistani fare for dine-in and delivery, it's retained Next Door Sweets' color-changing ceiling installation, and added a couple of flat-screen TVs. 
The owner did not return a request for comment, but Yelpers have been enthusiastic about the new spot thus far, with one reviewer noting that all the food is also halal. 
SweetHoney Dessert (2315 Irving St.)
Down the street, a Hong Kong-influenced dessert spot has taken over the former Discount Fabrics, which vacated the space several years ago.
The spacious SweetHoney Dessert is part of an international chain, with more than 600 locations in China, Southeast Asia, and Australia, according to its website.
A peek at SweetHoney's menu shows lots of ice cream, tofu pudding, fruit platters, sago, and traditional Chinese desserts, among other offerings.
Its two-story digs feature lots of high-backed upholstered chairs and pin-striped wallpaper. A smaller upstairs area offers more table space, with lots of daytime ambiance brought in from skylights.
The Irving location's owner could not be reached, but an employee told Hoodline that the location had been open "about a month."
He noted that business has been relatively quiet during the week, but very busy on weekends.
QingShu (816 Irving Street)
Finally, QingShu, a Chinese street food-inspired noodle shop, opened recently at Irving Street and Ninth Avenue, in the former home of Sheng Kee Bakery.
QingShu, which has been open about six weeks, is focused on "malatang," a popular cuisine with origins in China's Sichuan province that allows customers to choose their own ingredients from a chilled display case, then have them boiled together. (It's similar to hot pot, but not the same.)
"It's quite simple, really. Just grab a basket and fill it with your favorite ingredients," noted Brian J. on Yelp.
QingShu charges $7.99 per pound for its food and an extra small cost in order to select one of seven soup bases, according to its menu.
In all, "you will pay around $15, which puts this place right on track with most every other lunch spot in SF," said Brian J.
---
See something interesting while you're out and about in SF? Text Hoodline and we'll try to find out what's going on: (415) 200-3233.