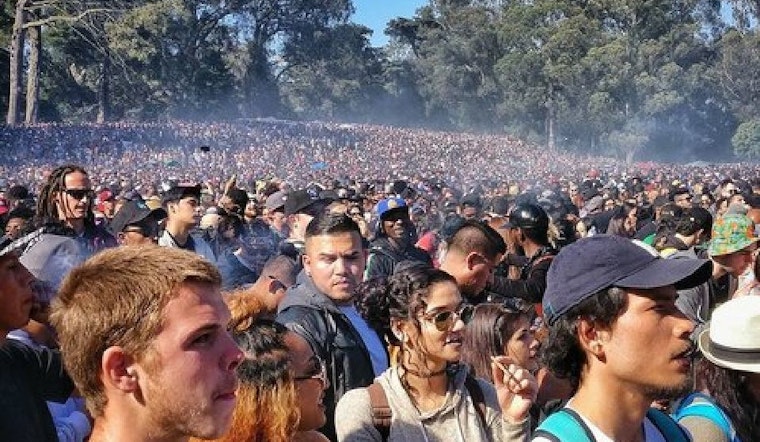 Published on March 20, 2020
Citing public health concerns and the government's increasingly rigorous restrictions on large public gatherings, organizers of the annual, city sanctioned 4/20 event in Golden Gate Park have canceled this year's festival.
"We want to deter people from going to the park," 4/20 organizer Alex Aquino told Hoodline. "It's the safest thing and it's the most responsible thing."
Since the city first acknowledged the event three years ago, 4/20 — which had already drawn people to Golden Gate Park's Hippie Hill to play music and smoke marijuana for decades — added live music, food concessions, security and medical support.
But the festival also regularly draws tens of thousands of people to the field and small knoll in the eastern end of Golden Gate Park, putting it squarely in the sights of the national mandate limiting large gatherings.
In a statement on the decision, 420 Hippie Hill announced:
"We take the health & safety of the public, our staff, vendors, and sponsors very seriously. We feel it's our responsibility to do our part to minimize social gathering and potential spread of this virus in the community."
But there's a distinct possibility that 4/20 celebrants, who after all had already been arriving by the thousands before city sanctioning, will continue to come out regardless.
So despite canceling the musical lineup and food vendors, Aquino said he was still anticipating the impacts of a heavy turnout in the Haight and Golden Gate Park.
"As of right now," he said, if the city's shelter-in-place order is lifted before April 20, "we are still going to implement port-a-potties, street cleaning volunteers," and other extra support, using funds raised by some of 420 Hippie Hill's regular donors.
If not, the city may be left to handle or police any mass turnout on its own.