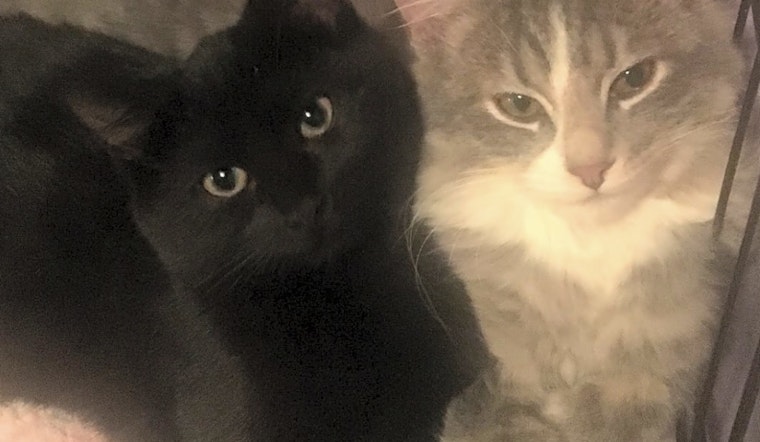 Published on March 06, 2020
Interested in adopting a pet — or just taking a peek at some cuddly kittens up for adoption? There are dozens of darling kittens up for adoption at animal shelters in and around Cleveland.
Animal shelters and pet rescue groups work hard to care for unhoused pets and connect them to loving homes. Hoodline used data from Petfinder to power this roundup of kittens currently available for adoption.
(Details like pet availability, training, vaccinations and other features are based on data provided by Petfinder and may be subject to change; contact the shelter for the latest information.)
Nicholas, domestic mix
Nicholas is a male domestic kitten being kept at Lauren's City Cats in the Flats.
Nicholas plays well with others. He'll get along great with other cats. Nicholas has had all his shots and is already house-trained.
Nicholas' current caretakers say:
Nicolas is a silky soft, long-haired grey tabby with sweet and distinctive white markings on his face. He and his sister, Velvet, were rescued from an abandoned pool house. Nicolas enjoys splitting his time between his two favorite activities: snuggling and playing. Nicholas was not socialized when was taken into foster care, but now he is a happy, playful and loving kitty. Nicholas loves his morning hugs and kisses session where he turns on his purr motor and sounds like a V8. 
Apply to adopt Nicholas today at Petfinder.
Velvet, domestic shorthair mix
Velvet is a female domestic shorthair kitten being cared for at Lauren's City Cats in the Flats.
Velvet plays well with others, and she gets along well with other cats. She's mastered her house-training etiquette. Velvet's vaccinations are already up to date.
From Velvet's current caretaker:
Velvet is a super sweet and playful juvenile kitty with an affectionate nature. Stroke Velvet's sleek coat to get her purr motor started. This six-month-old black kitty is as soft as velvet and as sweet as a candy cane. She and her brother, Nicholas, were found in an abandoned pool house; the two of them have come so far since then! Velvet loves snuggles and affection, especially first thing in the morning when she gets those dreamy eyes. She also loves to scamper around playing with her toys and wrestling with her brother. Velvet was not socialized when taken into foster care. She was born outdoors and has spent no time in a loving home environment. Velvet was very timid and not familiar with human contact and being loved. Over time, she has been coaxed out of her shell and is now healthy, happy and playful. She continues to be very gentle and extremely sweet. She will need a little while to adjust to her new home and her new family. 
Read more about Velvet on Petfinder.
Ziggy, domestic shorthair
Ziggy is a male domestic short-hair kitten staying at The Euclid Beach Cat Project.
Fear not: Ziggy is already house-trained. He is vaccinated.
From Ziggy's current caretaker:
Ziggy is so dreamy! He is the sweetest purr factory and loves to be loved. You are going to want to have him in your life.
Read more about how to adopt Ziggy on Petfinder.
Paris, tuxedo and domestic shorthair mix
Paris is a darling female tuxedo and domestic shorthair kitten currently housed at House of Mews Rescue.
Paris already has had all of her shots. Fear not: She's already house-trained.
Here's what Paris' friends at House of Mews Rescue think of her:
Paris and her brother, Milan, came from a very bad situation. There was no food or basic vet care for them. They were malnourished, underweight and infested with parasites. Thankfully, they are fighters. With supportive and veterinary care, the two siblings have blossomed into healthy, playful and affectionate eating machines. Paris and Milan play, groom and sleep with each other. Nowadays, their photos could easily be used for magazine covers for cats. Because they are so close, if possible, the two little ones would like to stay together in their new home. Either one will not do well as the only cat, as they will be lonely. Paris and Milan are very affectionate with people, snuggly, playful and energetic. When kept together, they keep each other entertained, thereby preventing either one from looking for trouble in the house. They love to sit in the cat tree, look out the window and watch the critters passing by. Paris can be headstrong at times. She will climb all over her human when she wants attention and make little cries until she gets what she wants. Deep down, she is a very sensitive girl. She just needs someone who will give her assurance that she will not be left in the cold.
Read more about Paris on Petfinder.
---
This story was created automatically using local animal shelter data, then reviewed by an editor. Click here for more about what we're doing. Got thoughts? Go here to share your feedback.