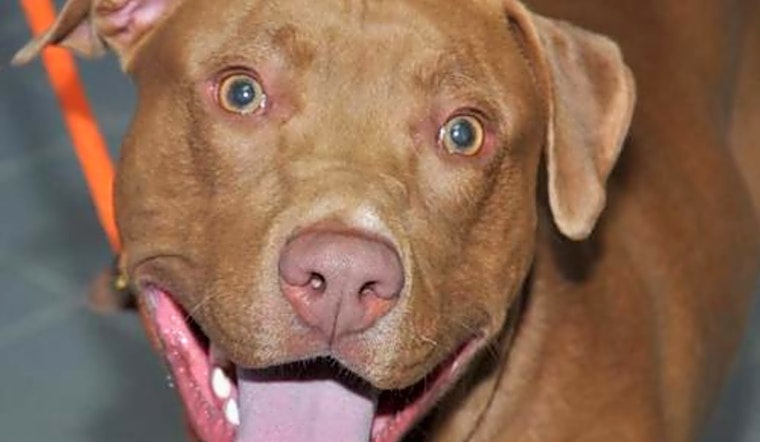 Published on April 17, 2020
Looking to add a new companion to the family? There are dozens of delightful doggies up for adoption at animal shelters in and around Minneapolis, so you won't have to look far to find the perfect fit.
Hoodline used data from Petfinder to power this roundup of dogs available for adoption near you. Read on to meet some friendly, furry locals.
(Details like pet availability, training, vaccinations and other features are based on data provided by Petfinder and may be subject to change; contact the shelter for the latest information.)
---
Maggie, shepherd mix
Maggie is a female shepherd mix being cared for at Pet Haven Inc. of Minnesota.
Maggie loves other dogs. She's spayed and vaccinated. She has mastered her house-training etiquette.
From Maggie's current caretaker:
Maggie is a 50-pound, 11-month-old German shepherd and lab mix looking for the right manager to see her for the star she is born to be. Maggie is a triple threat in her own right. She is a champion chewer, chaser and cuddler. She puts her heart and soul into whatever activity she is doing. She will chew until demolished, chase until her energy is spent, and cuddle as if it may be her last snuggle session. 
Apply to adopt Maggie today at Petfinder.
Jimmy, pit bull terrier and Labrador retriever mix
Jimmy is a lovable male pit bull terrier and Labrador retriever mix in the care of Matty's Heart & Soul Animal Rescue.
Jimmy is friendly as can be, and he'll get along great with other dogs. He has mastered his house-training etiquette. He has had all of his shots, and he is neutered.
More about Jimmy:
I'm Jailbird Jimmy! My friends I didn't know I had from Matty's Heart and Soul Animal Rescue busted me out of jail last week! No idea why they locked me up for two months because I'm such a good boy! I work hard for my treats! Every treat gets a sit or shake with me. Anyways, I'm free now and am looking for my forever family! Though I'm not quite ready, I still need to get neutered, whatever that means... I'm working on spending time in my crate, but it reminds me of jail so I voice my objections. I settle down when the lights go out and a little music, but who doesn't! 
Read more about how to adopt Jimmy on Petfinder.
Sylvia, German shorthaired pointer mix
Sylvia is a female German shorthaired pointer mix being cared for at Pet Haven Inc. of Minnesota.
She's spayed, and she has had all her shots.
From Sylvia's current caretaker:
Sylvia is an 8-year-old, 80-pound German Shorthaired Pointer looking for the perfect place where she can bloom. Sylvia is a sweet and gentle soul who loves nothing more than to follow her people around as if they were the sun. It doesn't take long for her to plant roots of loyalty and affection with her humans. Her chronic pain issues due to previous broken legs that were left untreated has made it more difficult to complete house training, but has done nothing to cloud up her sunny attitude. Sylvia loves to spend her time with her humans whether it is enjoying a rawhide next to them, playing tug-of-war with them, or her favorite, snuggle time. 
Read more about Sylvia on Petfinder.
Betty Jo, greyhound
Betty Jo is a charming female greyhound dog currently housed at Greyhound Pets of America Minnesota.
Betty Jo is a social animal, and she's happy to keep company with cats and dogs. She is already house-trained. Betty Jo is a special needs pet, so please inquire about her specific care requirements.
More about Betty Jo:
I'm Betty Jo, but sometimes my foster mom calls me JoJo. I'm a quiet, gentle girl who is pretty independent and likes my space and quiet time right now. I'm still learning about the special treats and comforts of retirement, a little bit at a time. I would rather not be asked to socialize too much right now, because I'm still figuring out my new world and want to take all of these new experiences at my own pace. I need support and reinforcement to feel confident in my new world and my personality will shine!
Read more about how to adopt Betty Jo on Petfinder.
Cleo, black Labrador retriever and husky mix
Cleo is a female black Labrador retriever and husky mix being kept at Save-A-Bull.
She's already been spayed.
More about Cleo:
Hello, my name is Cleo like Cleopatra, not the psychic. I'm around two years old and I have had a lot of adventures in my short life. I know I am young but you should know that I had 12 cute babies at the beginning of the year. They were adorable if I do say so myself. They are all on their way to forever families and now it is my turn. I am a sweet and very petite girl. I am pretty smart too. I know sit, down, shake and "go lay down." I love being outside and would spend all day in the yard watching the world go by if you let me. I like to bark at things so that you know what's going on but I quiet down quickly. I really want a family of my own now that my babies have moved on. It is my turn for forever!
Apply to adopt Cleo today at Petfinder.
Nixi, American Staffordshire terrier and pit bull terrier mix
Nixi is a female American Staffordshire terrier and pit bull terrier mix staying at Save-A-Bull.
She's already been spayed.
More about Nixi:
Hello, I'm Nixi. I did not have a very good start in life; I wasn't taken to the Vet or treated very well. I never got to leave my house and spent a lot of time sitting in my kennel. My new life is so much better, my foster parents love me and I get lots of attention! I am still a puppy, so I like to play hard and then take a nice nap, preferably snuggling with someone. I love to explore and walking around outside is perfect for exploring. I am very timid initially, but I gradually get closer and brave and need to explore everything. I am working on potty training, I'm doing really well and I'm almost all the way there. I would love to spend time with my new family taking training classes. I am very food motivated! 
Read more about Nixi on Petfinder.
---
This story was created automatically using local animal shelter data, then reviewed by an editor. Click here for more about what we're doing. Got thoughts? Go here to share your feedback.