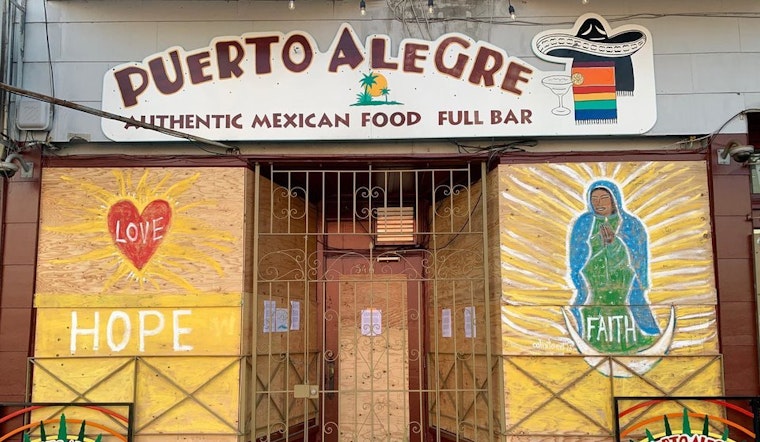 Published on April 08, 2020
As San Francisco's bars and restaurants switch to takeout, delivery and bottle service (or shutter entirely) under shelter-in-place restrictions, many business owners have also taken extra security measures — eliminating cash sales, clearing out valuables, or boarding up windows with plywood.
For many restaurants, those security measures came just in time.
Several accounts of theft and vandalism at closed restaurants and bars have appeared on social media in the past week. Some experienced break-ins and looting, while others have endured robbery attempts or senseless vandalism, forcing owners to dish out funds to pay for repairs during an already dire time.
As first reported by Tablehopper on Twitter, Russian Hill's Ristorante Milano (1488 Pacific Ave.) was broken into earlier this week. 
We experienced an attempted break-in a couple nights ago, so please stay vigilant. The love and support we are receiving from our customers is so appreciated at this time! #tuttoandrabene #SupportLocal https://t.co/nIRjrXXtGq

— Ristorante Milano (@RistoMilanoSF) April 5, 2020
We spoke with owner Aldo Blasi, who said the attempted robbery was captured by video surveillance. Two thieves tried to break the business' front and back doors.
While the robbers weren't able to actually get inside, Blasi said the damage to the doors will cost roughly $5,000 to fix.
"It's kind of upsetting, especially in the circumstances," he said. "First of all, there are limited resources right now — there's no cash in the restaurant, and we are just doing take-out and delivery, but I don't know what they were thinking of getting."
Blasi said despite the setback, his restaurant, which has been in business for over 30 years, has received a lot of support from neighbors and regulars.
"People have been very wonderful and supportive. So, it's encouraging," he said, adding that he is still open for takeout and delivery, serving dishes like homemade ravioli and gnocchi.
We also spoke with Chris Tavalli, who owns Pause Wine Bar in Hayes Valley with his wife and business partner, Lila. On April 1, the couple arrived at the bar to find it broken into. (They also own Yield Wine Bar in Dogpatch at 2490 3rd St., which has not suffered from any break-in attempts.)
Amidst the city's mandated lockdown, the Tavali family was anticipating potential break-ins, so they moved mostly everything out of the Hayes Valley wine bar, including all the cash and wine. But they didn't board up its windows, which were smashed in during the robbery.
While thieves looted and caused damage to both the interior and exterior, they didn't get away with much. Sadly, they did steal Tavelli's Giants bobble head collection, built up over the years through gifts from customers.
As an avid Giants fan, "it felt like a real gut punch," Tavelli said.
Tavelli said that if anything good has come out of it, it's that people have rallied behind his new wine delivery business, "Quarantine Wine Club."
"We've had a huge outreach from our loyal customers, so there is a silver lining to it," he said.
Fans of popular dive bar Lucky 13 (2140 Market St.) also had a scare last week, when someone tried to steal its iconic cat sign.
The bar posted about the attempted theft on its Facebook page. There was no name attached to the post, but it indicates that the person was walking past the bar, saw the attempted theft and called 911. The thief threatened the bystander with a metal pipe before running away.
We spoke with Martin Kraenkel, manager of Lucky 13 and co-owner at Molotov's (582 Haight St.) in the Lower Haight.
Kraenkel said he checks on the businesses regularly, and that neighbors at both bars are keeping a good eye on things. He said both businesses are tightly locked, sealed and protected by alarm systems.
As far as the sign at Lucky 13, Kraenkel is not sure what someone would want to do with it.
"There's no value to it," he said. "You cannot sell it for anything. And if you are a guy who comes to the bar and wants to hang this in your living room, how is that gonna work?"
"No one would be stoked about a friend doing that. I know if I saw someone doing that, I would be like, 'You better surrender that, ASAP.' I just don't know what their reasoning is."
Kraenkel said that before the lockdown, people would often enter the bar and cause damage for no reason. 
"Some guy would break the mirror in the bathroom or do damage to the urinal with steel-toed boots," he said. "That costs the business money to fix or replace it."
Kraenkel said he thinks businesses should just board up their windows, like his Lower Haight neighbors at Idle Hand Tattoos did, while also getting creative with it.
Kraenkel also noted that several Mission businesses had been senselessly vandalized.
One of those businesses, sushi bar Maruya, was first broken into late last month. Its owners walked in one day and found the restaurant's glass window panels shattered. 
A GoFundMe was created to help cover the estimated $4,000 in damage.
On April 4, the GoFundMe's organizer said a neighboring business, also Asian-owned, was vandalized, and urged the owners to contact the police.
Police say anyone witnessing a property crime should contact SFPD's non-emergency line at (415) 553-0123. In the event of a violent crime, call 911.