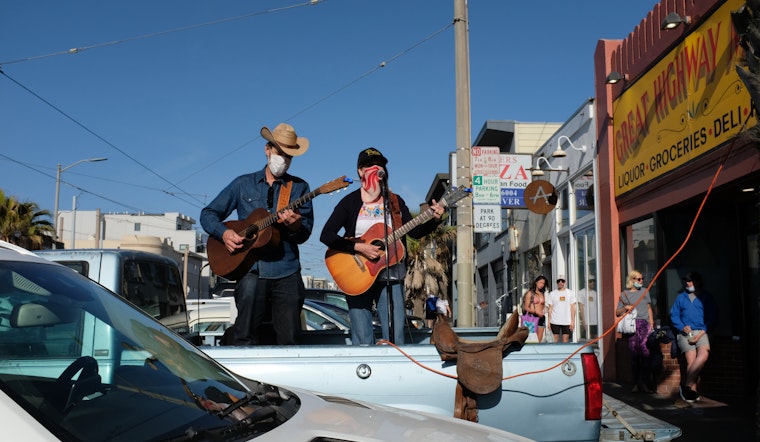 Published on May 29, 2020
Honky-tonk duo Nashville Honeymoon has played a lot of Bay Area venues: bars, nightclubs, even a farmers market. But last Saturday may have marked the band's first performance in the back of a pickup truck. 
From their socially distanced perch, husband-and-wife musicians Hank Maninger and Lynne Maes strummed acoustic guitars, their masked vocals transmitted through a small amp in the truck bed. 
A weathered white cowboy boot, placed at the end of the tailgate, collected cash tips. And David Quinby, co-owner of adjacent bar The Riptide, looked on with satisfaction.
With his weekly lineup of live music shows halted by the pandemic, Quinby is at the vanguard of a new idea: bringing the music outdoors. The previous Saturday, Nashville Honeymoon played a show at his Mission bar, Amado's, standing behind a metal barricade and wearing bandanas to cover their faces. 
At Saturday's Riptide concert, some of the audience watched from far-apart folding chairs. Others stopped for a moment on their way to or from errands, spacing out along the sidewalk or standing in parking spots to stay clear of the street and vehicle traffic.
Through two windows at the front of the Riptide — one for ordering and one for pickup — listeners could buy cans or six-packs of beer, or cocktails sold in to-go cups with secured lids.
Each came with a mandatory hot dog or veggie dog, in adherence with the California Department of Alcoholic Beverage Control's rule that bars serving to-go drinks must include a meal.
In the wake of the shelter-in-place order, The Riptide has continued most of its programming via livestream, including its Saturday bingo nights and open mic nights.
But even so, "people are starved for live entertainment," Quinby said.
The Riptide and Amado's are not advertising their concerts, to avoid crowds. The intended audience is people who happen to live in the area or run an essential errand nearby, and stumble on the music. 
Before agreeing to perform live, Maninger and Maes talked at length with Quinby about safety protocols and maintaining compliance with city and state mandates. If people started to congregate in unsafe ways, the trio agreed to shut the show down on the spot. 
Thankfully, they haven't had to do so — neighbors at both concerts were responsible. 
"The response was amazing!" Quinby says. "Children dancing, smiles on all the faces of passersby, and I've seen more than a couple of people well up with tears at the performances at both Riptide and Amado's."
For Nashville Honeymoon, the shows have required a bit of an adjustment. "I'm still experimenting with face coverings that I can sing through," Maes says. 
But for Maninger, who has been a performer his entire life, the opportunity to keep people's spirits up in a dark time is irresistible. 
"I just want to be safe," Maninger says. "And I want to be part of safely resuming live music in some fashion."