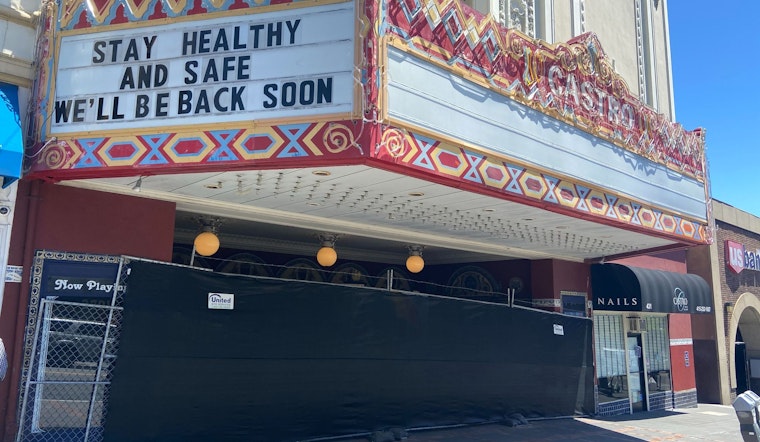 Published on May 27, 2020
It's time for another look at notable crimes reported in the Castro since our last roundup. All details are from official SFPD reports, unless otherwise noted.
Castro Theatre vandalism prompts barricades
Neighbors may have noticed that the exterior lobby of the Castro Theatre (429 Castro St.) is closed off with a fence and barbed wire.
While the theater had already blocked off its ticket booth with mural-covered plywood, the barricades had to be added after its exterior poster cases were vandalized multiple times, the theater said on Facebook.
Saturn Street hot prowl
On May 23 at 1:30 a.m., a male and female suspect of unknown age entered a garage on Saturn Street near Upper Terrace. They then stole bicycles while two residents, a 38-year-old woman and 39-year-old man, slept inside. No one was injured, and no arrest was made.
Steiner hot prowl
On May 21 at 5:15 a.m., a 35-year-old man was in his home near Steiner Street and Duboce Avenue when an unknown suspect entered and attempted to steal his bike. The suspect fled without the bike, and no injuries were reported.
Man confronts robber
On May 18 at 4:20 p.m., a 66-year-old man confronted a 55-year-old man who was stealing a tablet computer from a vehicle on 15th Street near Castro Street. In response, the suspect pushed the man down and fled with the tablet. The victim sustained non-life-threatening injuries.
Belcher Street hot prowl
On May 17 between noon and 1:30 p.m., an unknown suspect entered a residence on Belcher Street between Duboce Avenue and 14th Street. The suspect stole a laptop, camera, and watch belonging to a 24-year-old male resident.
Multiple suspects attack man, steal dog
On May 15 at 1 p.m., a 35-year-old man was chased by three to five male suspects of unknown age at Dolores and 18th streets. The suspects knocked the victim to the ground and stole his dog, a boxer/terrier mix. The victim was transported to the hospital with non-life-threatening injuries.
Duboce hot prowl
Early on May 8, at 1:07 a.m., a male and female suspect entered a garage on Duboce Avenue near Church Street while a 48-year-old male resident was home. No items were stolen, and no injuries were reported.
---
Anyone who has information about any of these incidents is encouraged to contact SFPD via the department's anonymous tip line at (415) 575-4444, or text TIP411 with "SFPD" at the start of the message.
Here's why we usually don't include suspect descriptions in crime reports.