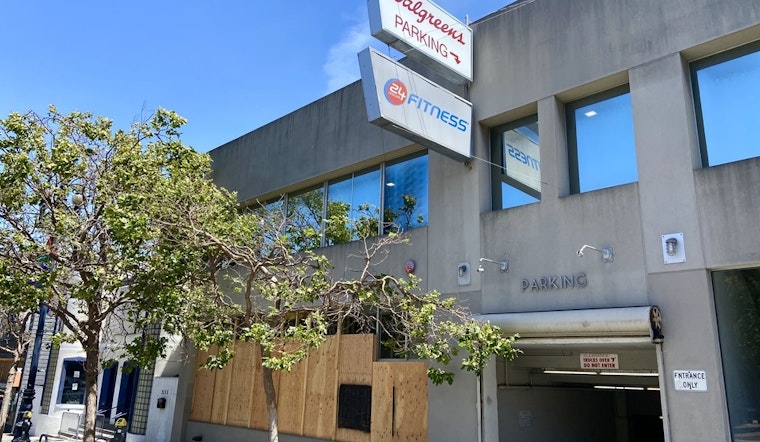 Published on June 15, 2020
This morning, gym chain 24 Hour Fitness officially filed for Chapter 11 bankruptcy, citing the "devastating" effect of COVID-19 on its business.
As a result, it plans to permanently close 134 gyms nationwide — including four in San Francisco, where all gyms have been closed since mid-March under the Bay Area's shelter-in-place orders.
The four San Francisco gyms that will not be reopening are in Ingleside (3591 Alemany Blvd.), the Castro (2145 Market St.), Noe Valley (3800 24th St.) and North Beach/Fisherman's Wharf (350 Bay St.)
According to the company's website, the five remaining San Francisco locations — the Financial District (100 California St.), Ingleside/Ocean (1850 Ocean Ave.), Potrero (1645 Bryant St.), Sutter-Montgomery (45 Montgomery St.) and Van Ness (1200 Van Ness Ave.) — are tentatively set to reopen August 1.
The Wall Street Journal reported that the company laid off an undisclosed number of staff members via phone last week. Spokesperson Karen Bakula declined to comment on any further details about the closures. 
Today, we embark on a new chapter in order to serve our members and communities long into the future. Please visit https://t.co/bFt0QwSCP8 to learn more. pic.twitter.com/fWKHz6jG1M

— 24 Hour Fitness (@24hourfitness) June 15, 2020
According to a press release, 24 Hour Fitness has secured $250 million in funding to enable it to reopen its remaining gyms.
"We intend to use the process to strengthen the future of 24 Hour Fitness for our team and club members, as well as our stakeholders," said CEO Tony Ueber.
Prior to the bankruptcy announcement, 24 Hour Fitness had about 430 locations; this week's cuts equate to about 30% of that total. Of the 14 states where the company operates, California is by far the state with the most closed gyms, at 42 total. (Colorado, in second place, has 13.)
In the Bay Area as a whole, the company will close nine other locations — in Alamo, Berkeley, Fairfield, Fremont, Milpitas, Morgan Hill, San Jose, Vallejo and Walnut Creek.
An important message to our community about reopenings. We are pleased to announce our plans to reopen many of our clubs. Please find a list of clubs here: https://t.co/vFwAP2sV30 pic.twitter.com/G49iIsRa0H

— 24 Hour Fitness (@24hourfitness) June 11, 2020
"Not every club has made the reopening list," wrote 24 Hour Fitness in a statement. "We've looked hard at how we can best serve our members, and have refocused our resources where we believe they can do the most good."
"Unfortunately, this has meant closing some locations and saying goodbye to some valued team members, whom we will dearly miss," the statement reads.
In San Francisco, gyms are currently not slated to open until mid-August, in Phase 3 of Mayor London Breed's reopening plan.
When 24 Hour Fitness' San Francisco locations do reopen, gym-goers can expect changes: reservations, touch-free check-in, reduced hours, socially distanced equipment and additional cleaning by staff.
Founded in 1983, 24 Hour Fitness was sold in 2014 to private equity firms AEA Investors, Fitness Capital Partners and Global Leisure Partners, joined with the Ontario Teachers' Pension Plan, for a reported $1.85 billion.
Businesses owned by private-equity firms, which often take on large amounts of debt, have fared poorly in the pandemic. J. Crew, Neiman Marcus and J.C. Penney, all owned by private equity firms, also declared bankruptcy last month.