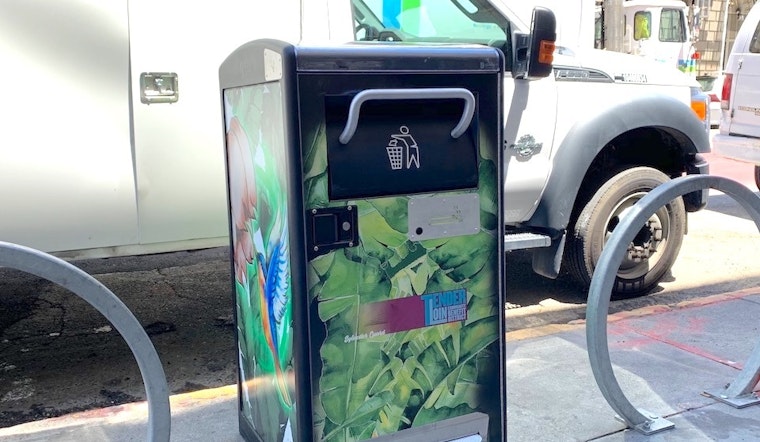 Published on June 17, 2020
By the end of June, every intersection in the Tenderloin will have a new Bigbelly trash can — decorated by seven local artists.
In 2018, the neighborhood began testing five of the "smart" trash cans, which are touted as tamper-proof and larger than the existing SF Public Works cans.
That pilot program was "incredibly successful," according to Tenderloin Community Benefit District (TLCBD) executive director Simon Bertrang, so 63 more cans are being added next month. 
"We're excited to expand this program to finally give our residents, businesses, and visitors trash cans that are beautiful, accessible, and really work," Bertrang said in a statement. 
SF Public Works trashcans are few and far between in the Tenderloin. The few that are available often aren't properly secured, with people digging through them looking for food to eat or cans to recycle.
"It's just ridiculous and completely unacceptable that you can walk for blocks in the Tenderloin without being able to find a single working trash can," said District 6 Supervisor Matt Haney, who has been vocal about the need to address the street trash problem in his district. 
In addition to their larger size and tamper-proof design, the Bigbelly cans can send alerts to Recology when they need to be emptied, to prevent overflow. That should make "a big difference" in the Tenderloin's street trash situation, Haney wrote in a press release.
While many San Francisco CBDs have seen success with the cans, it's worth noting that not every neighborhood is as enthusiastic.
After a yearlong pilot program, the Castro CBD recently got rid of its set of five Bigbelly cans, citing an increase in illegal dumping and the high cost of repairing or replacing cans that were vandalized. It also said Recology didn't act on the alerts to empty cans, sticking to its usual schedule even if cans filled up early.
The TLCBD, which provides regular street cleaning, needle and graffiti removal,  and power washing services through its Clean Team, will also be overseeing the cans' installation and maintenance. The first few were installed yesterday, and all 68 will go in by the end of the month. 
While the main goal is to send a message that trash belongs in receptacles and not on the sidewalk, the new cans also aim to beautify the neighborhood, with decoration from seven local artists.
Black trans artist Wriply Bennet is part of that group, thanks to the efforts of the Compton's Transgender, Lesbian, Gay and Bisexual (TLGB) District. Created in 2017, the district honors the legacy of the 1966 Compton's Cafeteria riot, in which transgender people fought against police repression.
"When people see my art in the neighborhood, I want them to experience joy and wonder," said Bennet of her contribution. "I want them to see themselves and loved ones … I want them to not only see the past, but the future as well, and all its possibilities."   
Appearing on a Tenderloin can is nothing new for street artist, skateboard designer and neighborhood resident Sylvester Guard, who undertook a project to decorate old trashcans and utility boxes in the neighborhood in 2017. A Bigbelly depicting his work will replace a city can he'd previously painted at O'Farrell and Hyde streets.
"When people see my art, I hope they have a sense of appreciation for the creative and cultural potential that the Tenderloin is capable of," Guard said in a statement. "I hope they can appreciate that the Tenderloin is not just a place for drugs, dog feces, and seedy behavior but an actual community of people with dreams and aspirations."
Other featured artists include Jane Kim of art studio Ink Dwell, which painted a massive mural wrapping 455 Hyde Street (near O'Farrell) last year; illustrator Dan Mok, who partnered with youth poets from 826 Valencia for his designs; and Tenderloin residents Chrystal Vieula and Tan Sirinumas. 
The cans are being financed via a $410,000 round of funding from Mayor London Breed and Haney. It aims to install 90 Bigbelly cans around the city — half of them in Haney's district, which includes SoMa as well as the Tenderloin.
The TLCBD said it also partnered with the San Francisco Chamber of Commerce, San Francisco Office of Economic and Workforce Development, Public Works' Fix-It Team, and Recology to roll out the new cans.