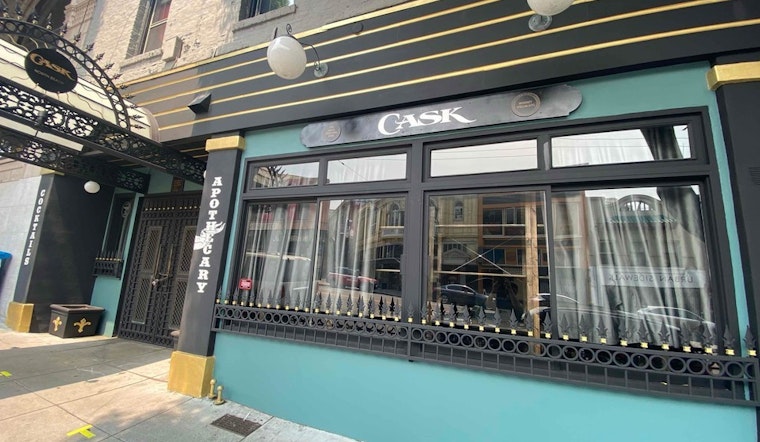 Published on July 15, 2020
Here's the latest in SF food and libation news. In this edition, a North Beach bar transforms into a boutique spirits shop, a barbecue pop-up debuts in Cow Hollow, and a French bakery permanently closes one of its three locations in the city.
Updates
North Beach
Devil's Acre/Cask (256 Columbus Ave.)
Future Bars Group has closed 14 bars around San Francisco since shelter-in-place began, including popular spots such as Devil's Acre and Bourbon & Branch, but next week, it will open up a walk-up to-go shop Cask at the Devil's Acre space at 257 Columbus Ave.
It will be Cask's 4th location in the Bay Area. Also owned by Future Bars, Cask stores at 3185 College Ave. and 17 3rd St. in Berkeley are open, while its location at 101 Spear St. has closed.
The store will offer boutique, artisanal spirits, from a selection of classic single-malt whiskey to traditional single-village mezcal, as well as wine and mixers.
Owner Doug Dalton said he feels that opening a Cask store at the Devil's Acre spot is an ideal location due to the neighborhood's walkability and accessibility, since there aren't many boutique spirits shops in North Beach.
Customers can either order online for takeout or delivery, or just order at the door.
North Beach's Cask location is set to open on July 27.
Pop-ups
Cow Hollow
Westwood Pop-up (3154 Fillmore St.)
Country-themed bar Westwood, located at 2036 Lombard Street, has launched a pop-up. It's called "Westwood Pop-up" and is located in the former home of The Greenwich (which has permanently closed) at 3154 Fillmore St.
With a newly procured smoker, the pop-up offers barbecue items, such as brisket, ribs and smoked chicken, and a selection of cocktails.
The Westwood team's pivot was due to having to temporarily close its business on Lombard Street for shelter-in-place. Bar and Beverage Manager Sean Doolan said that putting seats on Lombard Street just wasn't a friendly option, so he and his team wanted to come up with a concept that would lend itself to both sit-down and to-go service.
The new location has new parklets on both sides of the building, one on Fillmore Street and the other on Greenwich Street, and can safely seat up to 50 people, socially distanced.
It offers full table service for outdoor dining, but customers can also order from the takeout window, or get delivery (order on its website here).
Doolan said when restaurants are allowed to reopen indoors, Westwood will resume operations on Lombard Street, and the pop-up on Fillmore St. will eventually offer seating inside.
Closures
Union Square
Cafe Madeleine (43 O'Farrell St.)
After 20 years of business, Cafe Madeleine has permanently shuttered its Union Street location at 43 O'Farrell St. Hoodline contributor Carrie Sisto noticed a note posted to its exterior announcing the closure.
Cafe Madeleine first opened in 1999, serving French-American style pastries, whole cakes, and lunch items such as sandwiches, salads, soup and quiche.
The note says that its locations in SoMa (149 New Montgomery St.) and FiDi (300 California St.) will remain open but only for takeout and delivery until further notice. Orders can be placed online on its website.
---
If you've seen something new (or closing) in the neighborhood, text your tips and photos to (415) 200-3233, or email [email protected]. If we use your info in a story, we'll give you credit