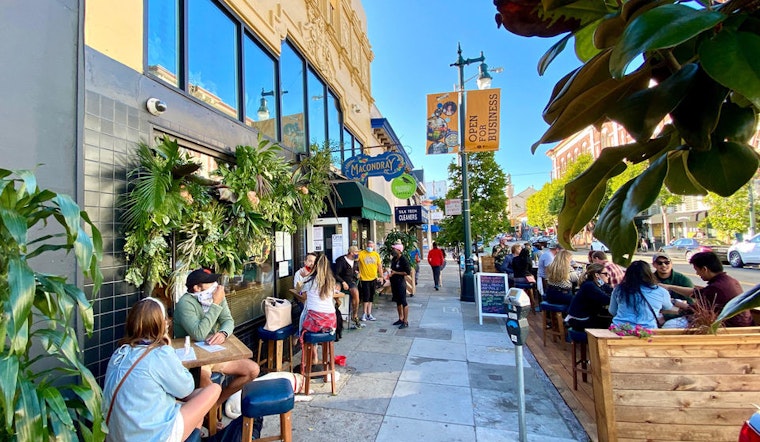 Published on July 24, 2020
Due to an increase in COVID-19 cases this month, state and city officials have rolled back plans for restaurants to reopen indoors.
That leaves two options for restaurants that didn't previously offer outdoor seating — they can add it, or stick to a takeout-only model. 
With the advent of the Shared Spaces program, which allows businesses to set up shop on city sidewalks and streets, several San Francisco restaurants have opted to give outdoor seating a try for the first time.
The result has been a mixed bag: a lifeline for business, but a challenge for owners and staff, who find themselves suddenly face-to-face with policing customer behavior. 
"Keeping everything manageable is already a big thing with food safety," said Marc Zimmerman, the chef/owner of SoMa's Gozu. "Now, we are asked to manage the spread of a disease on a large scale. That's a lot of responsibility."
"There needs to be a little more authority [from us] than usual," agreed Aaron Paul, co-owner of Polk Street's New England-inspired cocktail bar and restaurant Macondray. 
The pandemic was an unwelcome surprise for both eateries, which opened only months before the shelter-in-place order came down: Gozu in November 2019, Macondray in January 2020.
To make matters worse, Gozu suffered a devastating fire on New Year's Eve, which necessitated months of repairs. It had planned to reopen in April, but never got the chance after COVID-19 hit. 
"Opening a restaurant in SF is already intense," Zimmerman said. "Opening a restaurant in San Francisco after a fire on New Year's Eve during a pandemic is next-level intense."
But the two restaurants did have a stroke of good fortune: access to the outdoors.
The owners of an enclosed private courtyard next door to Gozu were willing to open it up for diners. ("We lucked out big time," Zimmerman said.)
And thanks to the relaxed city rules, it took Macondray just 24 hours to snag a permit to take over the parking spaces out front. With the help of friends, the owners quickly designed and built a large wooden parklet with planter boxes. 
"Things can go either way when tragedy sticks," Paul said. "Everyone has been really helpful and supportive — it makes me glad to live in the city."
The new arrangements have necessitated some menu changes. Gozu, which exclusively offered tasting menus of pricey Wagyu beef and other delicacies, has had to pivot into a more affordable menu of á la carte grilled skewers. Macondray, conceived as a cocktail bar with bites, is now required by law to sell food to anyone who stops in for a drink. 
"So much of it is survival," Zimmerman said. "But you've still got to make it creative, to make it worth the risk of leaving their house."
The biggest challenge, both restaurateurs say, is dealing with customers who don't observe social distancing. Most are respectful, but even one person crossing the line can be disastrous. 
Within the first hour of outdoor service, Paul said, he and co-owner Jake Roberts realized they would need an employee specifically dedicated to stand at the door and enforce the rules.
His staff has had to deal with complaints from customers who don't understand why they have to buy food to drink. Last weekend, a customer drank too much, and wandered over to the next table to ask them to take shots. 
Even some of the bar's most considerate regulars often approach dirty tables before they're bussed and sanitized, leading to some friendly chiding from Paul.
"Shaming people has been a lot of fun, I'm not gonna lie," he said, laughing.
Zimmerman said customer drunkenness has also been an occasional issue at Gozu. After being cooped up for months, some people have taken the partying too far, and staff have had to reel them in. 
"It involves a lot of push and pull," he said. "As things come up, we make adjustments."
Erik Leve, a former server at a Castro restaurant, said the stress of dealing with outdoor seating was significant.
"Yes, this pandemic has been really hard on people, but some people are really grumpy," he said. Many of them aren't even customers: "Some people walk by and give their opinion about the outdoor seating on the sidewalk."
Leve's former restaurant has an electronic waitlist and a virtual menu, to reduce staff interactions. But many of its clientele are on the older side, and quickly become impatient with the process.
Customers often walk up and just seat themselves for service at tables that haven't been bussed, Leve said. 
"We have to ensure that those tables are sanitized," he noted. "You cannot just plop yourself down. So I'm being stern with people, and that's throwing them off, though I'm doing my best not to be rude."
Hospitality workers don't have the training that public health workers do, he said. Being put in that position almost overnight was a lot to ask.
But despite the setbacks, restaurateurs say they haven't lost sight of the fact that most customers are respectful. 
"People for the most part are cool," Paul said. "There's a little bit of nervousness about it ... I think people are just so excited to sit and dine out."
Over at Gozu, Zimmerman is even considering the possibility of expansion. The restaurant currently has just six socially distanced outdoor tables, but its permit has been approved for a year.
If things go well, Zimmerman said, he's eager to add more.