San Francisco's newest drag show can be found in an unexpected place — a storefront window on Haight Street. 
Known as Fish Bowl Drag, the show occupies a small, hand-built stage in the window of the historic Red Victorian at Haight and Belvedere streets.
It's drag for the age of social distancing: performers can work their routines safely indoors, while passersby get an eyeful and tip via Venmo. The space is outfitted with street-facing speakers, to ensure the performances are as audible as they are visible.
The shows are produced by performer Bussy Dad, who worked at the Red Vic prior to its closure under shelter-in-place. 
"I exist outside of '[RuPaul's] Drag Race,' and there are so many other people who do," they said. "I want this to be the kind of anti-prom, anti-drag drag show: trans, non-binary, different-bodied, -bearded, -genitaliaed people. Not just female-presenting drag."
Currently slated for afternoon and evening performances on Saturdays through the end of the month, Bussy Dad said the shows began as a way to bring something queer back to Haight Street.
They're also meant to draw attention to a new Gofundme campaign, which hopes to transform the Red Vic into a residential space for transpeople.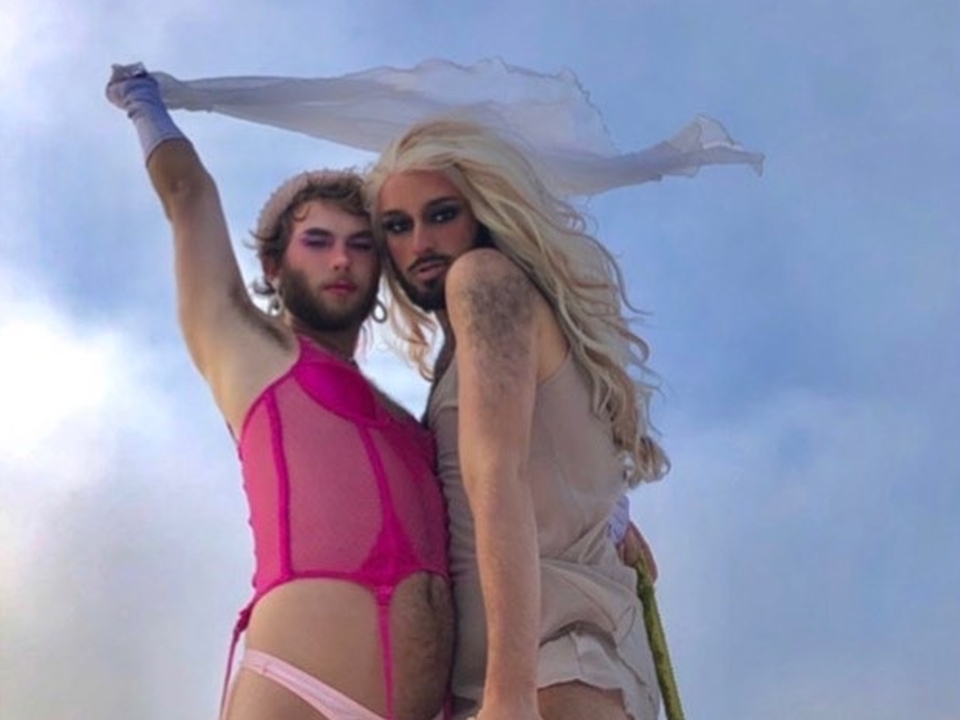 The Red Vic building is currently owned by late founder Sami Sunchild's Peaceful World Foundation. Prior to the pandemic, experimental lodgings group District Commons ran it as equal parts B&B, collaborative gallery and event space.
But with travel and events hard-hit by the pandemic, the Red Vic has "less than no money," said employee Adam Rice. 
Its staff have an alternative vision: transforming the space — which has two floors of hotel rooms and a commercial kitchen — into "really low-cost affordable or subsidized housing for transpeople, prioritizing black transwomen and formerly incarcerated folks," Rice said. 
The campaign has currently raised about $5,000 of its $100,000 goal. According to Rice, the money will initially go towards stabilizing the space — where the current operators are otherwise staring down eviction — and then developing the residential center for transpeople, with the goal of subsidizing their stays as much as possible. 
The drag shows are "the whole point of what we want this place to become," Bussy said. "I think, and the people here think, that art is the best way to heal, and people in a transitional life or living space, that's the best thing they can have."
If you want to check out the shows yourself, they'll be held the next two Saturdays: August 22 and 29. Admission is free, with tips encouraged to support the trans housing fundraiser. Follow Bussy Dad on Instagram for exact showtimes.