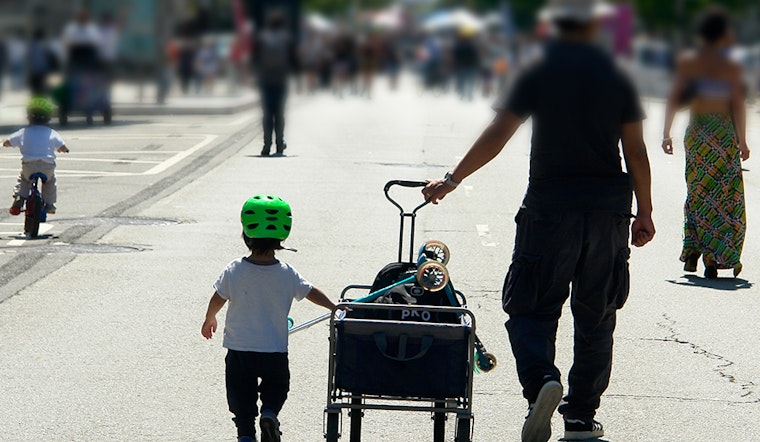 Published on August 25, 2020
Sunday Streets, which closes a different city street to cars one Sunday per month, has become a San Francisco fixture. But after COVID-19 hit, the organization canceled all of its planned 2020 events. 
Now, it's coming back in a more limited way — closing off two blocks of SoMa to cars, every Sunday through October 18. 
Beginning this Sunday, August 30, Sunday Streets will close Folsom Street between both Sixth and Seventh and Seventh and Eighth streets, from 11 a.m. to 4 p.m. (Attendees will still have to go through traffic on Seventh Street, which remains open to cars.)
It's a reduced effort for the organization, which typically transforms up to a mile-long stretch of road into an open space for pedestrians and cyclists. But even this small change is a lifeline for SoMa residents, advocates say. 
The Folsom Street closure is part of the city's Shared Spaces program geared towards the economic recovery of locally owned small businesses. There are currently over 1,200 shared spaces across San Francisco, with the most recent closure located 18th Street between Hartford and Castro streets.
While the SFMTA's Slow Streets program has launched car-free blocks in neighborhoods across the city, the urban core of SoMa and the Tenderloin has remained open to traffic. That's been tough on residents, who already have very little access to the outdoors. 
"SoMa has a lot of families and residents who have been living in small houses without yards during shelter-in-place," notes Katy Birnbaum, associate director Sunday Streets' organizing nonprofit, Livable City. "[There's] a serious deficit in public parks, and most of our streets are high-injury corridors."
Prior to COVID-19, the Sunday Streets events were typically jam-packed with recreational activities, nonprofit vendors and live music. This year's events will be more muted, to allow for social distancing, but will feature essential resources such as sanitation stations at every entrance and health screenings from SF State's School of Nursing.
In late September, the city hopes to add a free pop-up COVID-19 testing site to the mix. 
The street closures will also support small restaurants on the two blocks, who plan to offer outdoor dining and curbside pickup for takeout every Sunday from Sept. 6 to Oct. 11. Participants will include Basil Thai, Trademark/Copyright, Mestiza and the Cat Club.
The SoMa West CBD, Undiscovered SF and Kultivate Labs will help with the outdoor dining effort, providing tables and monitoring customers to ensure they're adhering to mask and social distancing guidelines. 
Desi Danganan, the executive director of Kultivate Labs, says the effort is particularly essential to preserving the neighborhood's historic Filipino community.
"Our community has been devastated by COVID-19. Businesses are closing, and people are losing jobs."
"Our residents need open space more than ever," said District 6 Supervisor Matt Haney, who represents SoMa. "We have to create lifelines for our food, beverage, and nightlife venues to stay alive. And we have to support the Filipino community, who've been grinding for years to regain an economic foothold in this neighborhood."
For more information on the Sunday Streets event, visit Livable City's website.