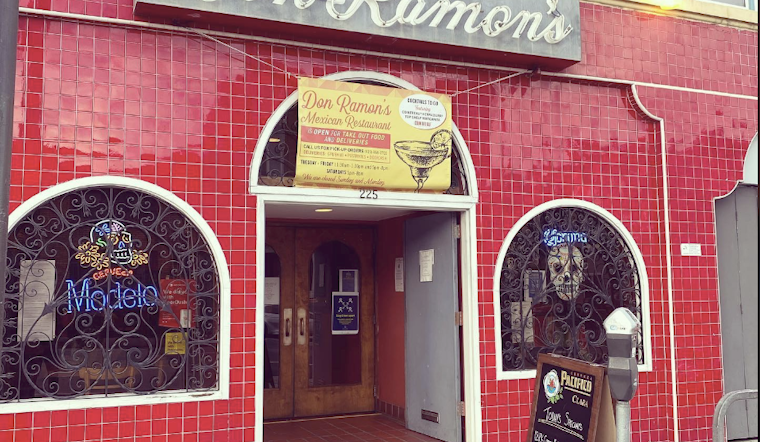 Published on September 24, 2020
Growing up in San Francisco, Bivett Brackett's favorite restaurant was Don Ramon's. While other kids opted for birthday parties at Farrell's or Chuck E. Cheese, Brackett always celebrated at the SoMa Mexican eatery, where her five sisters would toast her with virgin piña coladas over plates of chicken enchiladas with mole sauce.
"Don Ramon's was a welcoming place in a city that was very anti-Black and anti-Latino below the surface of its melting pot and cultural diversity," said Brackett, the daughter of Afro-Latino immigrants.
Now a community organizer and event planner in her forties, Brackett has found herself at the forefront of an effort to save Don Ramon's from foreclosure. 
With business severely impacted by the COVID-19 pandemic, owners Lee, Nati and Lucy Ramirez — whose immigrant parents founded Don Ramon's in 1982 — have fallen behind on a $5 million loan they took out in 2018. Their lender is threatening to repossess the building. 
A host of local politicians are intervening on the family's behalf, encouraging the lender to give the Ramirezes an extension on payments.
"It's an example of a business hammered by the triple threat of the pandemic, the recession and aggressive hard-money lenders," Assemblymember David Chiu told Hoodline.
Prior to the pandemic, the ground floor of Don Ramon's was usually packed with locals, as politicos hosted campaign kick-offs and happy hours in the upstairs banquet room. 
It's a lively atmosphere the Ramirez family has cultivated for generations. After emigrating to San Francisco from Mexico's Jalisco state in 1955, Ramon and Guadalupe Ramirez landed jobs at Valencia Cafe, owned by Guadalupe's sister.
Guadalupe's sister eventually sold Valencia Cafe to the couple, and in 1967, they decided to open a second location, Jay's La Perla, in Don Ramon's current space at 225 11th St.
Named for the Ramirezes' son Javier, Jay's La Perla was a Mexican deli serving pre-prepared food. It became popular enough that in 1982, the family sold Valencia Cafe and turned the deli into a full-service restaurant, which they named for Ramon.
The subsequent decade was not an easy one for the gritty corner of western SoMa that Don Ramon's calls home. With its bathhouses and leather bars, 11th Street was considered a dangerous place at the height of the AIDS epidemic. Many customers who were fans of Valencia Cafe declined to patronize the new location.
"If it were not for the gay community, we wouldn't be here today," Lee Ramirez said. "Every weekend before a party, the gays would come to have dinner with us. It was the LGBTQ+ community who saved Don Ramon's." 
The restaurant found a more stable footing after the dot-com era turned SoMa into a boomtown, and the elder Ramirezes cooked there well into their seventies. But the decades-old building eventually needed repairs and upgrades that their daughters couldn't afford. 
In 2014, the Ramirez sisters leased the roughly 4,000-square-foot commercial space on the building's third floor to a nonprofit called De La Mancha. Intended as a simple business agreement to help cover the bills, it quickly turned into a financial burden.
One morning in 2017, the restaurant's staff arrived to discover the men's restroom was flooded and its ceiling had caved in. The water had come from De La Mancha's unit.
When the sisters gained access to the office, they discovered that it had been illegally converted into a living space. Several sleeping lofts had been built, and a full kitchen and laundry room had been installed under their noses.
Lee Ramirez is still not sure exactly how many people lived upstairs, but "it couldn't have been less than 15," she said.
'These people felt entitled, and felt they could just come in and take over," Nati Ramirez said. "It was similar to the Ghost Ship situation. They would host private parties — sometimes until six in the morning." 
The sisters reached out to the police and the SF Department of Health, but nobody wanted to get involved. So they pursued an eviction case against De La Mancha, whose lease was already set to expire the next year. Once they did so, De La Mancha stopped paying rent. 
Between the lost rent, the legal fees and the damage from the flooding, the sisters needed cash. So they took out a $5 million loan from IMC Private Capital, a Florida-based private lender specializing in real estate. 
Lee Ramirez said the family was making consistent payments on the loan until the pandemic hit. Like many restaurants in the city, Don Ramon's pivoted to takeout, but it couldn't make up for the loss of in-person dining revenue. 
When the Ramirezes missed their April payment, IMC doubled the interest rate on their loan. Six months on, they're now behind on their payments by more than $300,000. 
IMC could not be reached for comment for this story. The lender's website is offline, and its phone number is out of service. 
When Lee Ramirez confided to Brackett that the family might lose the building, Brackett said she "sprung into action." She launched a Gofundme campaign, and began holding weekly meetings with stakeholders, ranging from attorneys to the city's Office of Economic and Workforce Development (OEWD). 
Soon, politicians jumped on board. Mayor London Breed and Supervisors Matt Haney and Aaron Peskin have all lent their efforts to the restaurant. 
"[The pandemic] has meant that many in the small business community are at risk of being taken advantage of, especially our minority-owned businesses," Breed said in a statement. "We must stand up to these unethical practices, and I have directed our Office of Economic and Workforce Development to identify and exhaust all options available to protect Don Ramon's from foreclosure." 
The Mayor also sent a letter to the San Francisco Office of Small Business, nominating Don Ramon's for the city's legacy business registry. 
Chiu says he's received several calls and emails from constituents concerned about Don Ramon's. With support from Peskin, he was able to negotiate a 90-day extension on IMC's loan. This gives Don Ramon's time to examine other options to avoid foreclosure, including refinancing.
"If these lenders think that they are going to foreclose on this property and turn it into a development, they've got another thing coming," Peskin told Hoodline. "If they think they are going to build a high-rise, they are sadly mistaken; it's never going to happen."
Asked for further details on how he would prevent redevelopment of the site, Peskin said his efforts would be similar to the advocacy work he did to stop the controversial 8 Washington condo development in 2015.
In addition to its history, Chiu said, Don Ramon's is important because of its status as one of San Francisco's first "sanctuary restaurants," educating undocumented employees on their rights and adhering to guidelines intended to protect them from harassment. 
"Don Ramon's is a beloved San Francisco institution and an important legacy business," Chiu said. "As leaders in the sanctuary restaurant movement, I've seen their commitment to uplifting our diverse communities in San Francisco."
Brackett said the path forward for Don Ramon's won't be easy, but she's remaining optimistic. 
"The past two months have been difficult as we uncover new obstacles, but I am hopeful that they will not meet the same fate as Sam Jordan's," she said.
---
If you wish to donate to help preserve Don Ramon's, visit their GoFundme page.