On Monday, moped-share company Revel launched a 432-moped fleet in San Francisco, in partnership with the SFMTA.
For now, the electric mopeds are spread over the Upper Haight, the Castro, Mission, Marina, Inner and Outer Richmond, SoMa, and Russian Hill. A handful are also available in the Outer Sunset and Pacific Heights. 
The rollout has a notable service gap in San Francisco's lower-income neighborhoods: the Tenderloin, Bayview, Ingleside and most of SoMa.
"Our initial service area was determined in coordination with local officials," a Revel spokesperson said, adding that the Tenderloin was not included because of a lack of street parking.
The spokesperson said the company was able to secure dedicated parking spaces in a few downtown garages: 15 in the Sutter-Stockton Garage near Union Square, 12 in the Financial District's St. Mary's Square Garage and 20 in the 5th & Mission Garage in SoMa.
The mopeds can also be left in an appropriate street-parking space anywhere in the company's service area, which includes SoMa. But users are responsible for any parking citations received within 24 hours after the ride has ended, which may make parking in much of the dense neighborhood unfeasible.
Founded in New York in 2018, Revel also operates its moped-sharing business in Austin, Miami and Washington, D.C. Oakland and Berkeley joined on in January.
Revel charges users a one-time $5 registration fee. Per-ride, it costs $1 to unlock a moped, $1 for a second rider and $0.39 for every minute of use. Two helmets are included (and required); they're stored in a box on the bike. Disposable hairnets are provided for cleanliness. 
A discount program, Access, gives a 40% price cut to people who live in public housing, participate in the Home Energy Assistance Program (HEAP) or have active Electronic Benefit Transfer (EBT) cards. Active-duty military and veterans get 20% off. 
With a top speed of 30 mph, the mopeds are not allowed on highways, the Bay Bridge or the Golden Gate Bridge. However, the company says their roughly 3,000-watt motors are powerful enough to climb steep hills. 
First ride! (Note the odometer) pic.twitter.com/XLCTYydpl6

— 🏳️‍🌈Michael Ducker (@miradu) August 31, 2020
Revel's return to San Francisco revitalizes a moped-share industry that has languished since shelter-in-place began. Scoot, which was acquired by fellow scooter company Bird last summer, took all its mopeds off the streets at the beginning of shelter-in-place.
The company's "Scoot Kick" e-scooters have since returned, but Bird spokesperson Jasmine Wallsmith confirms that there are currently no Scoot mopeds operational in San Francisco. It's unclear if, or when, they will return.
Revel has not been without controversy. In July, the city of New York put a halt to the service after three riders died in crashes. Mayor Bill de Blasio complained that many riders weren't using their helmets, or were taking the mopeds on sidewalks.
To get its operation permit back, Revel added several requirements that will also apply to San Francisco. Riders and passengers must take a selfie at the beginning of their rental, showing that they are wearing a helmet. They'll also be required to provide a driver's license, watch a three-minute instructional video and pass a short quiz on safety rules. If someone spots a violation, they can be reported online.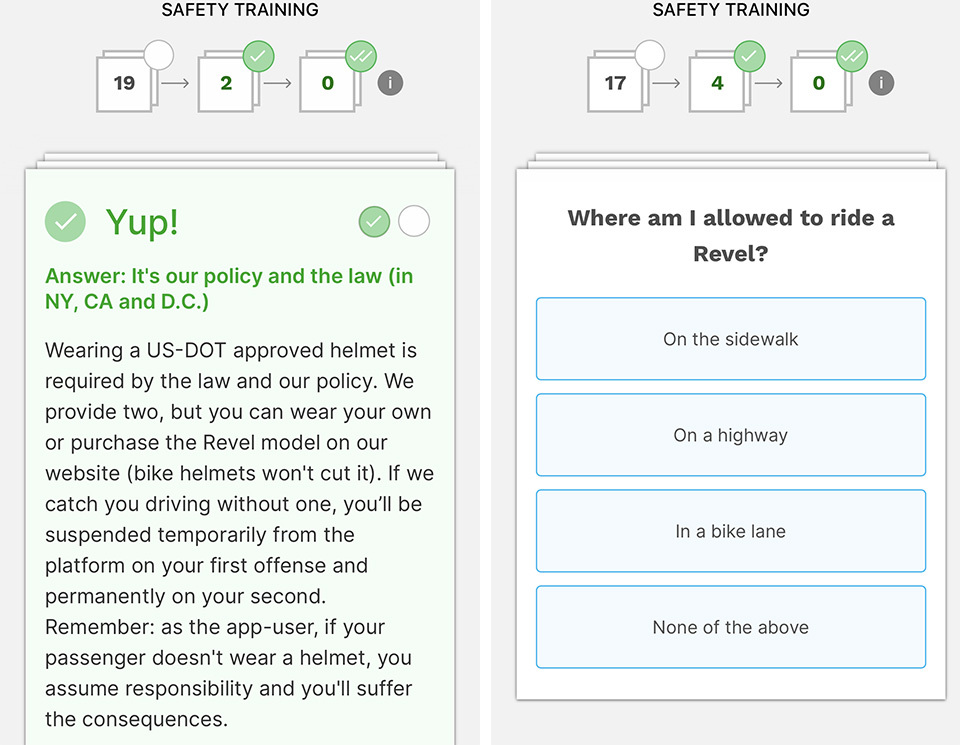 In a statement, CEO and co-founder Frank Reig said that the company doesn't support the gig economy, and that its San Francisco fleet will be maintained by a full-time staff of workers.
He doesn't think the COVID-19 pandemic will prove to be a roadblock to the launch. 
"We saw elsewhere that ridership goes up significantly, as people are looking for socially distant alternatives to public transportation to get around the city," Reig wrote.