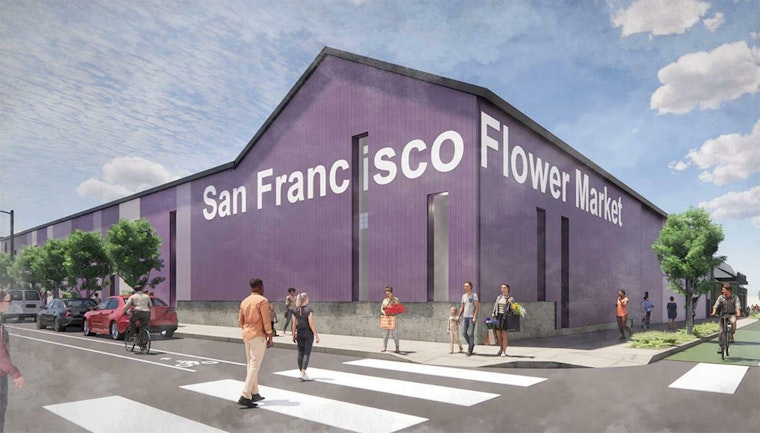 Published on September 28, 2020
The drama about the redevelopment of the wholesale San Francisco Flower Mart in SoMa goes back many years. But now a replacement Flower Mart in a different part of town is one step closer to being a reality. 
The SF Flower Mart property at Sixth and Brannan streets has been a target for redevelopment since way back in 2014, when developer Kilroy Realty Corp. announced plans to build a large mixed-use development on the existing property. As that development took shape and finally earned its approval last year, with its two million square feet of new office space and 80,000 square feet of new retail and restaurant space, vendors and the Flower Mart continued to express their concern that there wouldn't be any room for a wholesale market like theirs once the neighborhood completed its transition from mostly industrial to fancy housing and office space. Namely, they doubted that the truck traffic the Flower Mart needs to welcome all day long would end up becoming a conflict with its new neighbors.
So, rather than move to temporarily digs during the construction period and then move into the basement-level space the developer had envisioned for the market, a new deal was announced earlier this year. The developer, Kilroy, agreed to use another property it owns — actually two properties in lower Potrero Hill at 901 16th Street and 1200 17th Street, at Mississippi Street — to build a permanent new home for the Flower Mart. The property will allow for the parking and truck loading that the market requires, and it will allow the vendors not to have to relocate twice.
"Preserving the wholesale flower market and keeping it in San Francisco has always been the most important goal of the project," said Kilroy Senior Vice President Mike Grisso in a statement back in February. 
Now, as Socketsite reports, a newly designed, free-standing flower market got its approvals from the Planning Commission last week. The plan, from Jackson Liles architecture, takes the existing, industrial metal shed buildings on the site, as well as the historic brick office building that fronts 17th Street, and refurbishes them for adaptive reuse as the 125,000-square-foot flower market. Additionally, the plan calls for a two-story parking structure on another part of the property with space for 388 cars.
Unfortunately for housing advocates, the plan, while giving new life to the beloved the SF Flower Mart, does so at the expense of housing. This 3.5-acre site had been slated to become 395 units of housing from the Prado Group, as SFist reported. Prado ended up offloading the property after too many delays and too much neighborhood pushback, and here we are.
The 100+-year-old Flower Mart will live on, when this construction is complete, just in a new neighborhood.