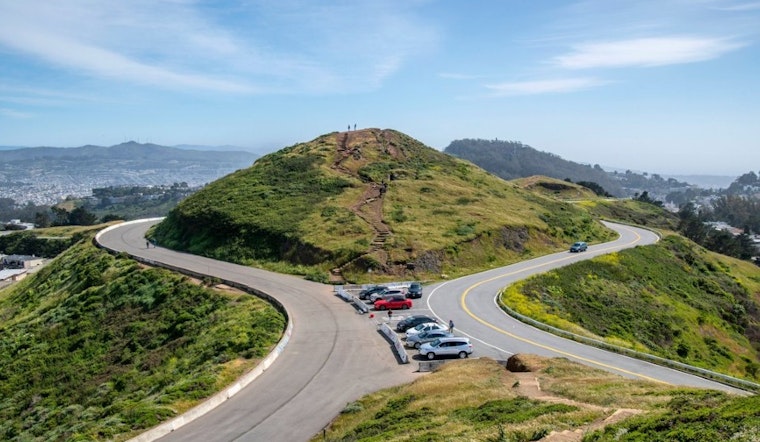 Published on September 29, 2020
Last week, the San Francisco Recreation & Parks Department announced it would resume allowing vehicular traffic onto Twin Peaks at night. Cars can now visit the overlook through the Portola Gate, which will be open daily between 6 p.m. and midnight.
The move is a reversal of the department's COVID-19 shutdown plan, which fully closed Twin Peaks to cars to create space for recreation. The space will remain car-free during the daytime. 
Rec & Park spokesperson Tamara Aparton said the decision was made jointly by supervisors Rafael Mandelman (District 8) and Norman Yee (District 7), along with the SFMTA, Rec & Park, and the San Francisco Police Department.
With the road to Twin Peaks closed, Aparton said, people were driving into adjacent neighborhoods to park their cars on residential streets, or even off-roading on the hill. It frustrated some neighbors, and posed a risk to pedestrians using the space. 
Some neighbors were reporting a surge in local property crimes that they attributed to the closure, according to ABC7. According to the Examiner, perhaps counterintuitively, the road closure drove late-night revelers down from the top of the hill into the residential neighborhoods adjacent, where they would reportedly party and be a nuisance.
The new plan "balance[s] the need for socially distant recreation with neighborhood safety," Aparton said on behalf of Rec & Parks. 
But some neighbors are already lobbying to reverse the decision and keep Twin Peaks free of car traffic.
A GoFundme campaign, launched last week, has raised double its goal to fund an appeal of the decision under the California Environmental Quality Act (CEQA), a broad-reaching and flexible environmental regulation designed to subject any policy changes with a potential environmental impact to review.
"This endangers the cyclists and pedestrians that travel to enjoy the view and some needed car-free space," write the organizers, who did not respond to a request for comment. "We are filing a CEQA appeal to halt the reopening, so that we may preserve what little car-free spaces exist in this city."
Even if the appeal is successful, Aparton said, Rec & Parks' authority only extends as long as COVID-19 emergency health measures are in place. For the road closure to remain permanent on a longer basis, it would have to go through rounds of city permitting and approval.