We've long considered the Burma Superstar on Telegraph Ave. to be Oakland's best Burmese restaurant. So we were excited when Berkeleyside reported, back in early March before everything got so terrible, that Burma Superstar was opening a take-out only spot just two blocks away. That take-out spot Burma Bites is now open, according to the pop-up ad now appearing on the regional chain's website (seen below). But in a surprise bit of Burma Bites news, the San Francisco Business Times is reporting that DoorDash is now an investor, dovetailing into the new spot's delivery emphasis.
According to a press release, "Burma Bites enables Burma Superstar to experiment with a scalable model to reach new and existing customers, all while creating jobs in their community."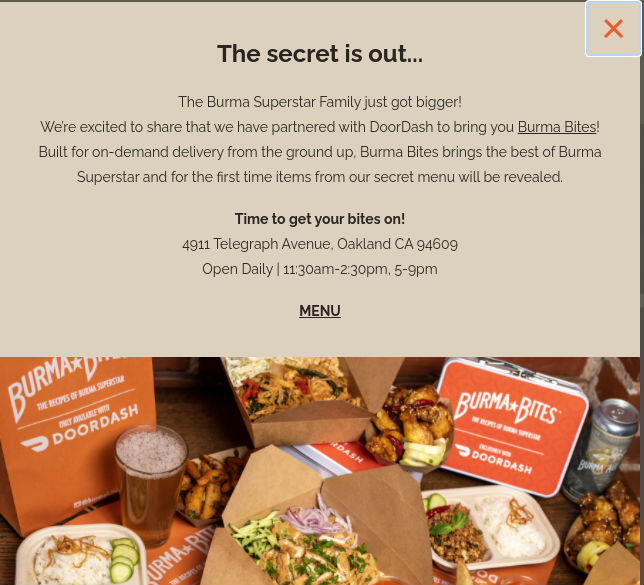 Yeah, about those "jobs"... we should note that Burma Superstar was forced to settle a million-dollar class-action wage theft lawsuit in June, brought forth by a staggering 353 current and former employees. Their new partner DoorDash is being sued by the City of San Francisco for misclassifying their drivers as contractors, and they've also been in the news for violating pandemic delivery fee caps. But hey, DoorDash is probably less likely to price-gouge a restaurant that they've invested in!
Per the release, "Items from their secret menu will be offered including the Superstar Spicy Mango Wings and Balachaung Fries." The full menu is now online.
This is not technically a "ghost kitchen," a human being can walk right in and order take-out, and also size up the operation with their own two eyes. The size of DoorDash's investment is not disclosed, but it is their first direct investment in a restaurant.