Published on November 24, 2020
Popular New York-based burger chain Shake Shack, which just opened its first San Francisco location earlier this year, is readying its Uptown Oakland outpost for a mid-December opening.
Signage on the place went up two months ago, but now tipster Albertino M. brings word that the opening is just weeks away. Staff at the place says they are just waiting on a city inspection, and the completion of training for the employees. The location is at the corner of Telegraph Avenue and 20th Street/Thomas L. Berkley Way.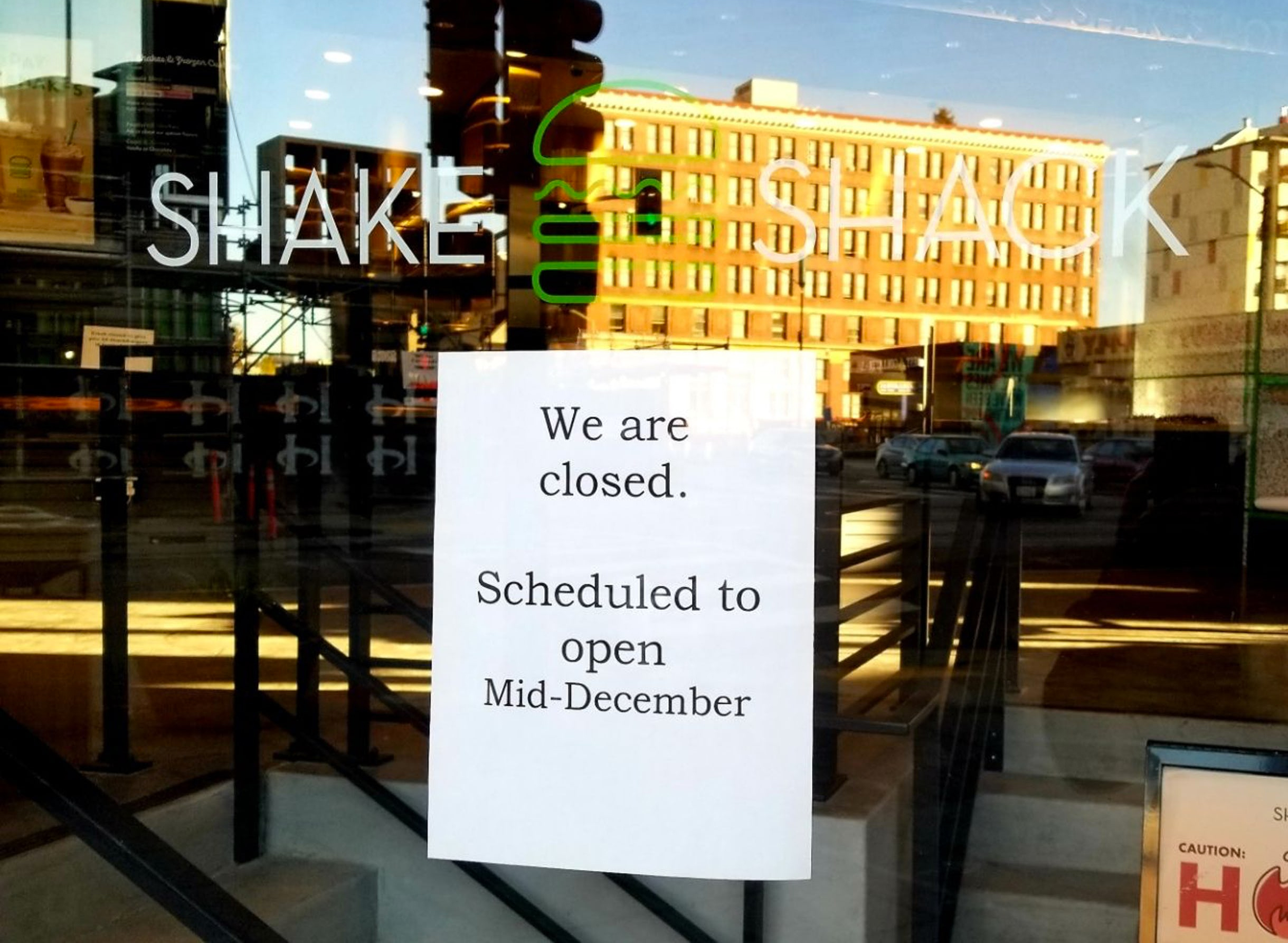 Photo: Albertino M./Hoodline
The Chronicle broke the news about the planned Oakland location back in August 2019, and things have clearly been delayed. Shake Shack is one of the star ground-floor tenants in what's now called Uptown Station — the redeveloped former department store spanning the block between Broadway and Telegraph that was the longtime home of H.C. Capwell, but later became a Sears in 1996.
This particular Sears at 1955 Broadway was a frequent target for looters and vandals in the last decade of downtown Oakland protests and unrest, and it closed in 2014.
Uptown Station made headlines in 2015 when Uber snatched up the property for an ultimately scrapped East Bay headquarters, but the company helped spearhead the major redevelopment process that would ultimately create a home for Square, which signed a lease there in late 2018. Oakland-based investment firm CIM Group bought the property from Uber in late 2017, and it's been a slow process of renovation and revival ever since.
Shake Shack, which was founded by New York restaurateur Danny Meyer in 2004, started out life as a hot dog cart in Manhattan's Madison Square Park in 2001. It has now grown to over 275 locations worldwide, with 19 and counting in California. Here in the Bay Area, there are also locations in Palo Alto, San Mateo, and Larkspur, in addition to the recently opened Cow Hollow location in San Francisco.