Dishing out generously portioned, cross-cultural street food, Señor Sisig's signature specialties are now available with a plant-based bent at their new vegan food truck, Señor Sisig Vegano, which debuted over the weekend in the Mission District.
San Francisco continues to be a touchstone for vegan and vegetarian eats in the country. The seven-by-seven, as well, remains a juncture for culinary fusions that run the gamut from high-brow, multi-course tasting menus to more approachable, creative spins on principal cuisines. Señor Sisig, having recently celebrated its ten-year anniversary, clearly harps on that latter idea, offering an array of tacos, nachos, and other street foods — but with a Filipino-Mexican twist.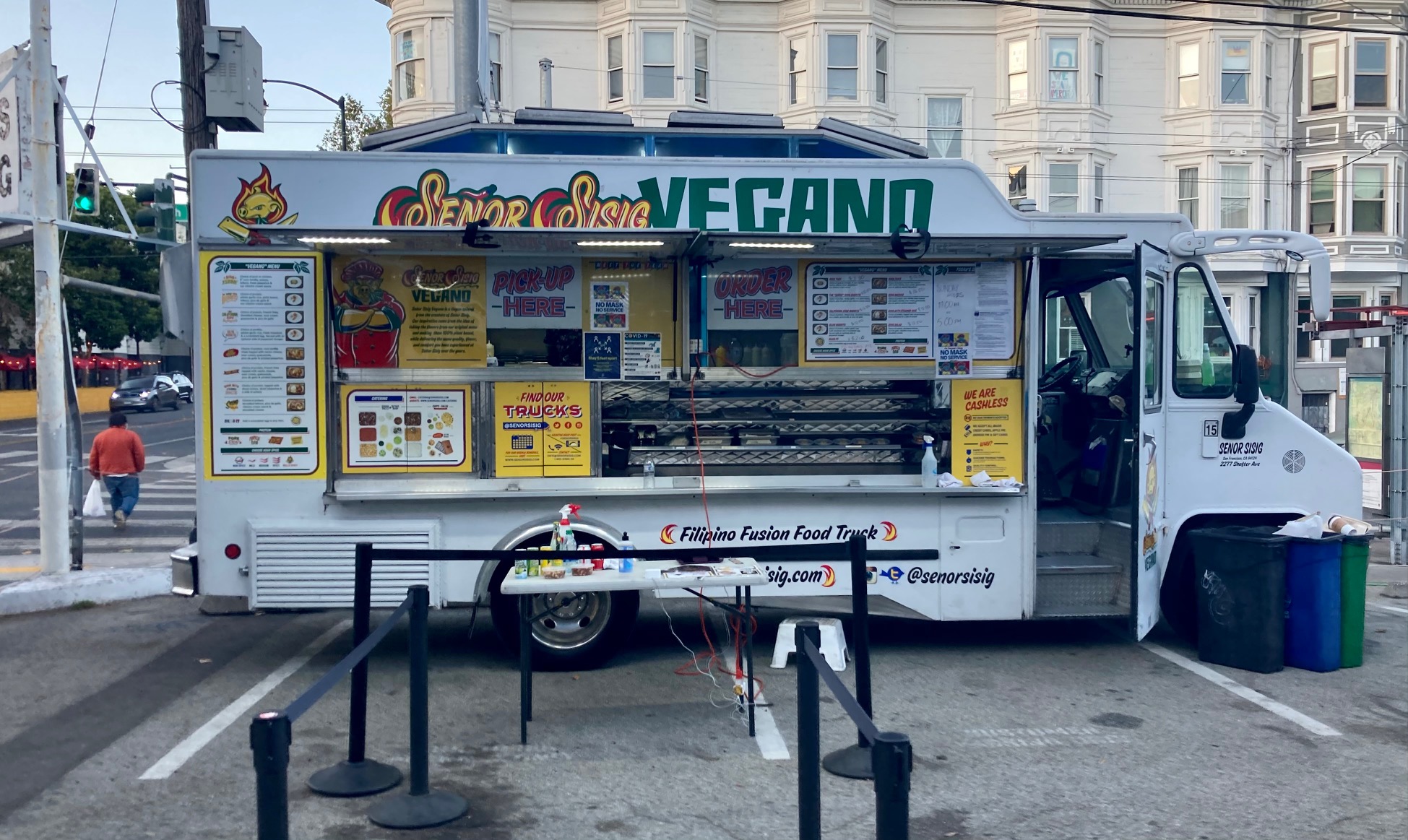 And with Señor Sisig Vegano (a.k.a "Vegano") — the company's first all-vegan food truck — now open, you can get those same offerings with meat-less protein and dairy options.
Debuting at 701 Valencia Street, inside the parking lot of Cherin's Appliances, this past Saturday and Sunday, Señor Sisig Vegano's menu is an exercise in proving that veganism doesn't have to be synonymous with insipid tofu and soulless oat bars. With the food trucks impeccably prepared plant-based substitutes — which include meat-free chorizos, chickens, tocinos, and an assortment of dairy-free cheeses — it's no wonder why the seating area adjacent to the truck was bustling when we visited early Sunday evening.
Vegano sources all of its plant-based meats and dairy-free products from a variety of providers. Though, as anyone familiar with vegan cooking will tell you: meat-substitutes are more like blank canvases for infusing flavors into than outright replacements for red and white proteins. Vegano takes full advantage of that fact, marinating those products like the conventional meat versions they serve at their 990 Valencia Street restaurant and out of other company-run food trucks — albeit adapting the recipes to enhance each substitute's mouthfeel and taste.
The meat-free menu (despite its length) is fairly straightforward: patrons choose their entree of choice, "spice level," and a vegan protein. (I settled on a "chicken" Sisig Salad, the "nacho cheese topped" fries.)
Once your order is placed, you're then left to inhale the array of familiar spices and smells wafting from the food truck while your food cooks; my meal was ready within seven or so minutes.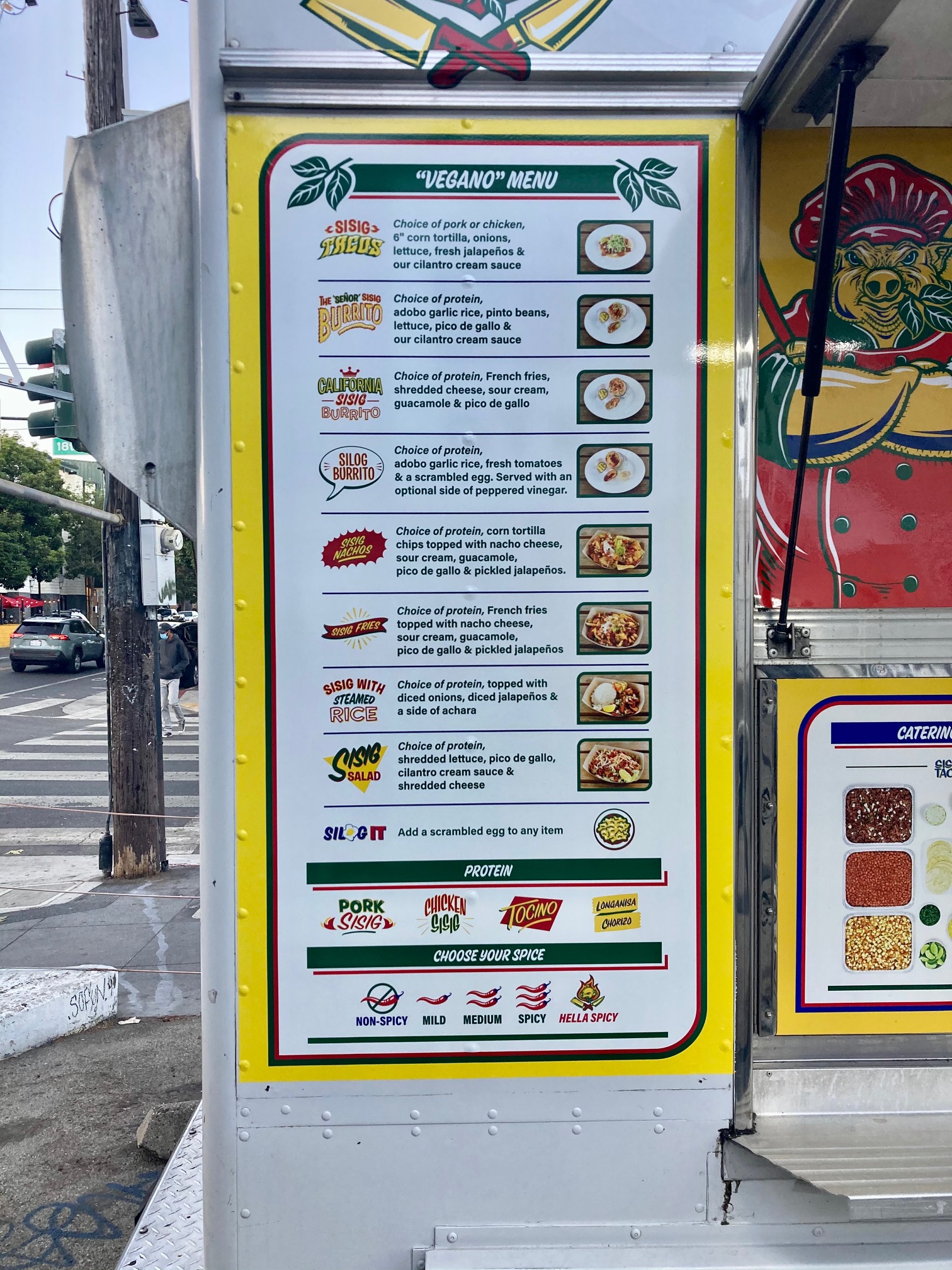 Immediately upon getting my food, I was impressed by the sheer heft of the to-go containers. And after opening them, the delight continued when the mounded salad permeated with an unmistakable Mexican street-food aroma. Forking into the mounded green salad, I was elated to find that the plant-based chicken pieces were well seasoned and evoked the taste and texture of grill-top-seared chicken meat; the "cheeses' in both dishes had a certain silkiness commonly lacking in other oil-based cheeses (think Daiya dairy products).
But the question remains: does Señor Sisig Vegano stand up to the company's other meat-slinging trucks and dedicated restaurant? Yes — but their cheese-topped loaded fries are best left not veganized.
Señor Sisig Vegano will stay at its 701 Valencia Street parking spot on Saturdays from 2 p.m. to 8 p.m. and Sundays from 11 a.m. to 5 p.m.; the truck will eventually travel around the Bay Area with modified hours; you can visit here to stay updated on where Señor Sisig's fleet of trucks will stop next. Señor Sisig's main restaurant is located at 990 Valencia Street and is open from 11 a.m. to 9 p.m. every day.
Photos: Hoodline/ Matt Charnock