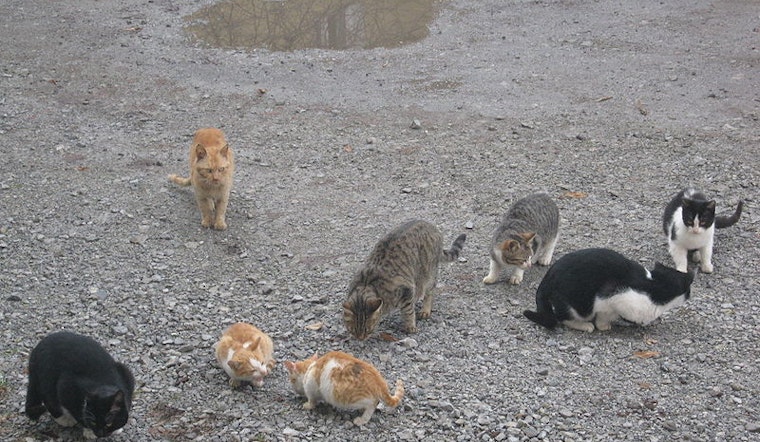 Published on December 09, 2020
The Martin Luther King Jr. Shoreline is a 700-acre park in Oakland with lovely views of the San Leandro Bay and some adjacent office parks. It's also a protected marshland, and as such, a haven for bird-watchers. The protected status of those birds, or rather, what East Bay Regional Park District is doing in the name of protecting those birds, has created an uproar in the animal rights community. KGO reported Sunday that the district admits they've been shooting feral cats, with at least 12 cats being shot in that park, and half a dozen elsewhere
SFGate got a statement from park authorities acknowledging shooting the cats. "Lethal removal is used as a last resort after extensive trapping efforts are made," East Bay Regional Park District public information supervisor Dave Mason tells SFGate. "Lethal removal only happens when feral cats are in the act of hunting wildlife on District property."
Animal rescue activist Cecelia Theis has been tending to this particular batch of cats, feeding them, helping find adopted homes for the kittens, and having the adults spayed and neutered. When she contacted KGO after a large number of the 30 or so cats went missing, KGO filed public records requests, and got the park district to admit they'd shot a dozen cats in this park, and supposedly six other cats in different parks.
"It's not okay to shoot these beings; some of them were pets that were abandoned," she said in a Facebook post. Theis has been trapping the remaining cats and finding them safe shelter space through Island Cat Resources & Adoption.
When contacted by KGO, Oakland Animal Services said they had the trapping resources and plenty of shelter space that they would have happily taken those cats in. For now, the East Bay Regional Park District says they will reach out to Oakland Animal Services before shooting any more cats, though did not commit to reversing their policy of shooting feral cats.
That policy is likely to draw some angry words during Wednesday's East Bay Regional Park District Natural and Cultural Resources Committee meeting (12:30 p.m., Dec 9). The meeting will be broadcast on Zoom, though the public comment period has closed.