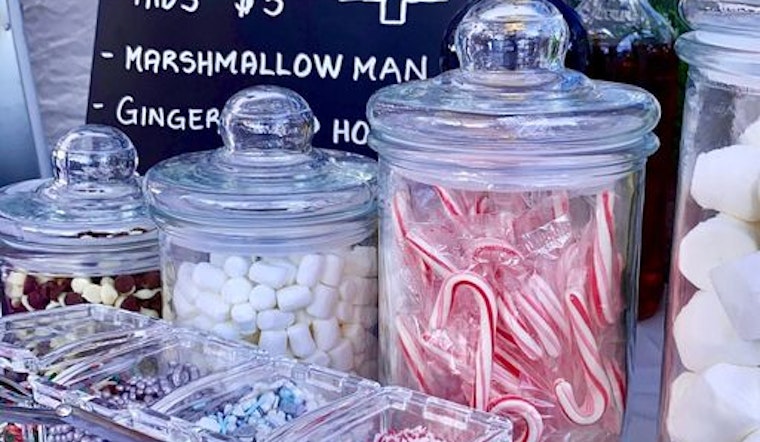 Published on December 15, 2020
It's the complete COVID holiday experience: Hit up a drive-through, no-touch holiday market for some to-go goodies (and maybe pictures with a plexiglass-protected Santa) before driving through a 1.5-mile holiday light display.
Locals heading to the Fantasy of Lights in Los Gatos can first get custom hot chocolate, to-go meals, and more at the Flights Winter Wonderland drive-through market — and support laid-off workers in need at the same time.
With restaurants again shut down except for takeout orders, Alex Hult of Flights restaurant says he wanted to help laid-off staff. So he got together with other Los Gatos businesses and the town's Kiwanis Club to create the market, which will donate funds and meals to local restaurant workers in need.

Visitors can take COVID-safe photos with Santa Photo: Flights
"Anyone who worked in any restaurant in Los Gatos can come by for a free meal," Hult tells Hoodline. "Whatever surplus we have on Dec. 24, we'll write checks to as many people as possible, so they can buy some food and a maybe Christmas gift for their kid."
The market is serving up a lot more than a chance to help locals in need, though. On offer are custom hot chocolate ("with all the mix-ins"), holiday-themed cocktail growlers (and it can be argued that nothing says 2020 like cocktails to go), hot meals to fuel you through the lights display, Christmas trees, wreaths, and a variety of gifts from area retailers.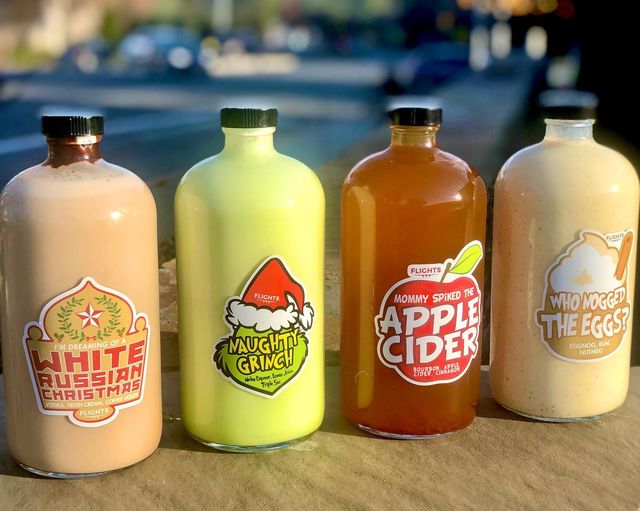 Cocktail growlers on offer at the Winter Wonderland market Photo: Flights
The market is the latest project in a fundraising effort called Feed the Need that Hult began in the spring, when restaurants shut down in-person dining and laid off staff during the first shelter-in-place order.
Hult says that restaurant workers are especially struggling this time around, with government support stalled and growing numbers of people seeking relief. "They don't have any money; some of them can't even get on unemployment," the restaurateur says. "There's no money, there's no support, there's no contingency plan. They just threw these people out on the streets."
During the spring, Hult says Feed the Need raised $150,000 and fed 12,000 meals to laid-off workers. "Los Gatos is an incredible community that always comes together in trying times," he writes on Facebook.
The Winter Wonderland market is open from noon to 7 p.m. every day through Dec. 24 in the parking lot next to Flights restaurant in Los Gatos, 165 Los Gatos Saratoga Rd. The 22nd annual Fantasy of Lights display is at Vasona Lake County Park, 333 Blossom Hill Rd.