West Oakland's Ghost Town Brewing plans to expand to the city's Laurel District next month, taking over the recently-vacated 4505 Burgers and BBQ location.
The team that launched Ghost Town had an eye out for potential expansion options over the past couple of years, and the new location in the Laurel District, at 3506 MacArthur Blvd., provided a great beer-garden atmosphere in an area that was attractive to the partners, according to co-founder Ryan Nosek.
As first reported by Berkeleyside, Ghost Town had been selling its beer to 4505 Burgers and BBQ before the pandemic required a Bay Area shutdown of indoor restaurants and retail spaces. Over the course of the pandemic, the SF burger outfit decided to shut down its Oakland outpost to conserve cash, and Ghost Town has since secured a 10-year lease of the now-vacant sspace.
The brewers are updating the existing ordering area to better accommodate the 32 taps that will be available, and "adding some Ghost Town flavor" to the space, Nosek said.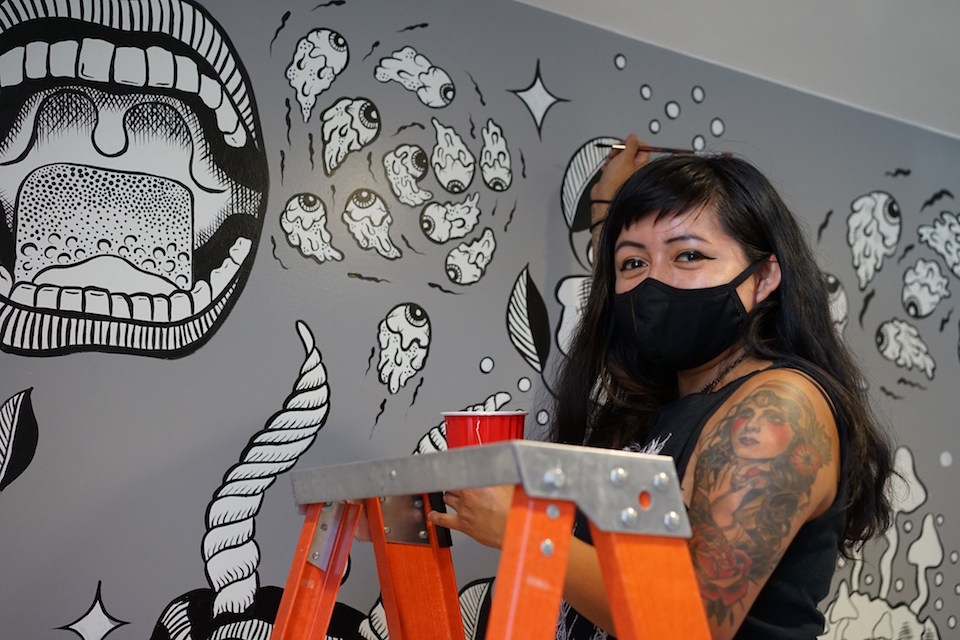 "Ghost Town flavor" was added to the Adeline facility bathrooms by bartender Daisy in August 2020. | Photo: Ghost Town Brewing/Facebook
All beer production will still occur at Ghost Town's brewery and tap room at 1960 Adeline St., in West Oakland. The intent is to largely feature Ghost Town's beers at the new location, but there will be some wine and cider available, and guest taps may be considered in the future, Nosek said.
The current plan is to open the new tap room in time for California Craft Beer Week, February 12-21, 2021, but Nosek is not yet able to confirm the formal launch.
The new Laurel tap room will include an in-house restaurant, but details on the food offerings are still in the works, Nosek said.
All of the Ghost Town brews will be available for pick-up at both locations, and the team is looking forward to opening the new beer garden once it's safe to allow outdoor dining again.
In the meantime, you can pick up your favorite heavy-metal themed beer at 1905 Adeline St. from 2-7 p.m. Monday-Wednesday and noon to 7 p.m. Thursday through Sunday.