Jaranita SF, a new Peruvian, wood-fired rotisserie spot will open this Friday in the Marina District in the former Bistro Aix space at 3340 Steiner Street.
Owned by global chain Acurio International, a restaurant group which includes Peruvian restaurant La Mar Cebicheria Peruana at Pier 1 1/2 on the Embarcadero, Jaranita is being spearheaded by Executive Chef Javier Cussato and General Manager Kenzeo Mpoyi.
Jarana, meaning "street party," will offer approachable Peruvian-inspired fare, focusing on wood-fired meats. Its main dish is the ​Pollo a la Brasa served with aji Amarillo and huacatay sauces, fries, and house salad. Its menu will feature empanadas, cebiches (including La Mar's popular ​Cebiche Classico:​ ​catch of the day fish in classic leche de tigre), sandwiches, and tapas.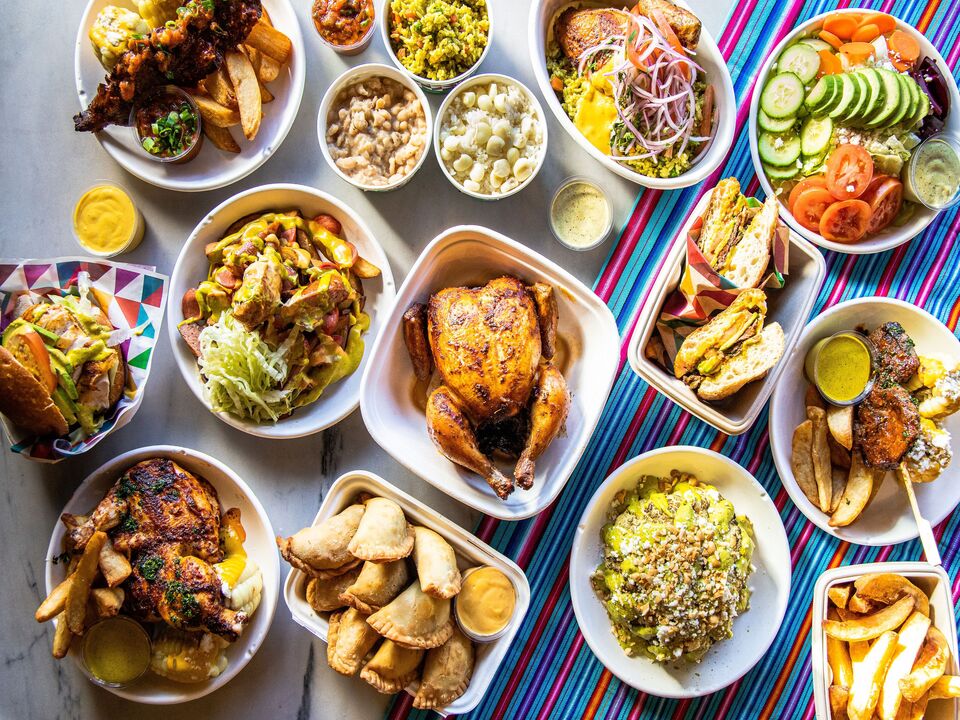 Jaranita's Street Food at this Peruvian-inspired Restaurant in San Francisco's Marina | Photo: Hockeystick Media, Courtesy of Jaranita SF
Vegan and vegetarian items will be offered as well, such as a whole roasted cauliflower served with ocopa sauce and topped with toasted peanuts and queso fresco ($9).
With a full liquor license in the works, but further down the pipeline, its drink menu will start out with a focus on beer and wine, and for now cocktails will be made with Peruvian flavor-infused sake. Options such as the Nikkei Sour made with blanco sake, yuzu-infused sake, lime juice, simple syrup, and egg white will be offered, as well as drinks such as El Cholito de la Marina ​made with cucumber-infused sake, dry vermouth, simple syrup, and lime juice.
This Friday, the restaurant will open with to-go items for pick-up or delivery, and in a few weeks, Jaranita will offer sidewalk tables with about 14 seats for outdoor dining. Once permits and construction are approved for its parklet, it will open up seating for 24 to 30 customers. And when indoor dining resumes in the coming months, the space will offer an additional 85 seats.
Once city officials allow restaurants to open for indoor seating, patrons will be welcomed by an airy bar and expansive dining room, splashed with colorful murals throughout its 2,600-square-foot space.
Mpoyi said that he and his team wanted to give the opportunity for painting the murals to a local artist, commissioning the work to Bernadine Preetha Saint-Auguste. The interior design includes a live tree growing underneath a skylight and an open-fire kitchen with "Que viva la Jarana" printed in pink neon.
"It's as colorful and as playful as a street party in Peru," Mpoyi said
Jaranita is a version of a tweaked concept and may be the first of many. The team originally intended to open a bigger concept called "Jarana" in Miami and other cities around the country, but due to challenges posed by pandemic, its owners decided on a smaller, scaled-down version, Jaranita, once they found the Marina spot. Mpoyi said the space lends itself to a take-out concept with its ample foot traffic, as well as being able to offer open-air dining.
"Hopefully this takes off well so we are able to multiply this through different parts of the Bay Area," said Mpoyi.
Starting Friday, Jaranita's hours of operation will be 11:00 a.m. to 8:30 p.m. (last pickup is 9 p.m.), seven days a week. Customers can place to-go orders by calling (415) 483-6372, and delivery will be available via DoorDash and Caviar.