A new LGBTQ bar appears to be headed for downtown Oakland — technically in the Uptown vicinity — in a ground-floor space of the iconic I. Magnin Building at 2001 Broadway.
A "coming soon" sign for The Town Bar & Lounge went up in recent weeks, along with an Instagram account for the place, but not much is known about the concept — other than the fact that it will be an LGBTQ bar, and it's basically next door to another LGBTQ bar that's been open for a few years, The Port Bar. The Port Bar has stayed open for takeout during the pandemic, but obviously has not been able to have the drag shows and other events it became known for since last winter.
This bar won't be on the Broadway-facing side of the building, however, where The Port Bar is. The Town Bar & Lounge will be located around the corner on Thomas L. Berkley Way (20th Street), across from the former Sears building (now Uptown Station).
The Town Bar & Lounge is aiming for a spring or summer opening, according to comments on the Instagram page. An attempt by Hoodline to contact the owners went unresponded to.

Photo: Albertino M./Hoodline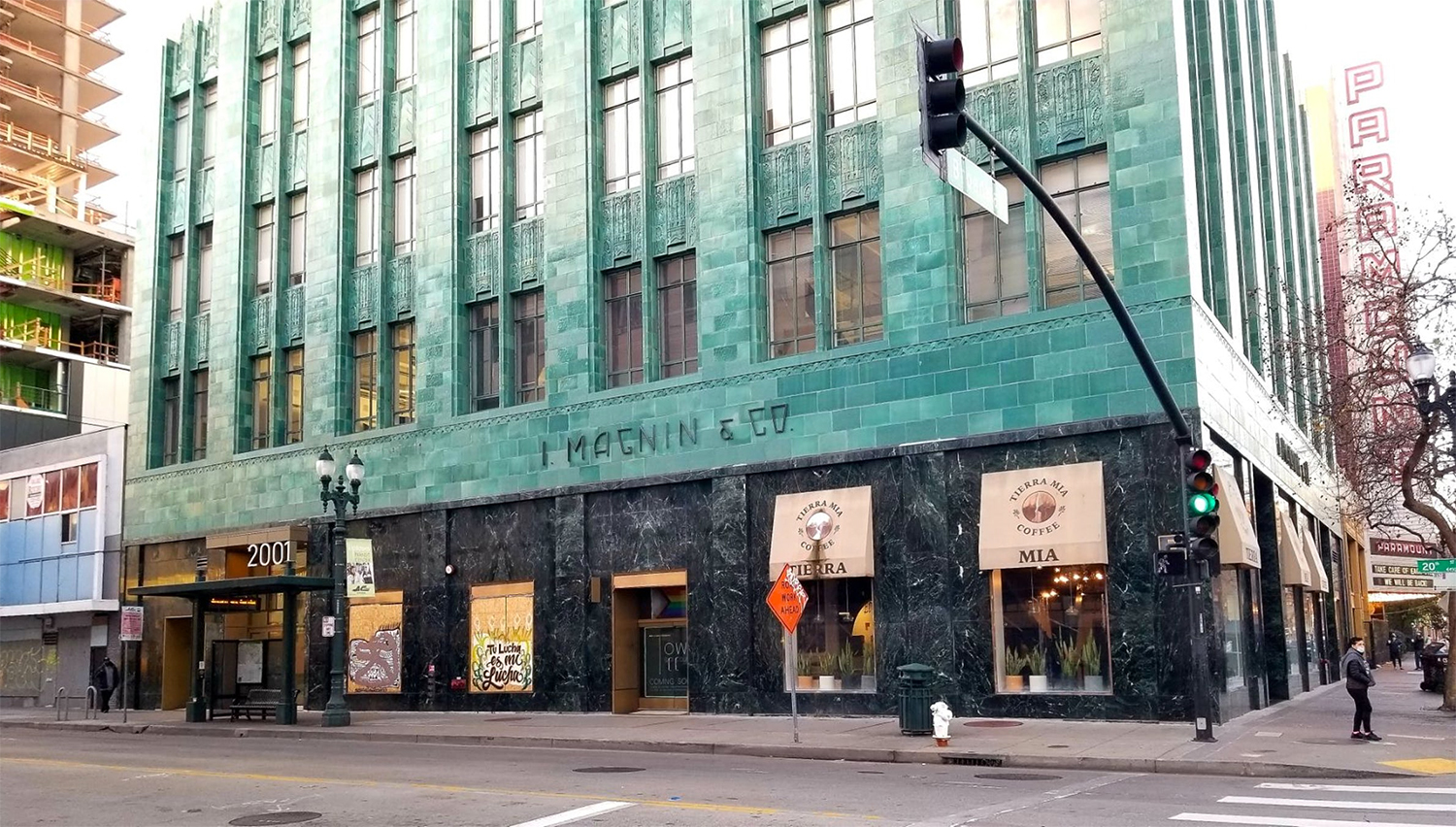 The Town Bar & Lounge door at center, on 20th Street. | Photo: Albertino M./Hoodline
The 1931 I. Magnin Building, known for its striking Art Deco facade in jade-colored ceramic tile, has not been home to Bay Area-based department store chain I. Magnin since 1995 — and even at that point, the brand had become part of Macy's. Since then, the stylish building has been home to one of many mostly empty storefronts on this stretch of Broadway, where the days of being a hotbed of retail activity were long since passed.
The I. Magnin brand began with a small shop in San Francisco in the 1870s owned by Dutch-born Mary Ann Magnin and her husband Isaac. The chain would ultimately grow under the Magnins' children to include boutiques in high-end hotels around California, and dozens of stores in Southern California and beyond. The chain was sold to the LA-based Bullock's department store chain in 1944, and then later Bullock's and I. Magnin were bought by Macy's/Federated in the 1980s.