The 55th Super Bowl kicks off this Sunday with the Kansas City Chiefs aiming to defend their title against the Tampa Bay Buccaneers. Looking for some food to snack on while watching the game at home? From hearty brisket slider kits to Spanish-influenced snack packages, we've got you covered.
Canela (2272 Market St., Castro). Spanish-influenced snack packs from this Castro favorite contain housemade onion dip and veggie crudite, beef chili with tortilla straws, Spanish cantimpalitos mini corn dogs, herbed honey mustard, chicken salad sliders and cinnamon-cocoa dusted popcorn. $99 serves three people. Order here for takeout and delivery on Feb 6th from 3 – 5 p.m. and Feb 7th from noon – 2 p.m.
Causwells (2346 Chestnut St., Marina). This American bistro has a few different options to enjoy from your comfortable pod this Sunday, offering cheeseburger meal packages for two people or four, with selections ranging in price from $48 to $100-plus. Sides include shishito peppers, house-cut fries, salads, coleslaw, and more. Order for pickup or delivery via Tock.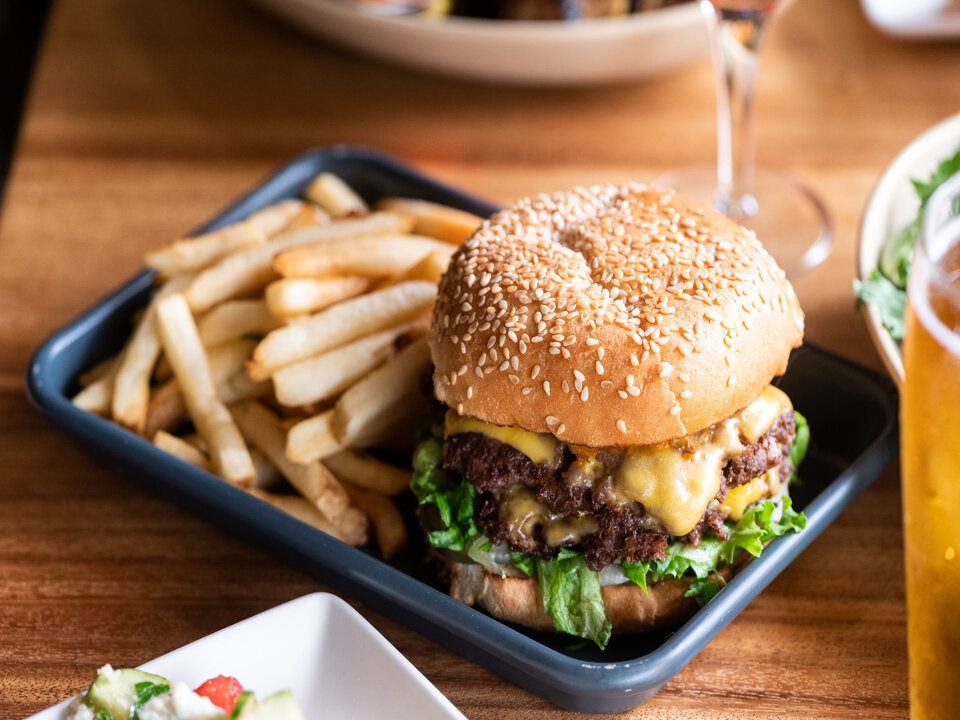 The burger at Causwells.
Daily Driver (2535 3rd St., Dogpatch). The wood-fired bagel eatery is doing Super Bowl Kits with options such a cheese platter, a snack platter (featuring pizza bagels and pretzels) and a lox and bagel brunch platter. Each kit is $49 (a shoutout to the 49ers!) and feeds four to eight people. Orders can be placed here for pick-up ONLY at its Dogpatch location on Saturday or Sunday, Feb 6 or 7.
International Smoke (301 Mission St., SoMa). The popular barbecue spot by Ayesha Curry and Chef Michael Mina has launched Big Game Specials for game day. Its Ultimate Game Day Package includes six barbecue brisket sliders with pulled-pork nachos, duck fat fries, and a trio of complimentary sauces for $65. Each order feeds about two to three people. Add-on Super Bowl-themed cocktails (such as "NFC" and "AFC"). Orders can be placed here.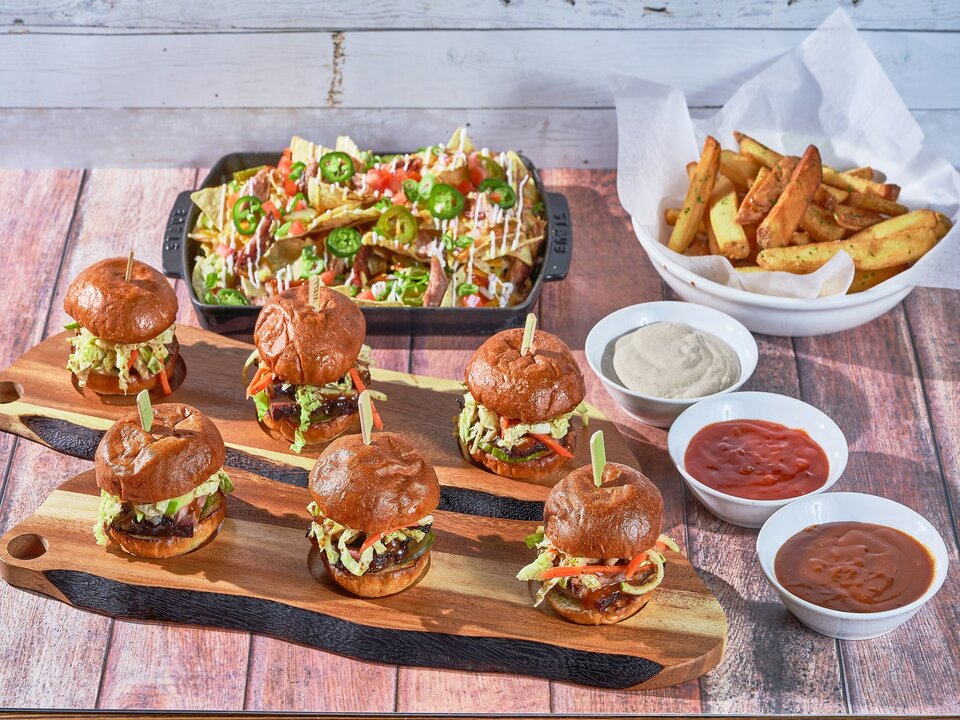 BBQ brisket sliders, smoked pulled pork nachos, duck fat fries and Chef Michael Mina's trio of sauces. | Photo via International Smoke/Facebook
La Mar SF (Pier 1 1/2, Embarcadero). The team at this Peruvian cebicheria have put together a snack smorgasbord for game day: an empanada sampler ($199) includes 10 empanadas of each flavor (40 empanadas total) with side sauces: stewed chicken, Peruvian sweet corn, mushrooms and beef (sirloin with onions and aji panca served with huacatay sauce). Place orders via its website.
Lord Stanley (2065 Polk St., Russian Hill). Upscale Russian Hill restaurant, known for its European-inspired fare, is offering a LS Game Day Kit going all out with a comfort-food package for this Sunday with barbecued pork ribs and sauce, chicken wings with hot sauce, blue cheese dip with celery, coleslaw and house potato chips. The package serves two to four people and costs $70. For pickup on Feb 5 and 6 order via Tock.
Proper Hotel (1100 Market St., Mid-Market). One of San Francisco's most celebrated chefs, Jason Fox, has created a Super Bowl Package for two at Mid-Market's Proper Hotel. For $90, you get a selection of Charmaine's cocktails (Manhattan, Negroni, La Vie en Rose, The Libby or Vesper) along with a bucket of wings (2 dozen) served with two of chef's Fox's secret sauces and a wood-fired pepperoni pizza. For beer, there's a six- pack of local assorted beer (Allagash White and Baja Brewing Mexican IPA) and bubbles. Order through its website, Tock or through Postmates with a special free delivery offer. Preorders are being taken now for pickup or delivery on Feb 7.
Routier (2801 California St., Lower Pac Heights). French spot Routier is offering a package of lentil dip with pickled onions, charred jalapeños creme and avocado, salt and vinegar chips, little gems Caesar salad, bacon and sauerkraut beignets, Lyonnaise potato salad, crispy confit chicken leg and banana pudding for game day. Each package costs $75 and serves 2 people. Orders can be placed on Tock.
Saison Smokehouse (132 Embarcadero, SoMa). The Saison/Angler team are doing ember-grilled wings for game day, in addition to their usual, excellent barbecue fare. The largest meal package for 3-4 is sold out, and so are all slots before 5:30, but there are still slots left and the "Red Meal" for two, with smoked chicken and grilled green chile pork ribs, with your choice of sides. Place orders on Tock.