San Jose residents can now enjoy New Orleans-style fried chicken and more from Bay Area favorite Brenda's — whose original San Francisco location claims the distinction of the West Coast's most Yelped eatery.
Chef Brenda Buenviaje has brought her "Creole comfort food" to the South Bay via a cloud kitchen, or delivery-only location, in San Jose. Diners can now order her Creole, Cajun, and French-inspired cuisine — including chicken with all the fixings, gumbo, red beans and rice, po'boys, and stuffed beignets — via Caviar and Doordash.
The cloud kitchen is the fourth Brenda's location. Brenda's French Soul Food in downtown San Francisco opened in 2007, and Buenviaje opened a second San Francisco location, Brenda's Meat and Three, in 2014, and a third in Oakland in 2019.
Hoodline spoke with Buenviaje to get the scoop on her latest endeavor. The New Orleans-born chef shared that the San Jose kitchen grew out of the realities of operating a restaurant during the pandemic.
"I've been trying to keep all of our restaurants open and/or as many people employed as possible during COVID," Buenviaje told us. "Our flagship restaurant in downtown San Francisco suffered the most. There was no one eating downtown. I thought, tech's not suffering, where are people eating? Let's bring the food to where people are eating. People are eating at home and working from home."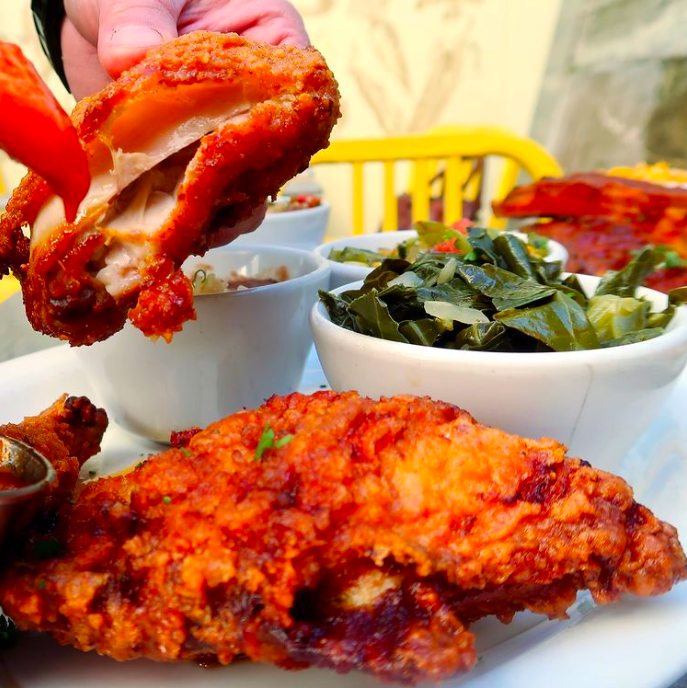 Brenda's fried chicken | Photo: Brenda's San Jose / Facebook
Brenda's San Jose launched with a soft opening last Thursday. Buenviaje's not prepared to say yet whether there will eventually be a dine-in Brenda's location in the South Bay — "We're still getting to know San Jose," she said — but she shared that the delivery-based cloud kitchen is off to a strong start.
"Our long-term regulars who are used to driving to the city are showing a lot of enthusiasm," Buenviaje reported. "One person called us just to say how excited he was that he didn't have to drive from Palo Alto to San Francisco anymore."
Meanwhile, Buenviaje's team is in the process of reopening the other three locations under relaxed COVID restrictions that she says are bringing hope to the decimated local restaurant scene.
"I went to a dish distributor in the Sunset," she shared, to prepare for reopening. "They'd been devastated throughout the whole year. No one was buying plates for their restaurants, because there was no one to feed. I went yesterday and it was busy. It was exciting, another sign of hope."
The San Jose kitchen began with a stripped-down menu, but Buenviaje is already adding items. As word got out to South Bay fans, requests started coming in for customer favorites — first and foremost chicken grits, which Buenviaje is adding this week. Next, she says the location will add a breakfast egg and bacon tartine, plus the vegan Josephine, a plant-based twist on a sloppy joe.
The San Jose kitchen also serves Brenda's breakfast sandwiches, which were previously only available at the Oakland location.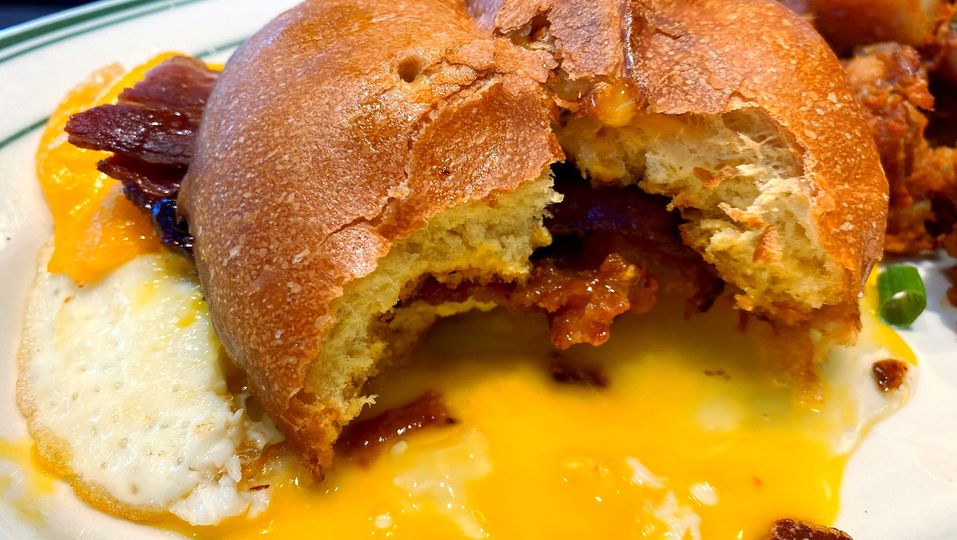 Brenda's Messy Mess sandwich | Photo: Brenda's San Jose / Facebook
So, what should a new customer try for their first order? "If you are into seafood, definitely get the shrimp and grits, and I would also get an order of our crawfish beignets," advises Buenviaje. "If you're not into seafood, I'd get some fried chicken and try our red beans and rice or our gumbo."
That said, her personal favorite, at least for the moment, is the Messy Mess breakfast sandwich (egg, cheese, tomato, and house-made ham jam on a toasted bun; $9.25), the chef admits: "It's messy and delicious."
Brenda's San Jose / open for delivery Thurs-Mon 10 a.m.-8 p.m. and most holidays