A mountain lion scaled a six-foot-high fence in Woodside Wednesday evening and attacked a dog, whose owner drove onto the lawn to scare off the big cat.
That's according to the San Mateo County' Sheriff's Office, which said it received a call about the attack at around 9:45 p.m. The dog was taken to a veterinarian and is expected to make a full recovery, according to Det. Rosemerry Blankswade, public information officer for the sheriff's office.
Shortly before, the dog's owners had heard the sound of a commotion outside on their lawn, recounted Blankswade.
"One of the dog's owners got into her car, drove onto the lawn, and started honking at the mountain lion to scare it off," the detective said.
The owners told the sheriffs that the mountain lion had to climb a six-foot deer fence to get onto the property in order to attack the dog, Blankswade added.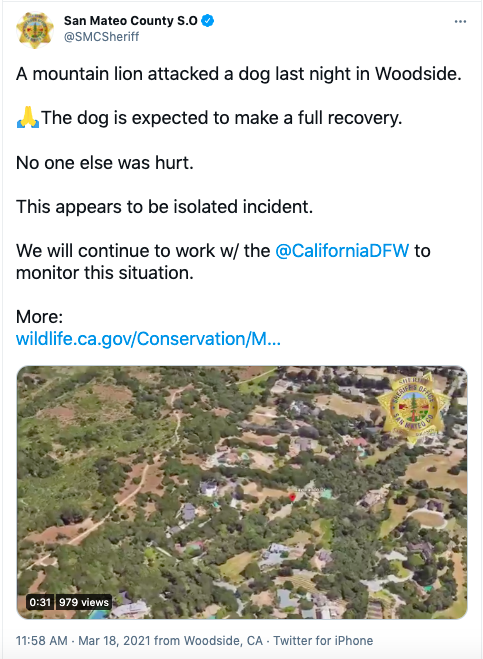 According to the California Department of Fish and Wildlife, mountain lions primarily eat deer, but may also feed on pets and livestock. The department reports that it receives hundreds of reports each year of mountain lions harming or killing livestock and pets around the state.
SFGate last month reported on an analysis of the stomach contents of 83 mountain lions that were killed under "depredation permits." The unpublished report by the Department of Fish and Wildlife showed that 52 percent of the lions had eaten cats, dogs, or other domestic animals, according to the outlet. Only 5 percent had eaten deer.
However, these numbers may be misleading: Depredation permits are issued specifically for individual lions that have been killing livestock or pets. This means that authorities already knew or strongly suspected that the animals in the report had attacked domestic animals — a selection bias noted by the conservation blog Conservation Cub Club.
The Department of Fish and Wildlife recommends that people living in mountain lion territory — which can be anywhere with deer — take measures to avoid attacks. This includes not leave pets or small children outside unattended at night, dawn or dusk, and bringing pet food inside to avoid attracting other mountain lion prey, such as raccoons.
Department of Fish and Wildlife says that mountain lion attacks on humans are extremely uncommon. The department reports 10 verified mountain lion attacks on humans in the state since 2000, one of them fatal. According to the department, there have been just six fatal attacks by mountain lions on humans in California in 130 years, since 1890.
The sheriff's office said it is working with the California Department of Fish and Wildlife to monitor the situation.