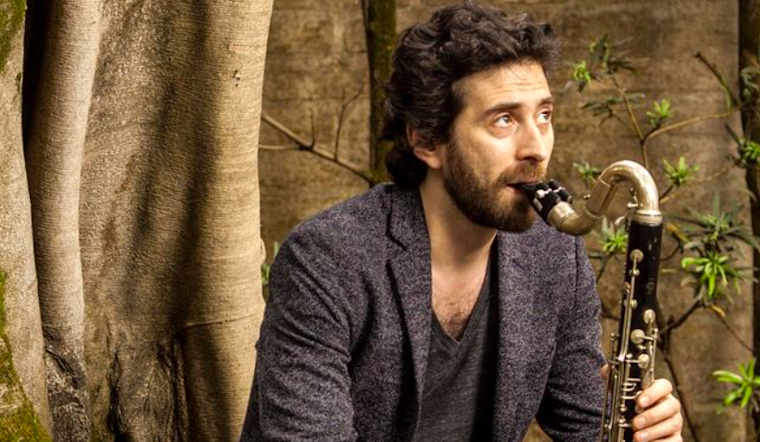 Published on March 24, 2021
San Jose Jazz is debuting a new music venue in the city's downtown that includes a digital video wall outside, where it will project performances for free public viewing.
Called the SJZ Break Room, the space boasts cutting-edge technology and "marvelous sound, lighting and video," according to the jazz nonprofit. Outdoor speakers will play sound for the performances shown on a 35- by 14-foot projection area.
"San Jose Jazz has always worked to vitalize downtown San Jose with music and to provide avenues for artists to create and be heard," says the organization's executive director, Brendan Rawson.
Located in San Jose Jazz's downtown office at 310 South First St., the venue will eventually host live shows indoors. But for now, it will kick off by projecting the SJZ New Works Fest, scheduled for April 29-May 8.
The online, live-streamed festival will showcase new works by 11 Bay Area artists that were commissioned by San Jose Jazz as part of a program to help musicians survive the pandemic.
Tickets to view the concerts online are $10-20, but the general public can also watch them free on The Break Room's video wall on San Carlos Street. The organization asks guests who come to see the shows to follow social distancing protocols.
"Whether people witness the concerts safely outside of our office or on their computer, I believe the Fest offers a groundbreaking platform for artists moving forward," commented San Jose Jazz Artistic and Festival Director Bruce Labadie.
The 11 featured musicians are among 33 artists who received grants through the organization's Jazz Aid Fund. The initiative provided direct grants to the artists, who San Jose Jazz says had been "largely excluded from regional and national aid efforts."
"The works submitted have proven to be extraordinary," declares SF Jazz in its festival announcement.
"Similar to so many other arts institutions, we were shocked by the disastrous effects of the pandemic," says Rawson. "But it's during tough times like these we must stay strong and connected as a community and develop creative solutions in response to real-world issues."
San Jose Jazz has also embarked on a number of other initiatives to help Bay Area artists through the pandemic.
The festival will also include a free livestream for International Jazz Day on April 30, featuring the Oran Etkin Open Arms Project. The other artists featured are Kev Choice, Javier Santiago, Tammy Hall, Ten Spencer, Vân-Ánh Võ, Chris Cain, Claudia Villela, Justin Ouellet, Howard Wiley, Robbie Benson, and Ian Santillano.
After the New Works Fest, San Jose Jazz plans to hold indoor concerts at The Break Room, once regulations permit. The organization will also project free shows from previous festivals onto the video wall throughout the rest of the year.
"We can't wait for music fans to see the pure energy emanating from the video wall," said The Break Room Project Manager Scott Fulton, "and hopefully soon, to also be in the space along with us."
More information: Sanjosejazz.org