Another innovative and ambitious project is now being proposed that could be a huge game-changer in the effort to revitalize and transform downtown San Jose. The architectural firm Gensler wants to turn the roof of the San Pedro Square parking garage into a place where people could gather, hang out, and enjoy several different types of amenities and activities. The massive parking structure sits in between San Pedro Street and Market Street with St. John Street to the north. According to Gensler who spoke to the Mercury News the project would be the perfect addition to add even more liveliness to the already bustling San Pedro Square restaurant and bar scene that the garage serves.
Gensler wants to turn the roof into a so-called "people deck" and envisions it would be filled with different types of activity areas and changes in the topography like small rolling hills to give it a park-like outdoor feel.



Rendering via Gensler
The idea is to give people a new place in the middle of downtown where they can gather, work, relax, walk, eat, play games, exercise, or even see a small show at an outdoor theater space.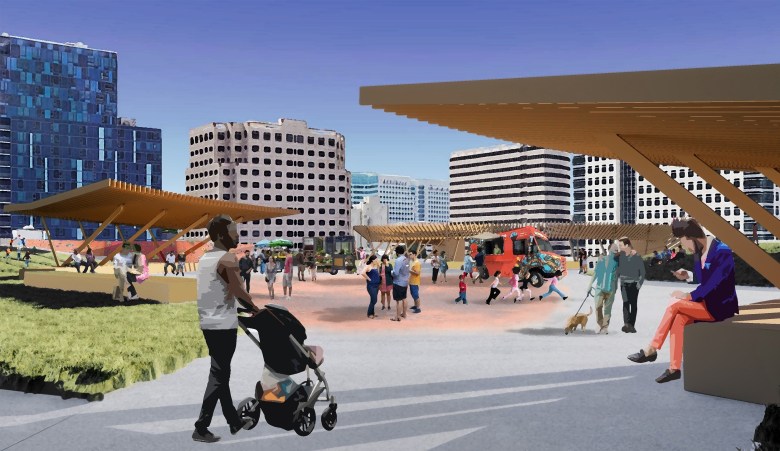 Rendering via Gensler
Gensler believes it would be able to create individual spaces that would be designated as quiet areas along with other areas that are meant for more of a loud, party atmosphere.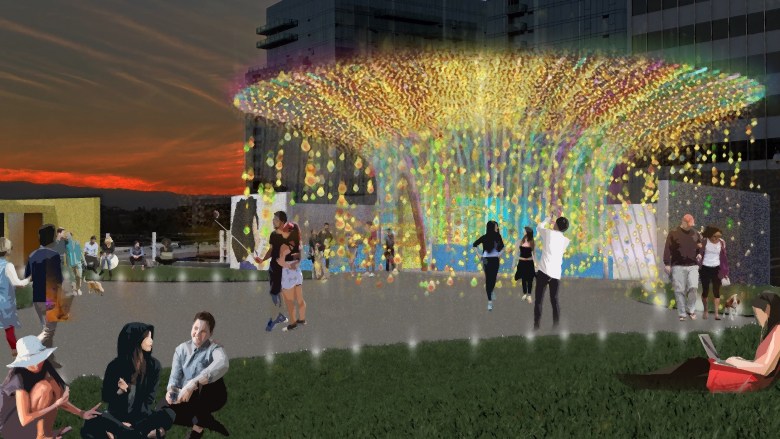 Rendering via Gensler
According to Daily San Jose News, since the parking garage has concrete walls on three of the sides, the rooftop people deck would serve as an important connection bridge linking San Pedro Square to the busy corridor of Market Street. "The idea is to transform this space and give it a bigger purpose and create more connectivity. There are amazing destinations that already exist and that are being planned downtown. But there are also uncomfortable gaps between the areas of activity. The site of this garage fills in one of those gaps very nicely," said Peter Weingarten who works in Gensler's San Jose office.
Gensler is calling the rooftop project "Moment 2.0" because the firm has already been working on changes to the parking garage. A project called "Moment" roughly two years ago turned one section of the garage's ground floor into spaces for four retailers. Gensler is now looking for investors to help turn the rooftop people deck idea into a reality. It also still has plenty of city planning hurdles to get through.