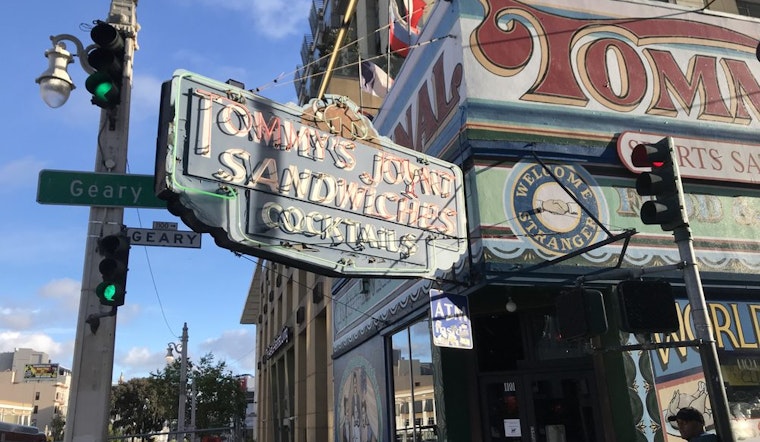 Published on March 12, 2021
The old-school cafeteria-style meatery Tommy's Joynt has a special place in San Francisco's heart and belly, particularly after rumors of its closure last September made it seem like the 73-year-old hofbrau would be another COVID-19 casualty. Hoodline was able to shoot those rumors down, and the Joynt has been serving takeout since November. But SF's "Red tier" status means the return of the red meat and red checkered tablecloths, as SFGate reports that Tommy's Joynt has resumed indoor dining, albeit at the limited 25% capacity allowed under current public health guidance.
View this post on Instagram
A Thursday Instagram post broke the news that "Tommy's Joynt is open! Corned Beef and Cabbage available today! Open 12 noon - 7pm. Dine in or take out." The restaurant's Yelp page has been updated as such, though clarifies that Tommy's Joynt is closed on Tuesdays and Wednesdays.
Except this Wednesday, March 17, which is of course St. Patrick's Day. SFGate notes that in honor of the traditional corned beef and cabbage holiday, Tommy's Joynt will have a "special holiday opening for St. Patrick's Day on March 17, 12-7 p.m."
It's certainly been a roller-coaster six months for the Geary and Van Ness hofbrau, after the early September vandalism of their iconic neon sign spurred rumors the place was closing for good. They did manage to reopen October 29, before SF realized that it would be forced to shutter both indoor and outdoor dining again when cases surged over the winter. But Tommy's did still serve Thanksgiving and Christmas dinners to go, and we're thrilled they stuck it out for normalcy to slowly return to the dining scene.
There are some carve-outs to their carved meat menu, as the restaurant's voicemail currently says they're operating with "limited items and limited staff." And while any restaurant in San Francisco can currently offer indoor dining at smaller capacities, it's more special to eat on-site at Tommy's Joynt, grab a cocktail, and revel in the eclectic vintage lamps, ridiculously abundant signage, and yesteryear chic that lines the Joynt.