There's a new option for barbecue fans in the Mountain View area: B's Craft BBQ, a pop-up eatery offering slow-cooked, small-batch grilled meats and fixings for pickup only.
The pop-up will release menus on Monday for pickup in Mountain View the following Saturday. Orders close on Tuesday, or when sold out.
Pitmaster Brandon Irwin — the B in B's Craft BBQ — is launching the eatery this week out of his Mountain View home, reports the Peninsula Foodist blog in the Mountain View Voice.
Irwin, the son of a chef from upstate New York, says his barbecue style is rooted in the regional specialties of his rural, working-class home, melded with Midwestern and Texas styles of slow-cooking.
"To me, upstate New York BBQ is among America's best-kept BBQ secrets (Buffalo aside)," Irwin writes. "My formative years were immersed in a rich multicultural milieu — Irish, Scandinavian, German, Polish, Italian, Native American, and French food sensibilities converged on a plate, where common threads ran through the use of seasonal ingredients, working with your hands and, perhaps especially for the hunting types, taking ordinary meats and turning them into something unforgettable."
A former scientist and community organizer, Irwin spent a number of years in Kansas, where he says he learned the practice of regional barbecue techniques and the art of spending days preparing perfect meat — "using low and slow smoking, all-wood fires and a full day to transform an otherwise inedible cut of meat into a silky, mouthwatering masterpiece," he says.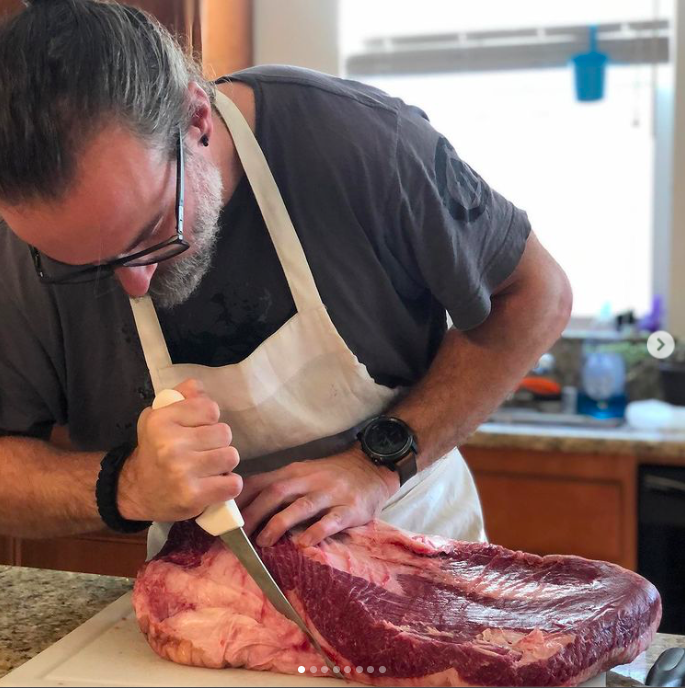 Photo: B's Craft BBQ / Facebook
Irwin says that he carefully tends his barbecue over a natural wood fire for some 18 hours, monitoring how the fire reacts to different logs and ambient temperature fluctuations and adjusting air flows accordingly.
"To me, craft bbq means a real person using their own hands and a natural, wood fire to make the most delicious bite of bbq you've ever had," he writes. "The most obvious criteria is that there needs to be a real person on the other end of that delicious bite. Not an automated smoker ... not a person who pushes a button and comes back 12 hours later."
Irwin emphasizes that his barbecue is hand-crafted. "It refers to the necessary intimacy and involvement of the cook," he explains. "Selecting the best ingredients … the best wood of the right size and age … the best farms and ranches with experienced farmers who know how to raise a healthy animal that will ultimately gift us with a delicious and sustainable form of protein…and the best spices and herbs."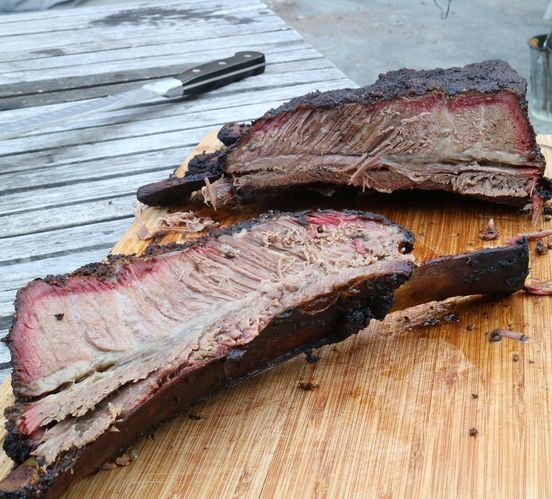 Photo: B's Craft BBQ / Facebook
This week's inaugural menu includes prime beef brisket, St. Louis pork ribs, and prime beef ribs. The beef comes with miso peach barbecue sauce on side, while the pork is flavored with a sweet spice rub and red jalapeño honey glaze.
All are available in various portion sizes, and large groups can order a whole brisket that serves 10-12 people ($195) or a beef rib plate for 6-8 people ($149). (Irwin recommends one pound of meat to serve two to three people.)
The smoked meats are served with pickled onions, cornbread, and cider pickles, and there's also rainbow slaw (red and green cabbage, carrot, and parsley with poppy seed dressing) available as a side.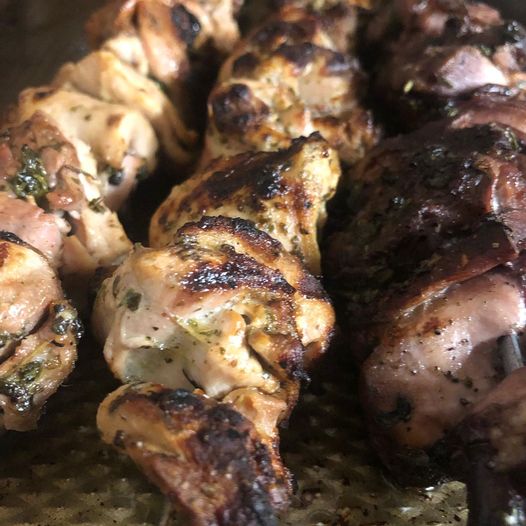 On the menu next week: Spiedie sandwich Photo: B's Craft BBQ / Facebook
An upstate New York specialty, the chicken spiedie sandwich, will be on the menu next week, Irwin shared on Facebook. The regional favorite consists of cubes of char-grilled, marinated meat served on Italian bread or Hoagie rolls – and is so popular that there's a spiedie festival in upstate New York, Bon Appetit reports.
More information: www.bscraftbbq.com