After being family-owned for nearly 100 years, the Market & Noe Center (2276-2288 Market St.) has been listed for sale for the eye-popping price of $17 million.
The property was originally purchased in 1928 by Finnish immigrants, husband and wife Matti and Sandra Finnila, who paid $20,000 for it.
Today the two-story, approximately 22,330 square for space, houses three tenants; fitness studio Barry's (formerly Barry's Bootcamp), real estate company Corcoran Global Living, and urgent care clinic Go Health Urgent Care.
Corcoran is one of the listing agencies selling the property along with Southern California-based Voit Real Estate Services.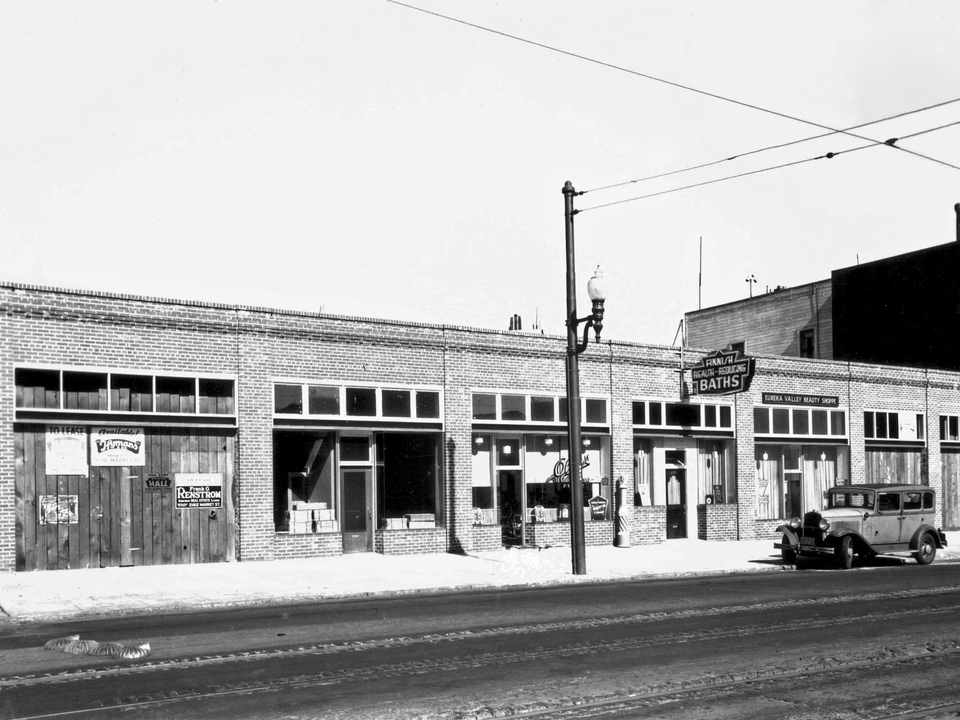 Finnila's Finnish Baths in 1934. | Photo: Courtesy of Kent Jeffrey
The property also includes one of the Castro's best-kept secrets, a rooftop 42-spot parking lot with views of the Castro, Mission, Twin Peaks, Bernal Heights, and Potrero Hill. Attached to the west side of the building is a billboard that has advertised Apple products for the past five years.
Planning department information shows the site is currently zoned for a 40-50 foot structure. At this time, it's too early to tell if the Market & Noe Center will remain or if it will be demolished and replaced by a mixed-use residential building.
---
---
Kent Jeffrey, grandson of Matti and Sandra, tells Hoodline he's decided the sell the property due to health reasons. "I am no longer up to managing the property," said Jeffrey.
In 1928, the Finnilas purchased the vacant lot near the corner of Market and Noe streets, with the goal of turning it into a large public sauna. Matti constructed what came to be known as the "Finnish Baths" alongside his son Alfred, who also worked on the construction of the Golden Gate Bridge and adjoining Bridge Round House.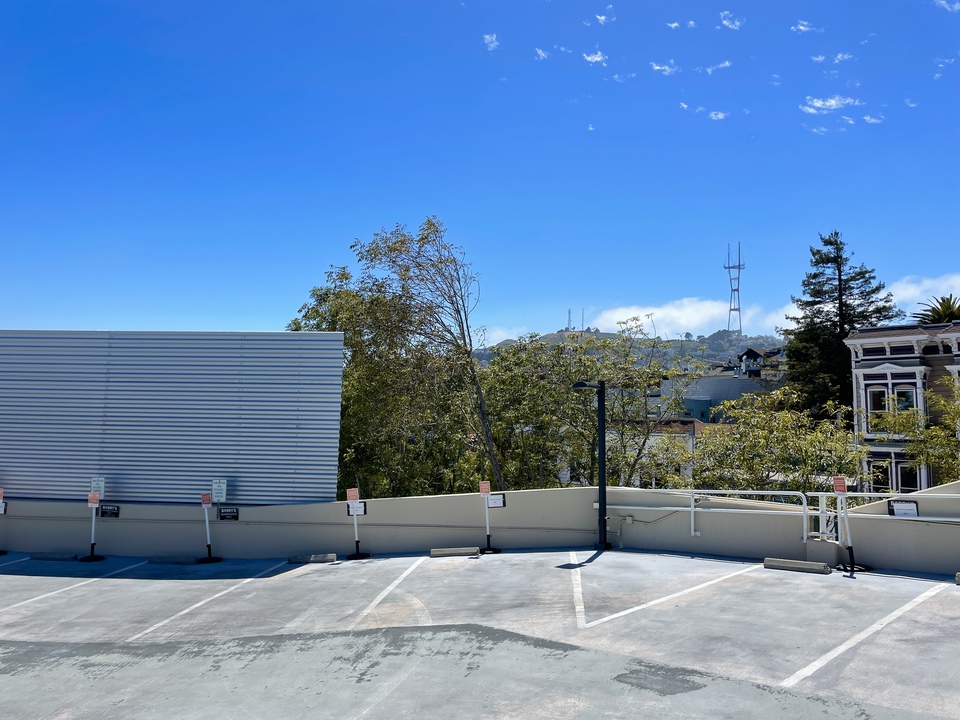 View of Twin Peaks from the rooftop parking lot. | Photo: Steven Bracco/Hoodline
Construction on Finnila's Finnish Baths was completed in 1933 and the building featured a large one-story brick facade with two public baths — one for men and one for women. It also included 12 smaller private baths.
Matti Finnila also built a three-bedroom home atop the northwest corner of the building (facing Noe Street), where he lived with his family.
Matti and Sandra passed away in the early 1950s, bequeathing the baths to Alfred and his sister Edna Jeffrey, who is Kent's mother.
In 1985, Edna Jeffrey closed Finnila's Finnish Baths, demolishing the aging structure the following year. In its place, she oversaw the construction of the Market & Noe Center, a 20,000-square-foot commercial center with rooftop parking.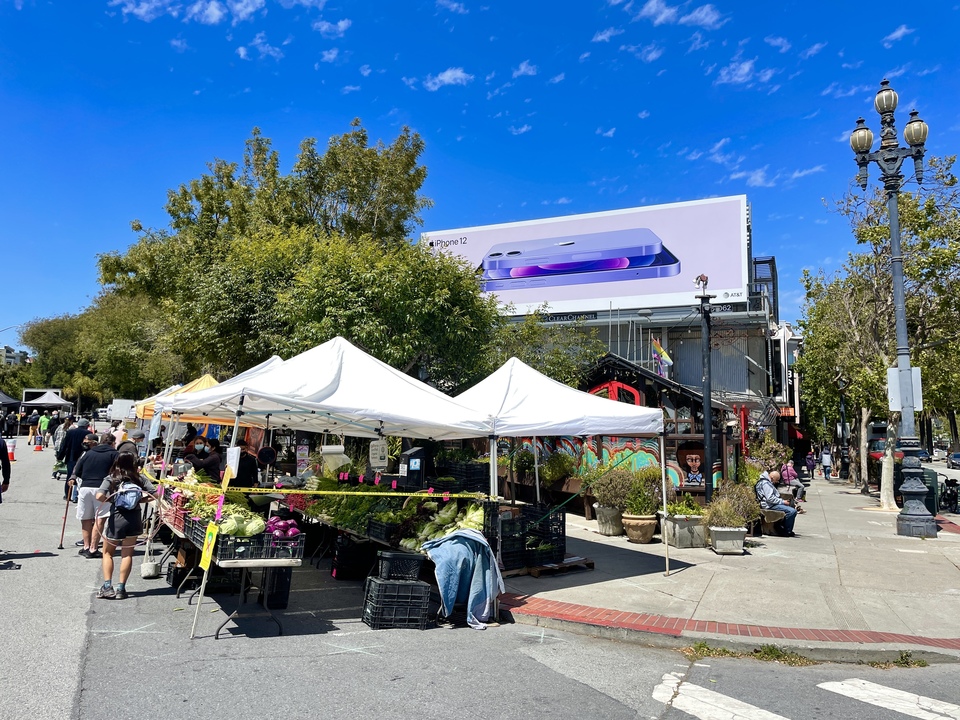 Billboard attached to the Market & Noe Center. | Photo: Steven Bracco/Hoodline
The Market & Noe Center was designed to meet the needs of Wherehouse Records, which had agreed to lease nearly three-quarters of the building. But before construction was completed, the record store backed out of its lease agreement.
Luckily, Tower Records stepped in and agreed to rent a portion of the space, eventually expanding to the second floor as business took off. In 2006, Tower Records shuttered all their stores nationwide, including the Market & Noe Center location.
The anchor space remained vacant until 2009 when Trader Joe's expressed interest in moving in. But after two years of on-again, off-again consideration, the grocery chain ultimately pulled out of the project in 2011.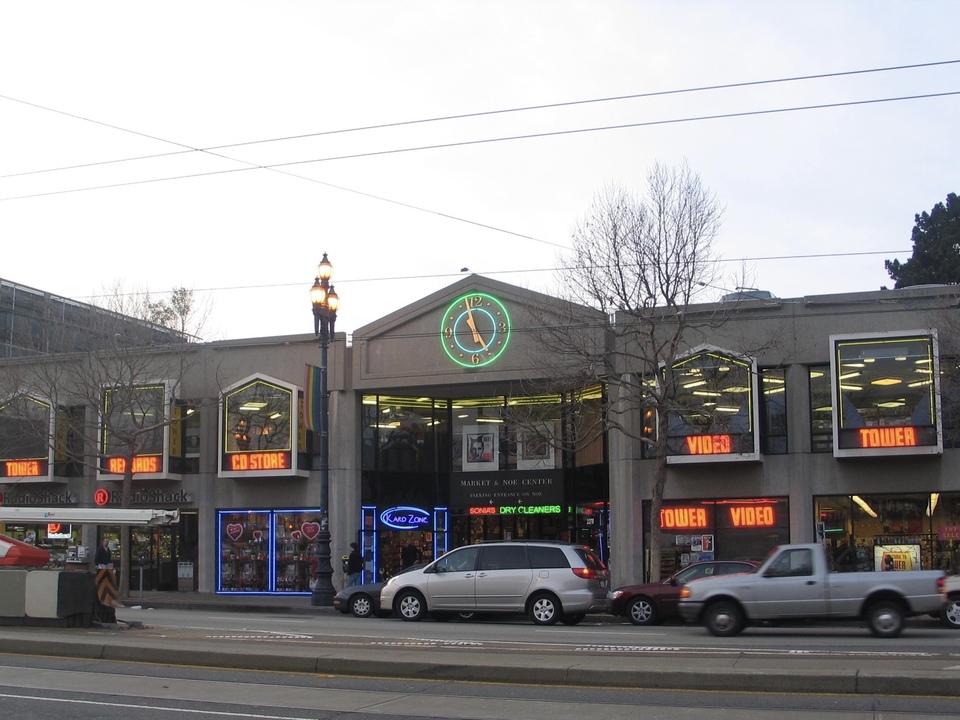 Market & Noe Center prior to the remodel (undated). | Photo: Courtesy of Kent Jeffrey
In 2013, the Market & Noe Center signed on a new tenant, CVS Pharmacy, and underwent a remodel in order to make room for it on the ground floor. In 2014, Zephyr Real Estate (now Corcoran Global Living) moved into the second-floor space.
RadioShack, a longtime tenant, finally closed its doors in 2015. It was replaced in 2016 by a location of GoHealth Urgent Care Clinic.
In 2017 CVS Pharmacy shuttered its store after signing a 15-year lease on the approximately 10,000-square-foot space for $50,000/month.
Barry's Bootcamp then stepped in to sublease the space from CVS Pharmacy, opening in 2019.
At this time, a buyer for the property has not been found. Hoodline will update this story as we learn more.