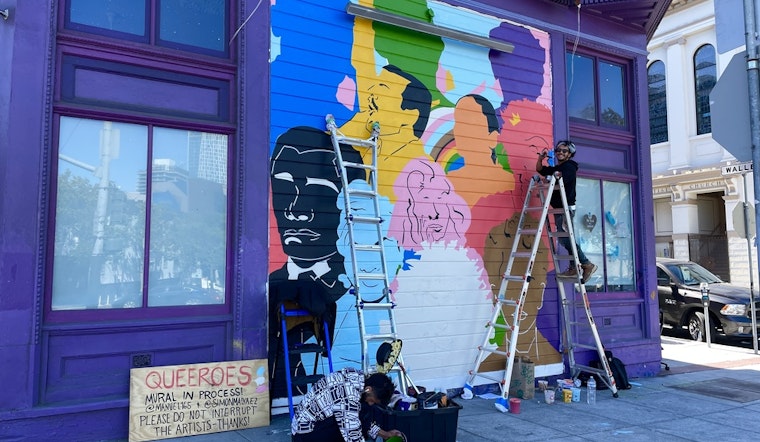 Published on May 24, 2021
Two new murals from queer, Black and Latinx artists will be completed soon at prominent locations in the Castro and Duboce Triangle neighborhoods.
The first mural was installed at the SF LGBT Center (1800 Market St. at Octavia Blvd.) and a second is coming soon to Maitri Compassionate Care (401 Duboce Ave. at Church St.).
Over the weekend, artists Juan Manuel Carmona and Simón Malvaez completed a mural titled 'Queeroes' at the LGBT Center, which replaces the controversial honey bears by street artist fnnch.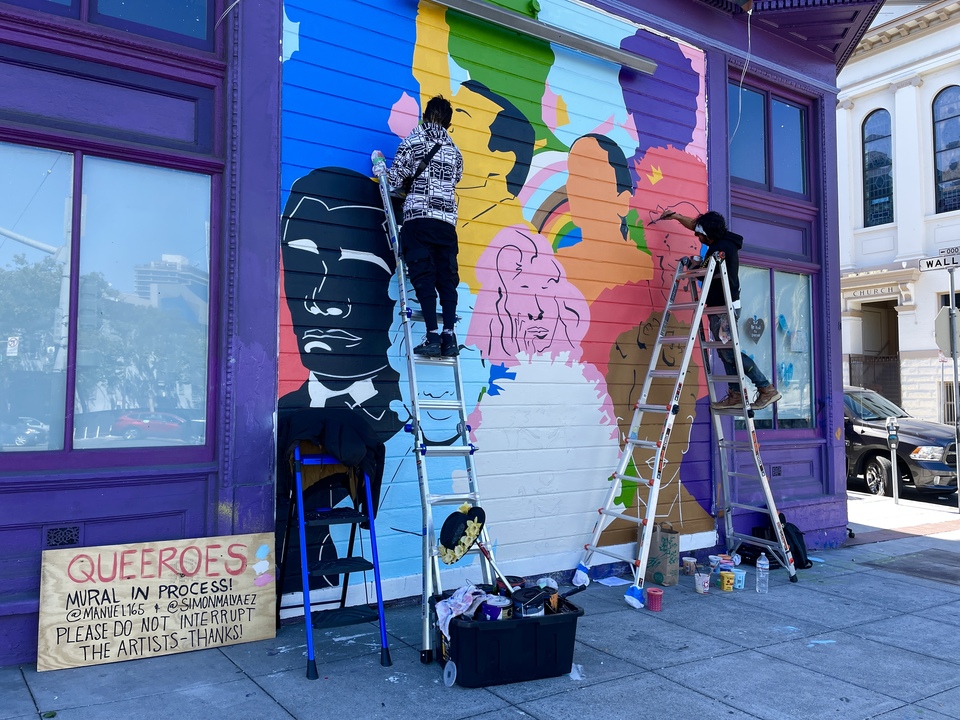 Artists Simon Malvaez (left) and Juan Manuel Carmona (right) painting 'Queeroes'. | Photo: Steven Bracco/Hoodline
Carmona and Malvaez are both queer and Latinx artists whose work vibrantly brings attention to their Mexican heritage, queer identities, and the intersection of the city's LGBTQ+ and Latinx communities.
Around the Castro, Carmona has previously painted a mural of drag queen Juanita More at now-closed Unionmade (Sanchez St.) and a handful of murals at shuttered Puerto Vallarta-themed restaurant Papi Rico.
Malzvaez has also painted murals at Qbar, 215 Church St. (formerly Cook Shoppe) and was recently commissioned by the SFMTA for a mural at the Church and Market J-Church stop.
According to the LGBT Center, Carmona approached them with a project proposal and brought frequent collaborator Malvaez on board to volunteer his talents and ideas.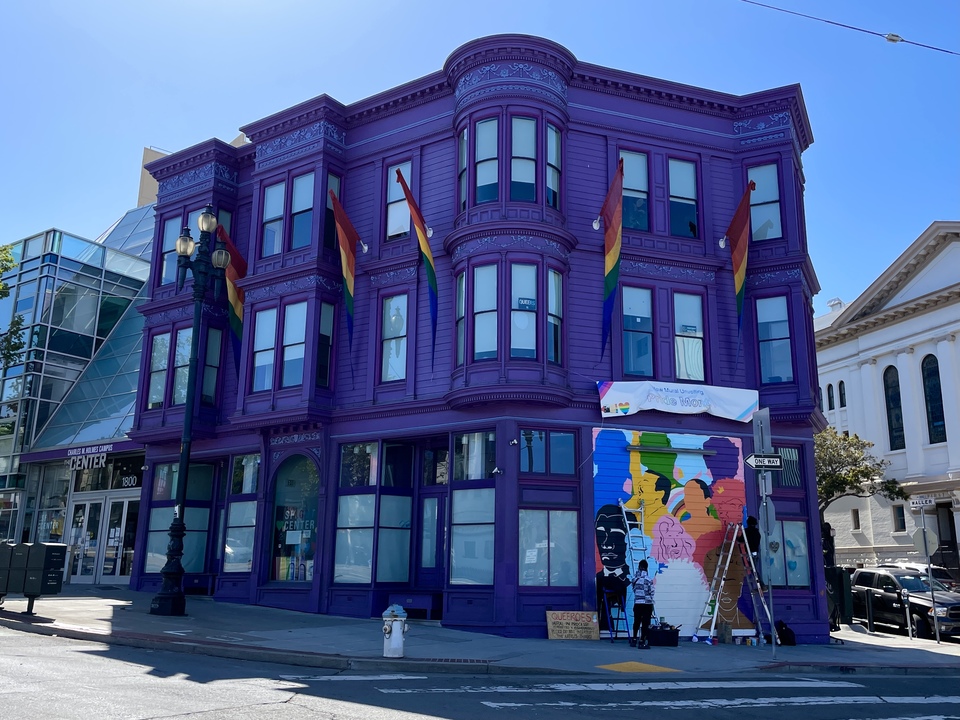 Photo: Steven Bracco/Hoodline
"The mural takes the colors of the Progress Pride Flag and transforms them into a collection of global and local LGBTQ+ heroes who honor their Latinx heritage and have played a pivotal role in shaping LGBTQ+ history—then and now," wrote the LGBT Center in a statement.
Honorees include Freddie Mercury, Frida Kahlo Harvey Milk, author James Baldwin, drag queens Juanita More and Sister Roma, artist Keith Haring, activist Honey Mahogany, Stonewall Riots figure Marsha P. Johnson, trans activist Sylvia Rivera, singer Chavela Vargas, and dancer/choreographer Willi Ninja.
"Ultimately, art is powerful," said Carmona and Malveaz in a joint statement. "We hope that this mural awakens curiosity within our community, especially as there will be LGBTQ+ heroes that are recognizable to some, and others that will be completely new to the spectator."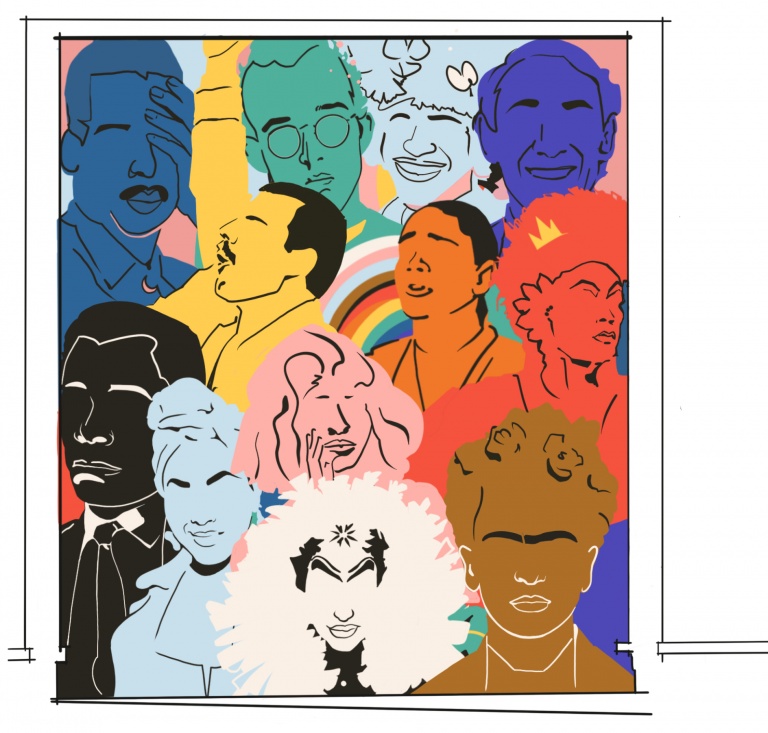 Rendering of 'Queeroes'. | Image: SF LGBT Center
"We want to encourage people to learn more about our Queer heroes and their contributions to our community, then and now," they added. "Through this mural, we also hope to celebrate the LGBTQ+ movement and invoke love and hope, at a time when we need it most."
The LGBT Center says that they will begin opening applications in early 2022 for community artist to submit their qualification and proposals for the next installation.
"We are committed to equity and inclusion as core tenets of our work, and our goal with this mural project is to spotlight a variety of LGBTQ+ and BIPOC perspectives, art and artists representing our diverse communities in the years ahead," said the LGBT Center.
Haitian American artist Serge Gay Jr. will be installing a second mural at Maitri. Titled 'Never Alone', the mural will be painted along the entire Duboce Avenue side of the building at the N-Judah stop.
Gay Jr. will be familiar to neighborhood residents as he painted 'Gear Up' outside neighborhood bar Moby Dick which reopened last week.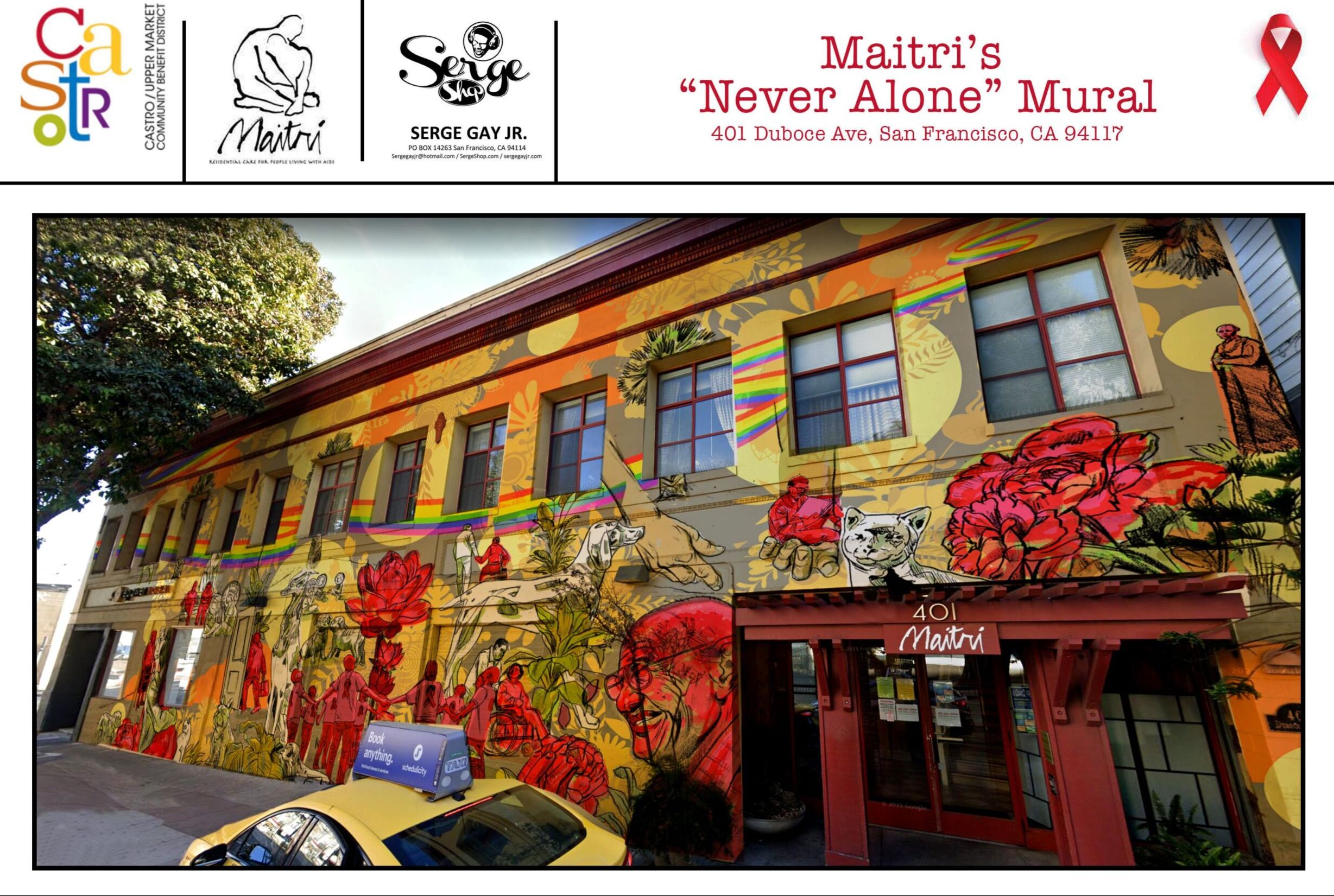 Rendering of the the proposed mural. | Image: Maitri Compassionate Care
"The mural depicts images that reflect care, compassion, and commitment that Maitri has exhibited as we've cared for those fighting the disease, and fought stigma of HIV/AIDS in all its forms since 1987," wrote Maitri in a statement.
"I want to portray this beautiful surrealist mural that showcases a community who cares for each other and looks after each other," said Gay Jr. "The embodiment that is Maitri and Duboce."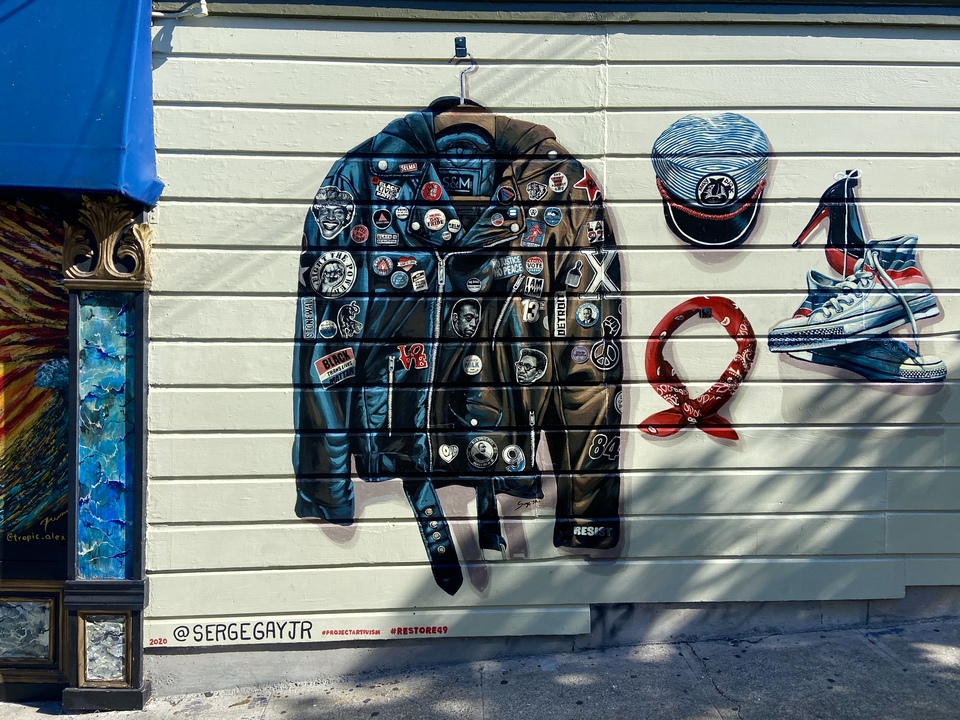 'Gear Up' by artist Serge Gay Jr. at Moby Dick. | Photo: Steven Bracco/Hoodline
"Showing love, caring for, and friendship to the ones in need of care, till their last days. That you're not alone," added Gay Jr. "I want to make a mural that celebrates being alive and hopefulness. 'May all be free from suffering and the causes of suffering.'"
According to Maitri the mural is in partnership with the Castro/Upper Market Community Benefit District and the Duboce Triangle Neighborhood Association.
Maitri invited anyone interested to join them in a virtual event on Friday, May 28 at 6 p.m. to learn more about the mural. Invite requests should be sent to [email protected].