After a 14-month pandemic-induced hiatus, Castro neighborhood bar Moby Dick (4049 18th St.) reopened its doors today at 1 p.m.
Owners Joe Cappelletti and Scott Riffe confirmed the announcement in a phone call with Hoodline today.
Opened in 1977 by pantyhose heir Victor Swedosh, Moby Dick was awarded Legacy Business status in 2016.
"It feels great to be reopening," said Cappelletti. "I wish we were reopening to more capacity but we're just thrilled about being open again."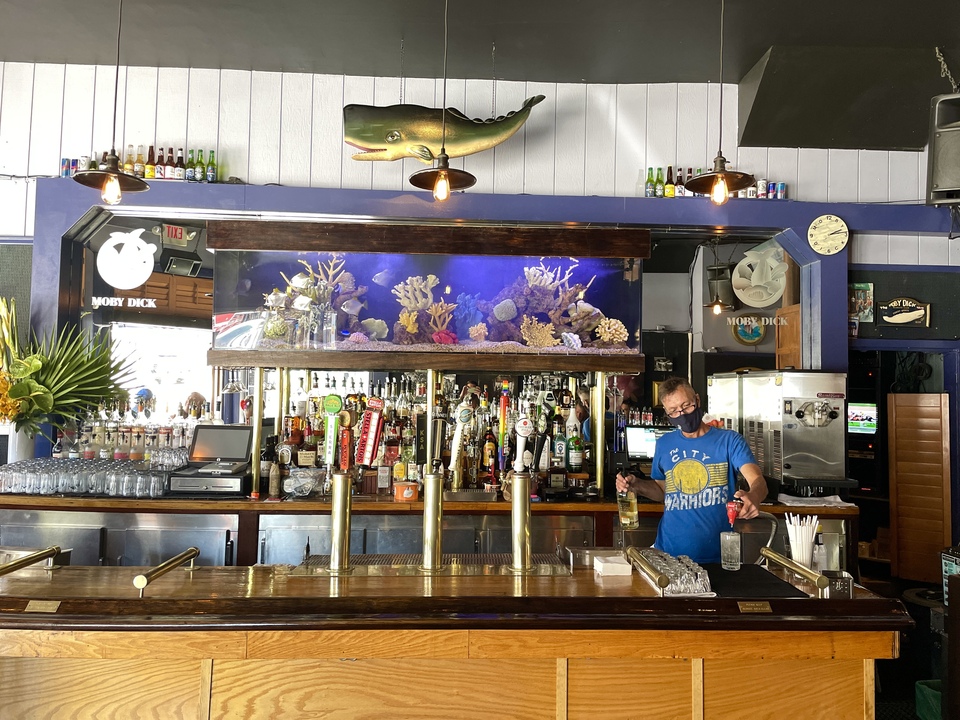 Photo: Steven Bracco/Hoodline
Cappelletti tells Hoodline they decided to reopen now because the city was now allowing bars to open indoors. "We didn't want to open outside, we wouldn't be able to cover our overhead if we opened outside," said Cappelletti.
With the city and state set to reopen completely on June 15, Cappelletti said, "We decided that now was a good time to ourself back into the groove."
"It's hard turning it back on," said Cappelletti. "It's not like flicking a switch." Over the past few days, Cappelletti explained they've had the draft beer lines cleaned, reinstated trash collection, set up payroll, and had the 250-gallon saltwater fish tank cleaned.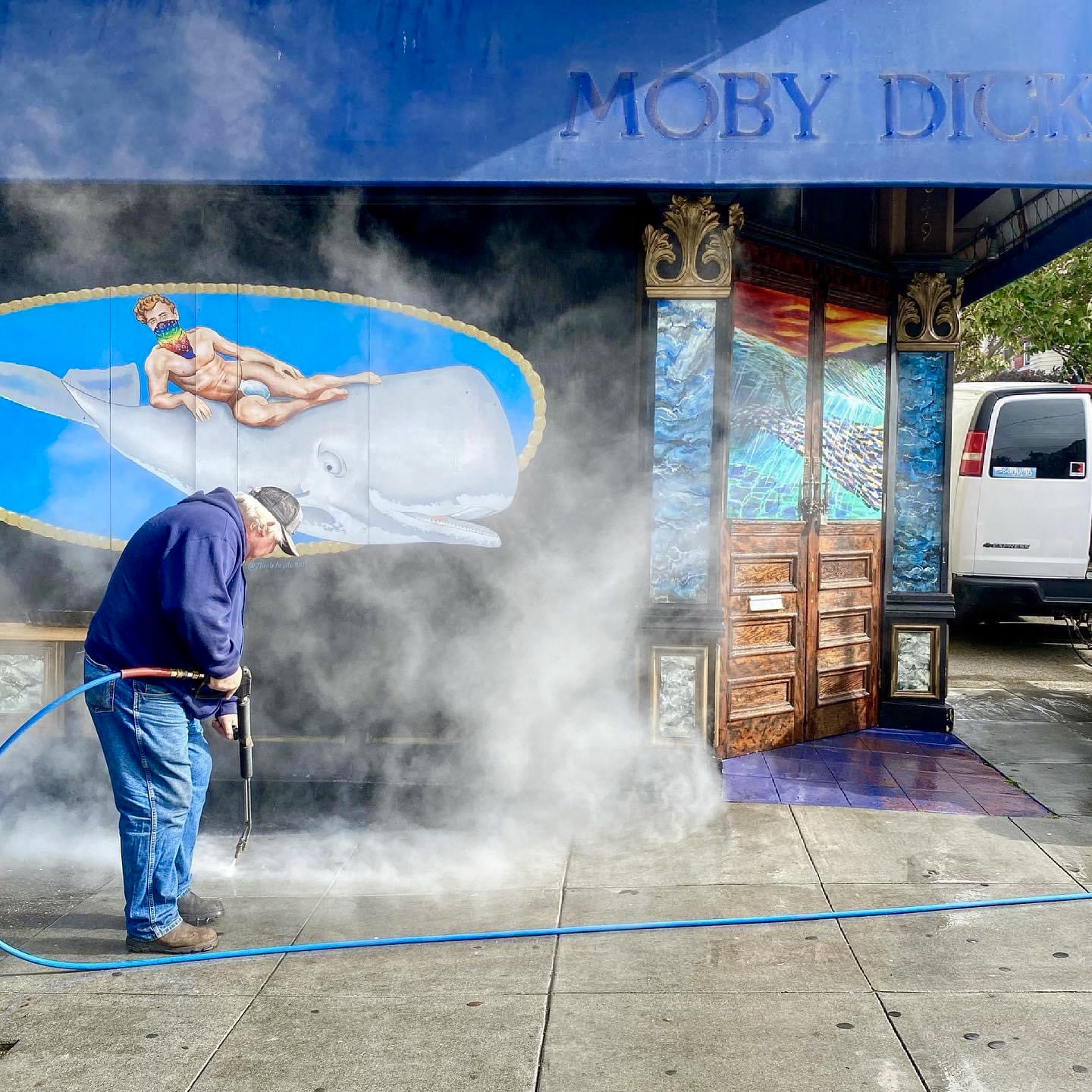 Power-washing being completed ahead of reopening. | Photo: Henry Walker/Instagram
"This is a good time for us to gradually work back up to being fully open," Cappelletti. Cappelletti said they might consider adding some sidewalk tables and chairs in the future but are not planning to build a Shared Spaces platform.
Cappelletti said they spent the entire day preparing the space to open by making sure there was enough space for social distancing to only find out the city relaxed some of the guidelines yesterday.
"After we did all that, I read that the city changed the rules," said Cappelletti. "I'm happy about the rules changes but I wish we had known before I spent all that time."
Throughout the 14-month closure, Cappelletti tells Hoodline there was never a point that Moby Dick might permanently shutter.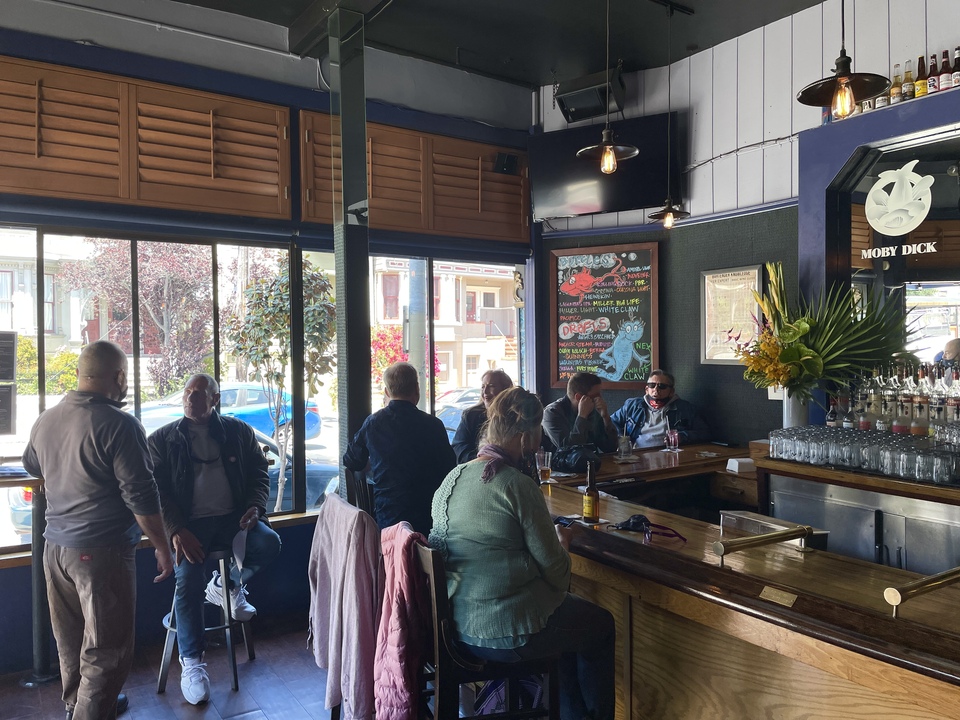 Bar patrons inside Moby Dick on its reopening. | Photo: Steven Bracco/Hoodline
"We managed to get a PPP loan and we had enough money to make it through." Moby Dick received two Small Business Administration Paycheck Protection Program loans. Public records indicate Moby Dick received $54,845 in May 2020 and $76,783 in January 2021.
"It was a little dicey at times," said Cappelletti. "But I had confidence we would be opening again."
"It was important for me to remain open because I love that little bar," said Cappelletti. "I believe it's a part of San Francisco history and gay history in particular."
One of the reasons Cappelletti said he was about to keep going was the support of longtime customers.
"There are so many people that we found out love Moby Dick as well," said Cappelletti. "We got lots of mail, from lots of people from all over the world."
Cappelletti said many people sent in letters of support hoping the bar would make it through because they love the bar and it's where they met their significant other.
When a Hoodline reporter visited Moby Dick this afternoon, the bar had already reached its max capacity of 20 customers. Many bar patrons shared their happiness with the bar reopening. "It's like my living room," said one customer.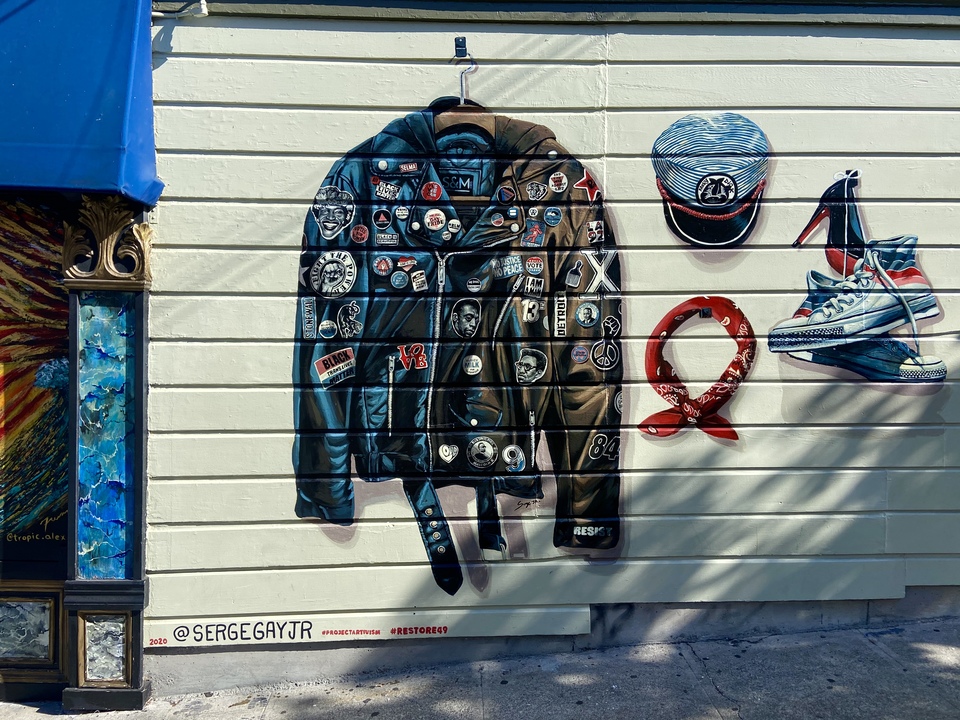 'Gear Up' by Haitian American artist Serge Gay Jr. | Photo: Steven Bracco/Hoodline
While the plywood boards covering the bar's windows have come down, a mural titled 'Gear Up' painted by Haitian American artist Serge Gay Jr. along the Hartford St. side of the bar last year remains in place. "We love that mural, we think it's great," Cappelletti said.
At this time Cappelletti said they haven't decided what to do with the murals that were painted on the boards covering the windows.
Customers looking to play pinball or pool will need to wait a little bit longer. Before the city changed the health order, Cappelletti had the pinball machines removed to make more space and the pool table will need to be repositioned.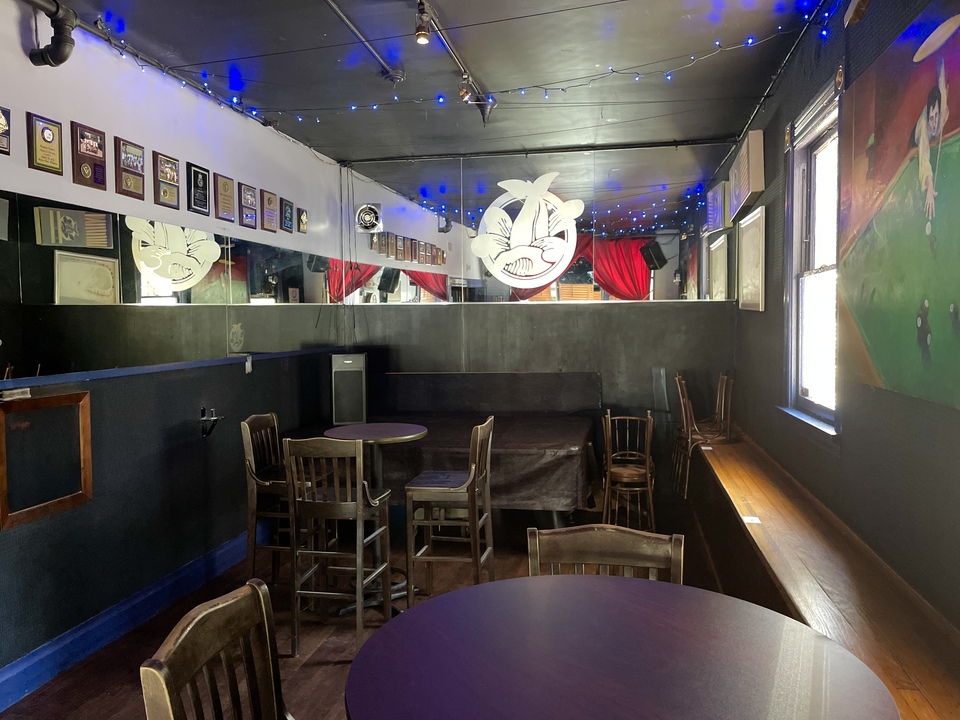 Moby Dick's pinball machines and pool table are currently unavailable. | Photo: Steven Bracco/Hoodline
"I'm grateful to everyone who donated to our GoFundMe, gave us encouragement, told us their stories about how they met their lovers, or celebrated the life of somebody who had passed away," said Cappelletti.
He added, "I'm just very proud to own Moby Dick and be a part of the history of the city."